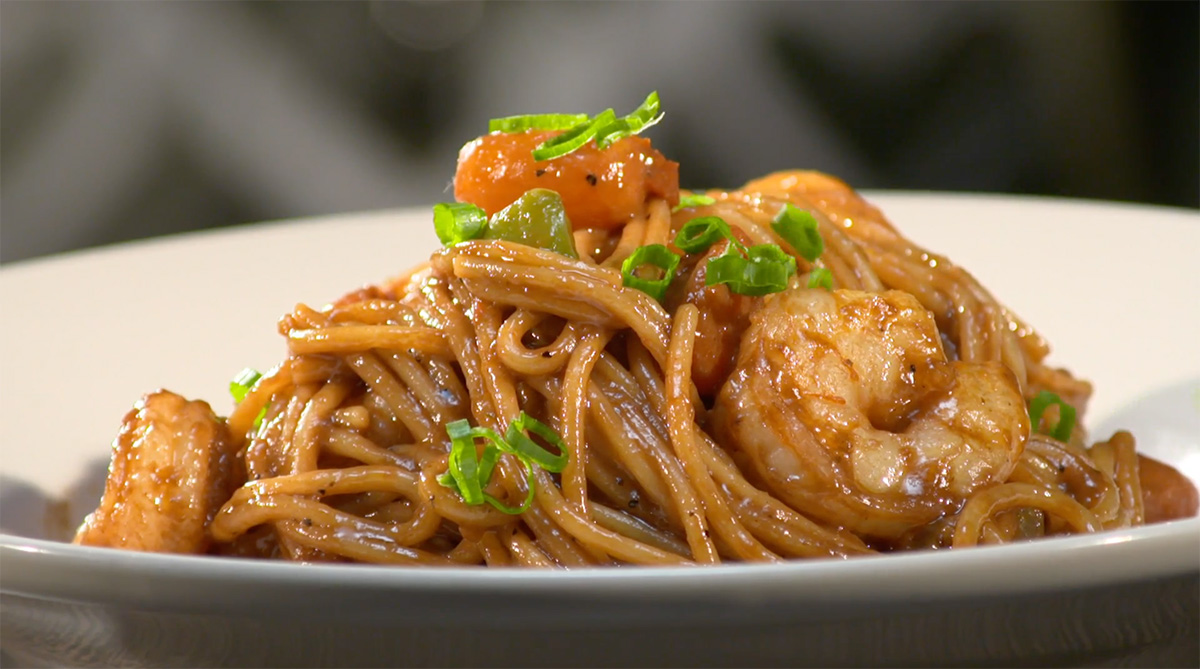 New Orleans BBQ Shrimp Pasta – As Seen on Restaurant: Impossible
From the episode, "A Friendship in Peril"
SERVES 4
YOU'LL NEED
FOR THE SAUCE
2 tbsp grapeseed oil
2 shallots, minced
4 cloves garlic, minced
1 tsp fresh thyme, chopped
2 tsp Cajun spice
2 oz white wine
1 tsp white sugar
3 tbsp Worcestershire sauce
16 oz chicken stock
6 oz heavy cream
½ tbsp Dijon mustard
Juice of 1 lemon
Hot sauce, to taste
FOR THE PASTA
1 lb spaghetti
2 tbsp grapeseed oil
1 small white onion, diced
1 green bell pepper, diced
2 stalks celery, minced
1 ½ lbs shrimp, peeled/deveined/tails off
½ tsp kosher salt
¼ tsp pepper
1 cup grape tomatoes, peeled
4 oz Parmesan cheese, grated
1 bunch scallions, sliced thin
MAKE IT
SAUCE
1) In a small saucepan sweat the shallots and garlic in grapeseed until translucent.
2) Add the thyme and Cajun spice and sweat for 1 minute.
3) Deglaze with white wine.
4) Add sugar, Worcestershire sauce, chicken stock, and heavy cream.
5) Bring to a simmer and reduce by half, about 8-10 minutes.
6) Remove pan from heat, whisk in Dijon mustard and season with salt, pepper, lemon, and hot sauce.
PASTA & PLATING
1) Cook pasta in boiling, salted water according to box directions.
2) Season shrimp with salt and pepper, and sear in a large sauté pan with grapeseed oil.
3) Add onion, celery, bell pepper, and tomatoes and cook for 2-3 minutes.
4) Add cooked pasta and sauce and bring to a simmer.
5) Add half of the Parmesan and scallions to the pan and toss all ingredients to combine.
6) Check seasoning and add salt and pepper as desired.
7) Plate pasta and garnish with remaining Parmesan and scallions.