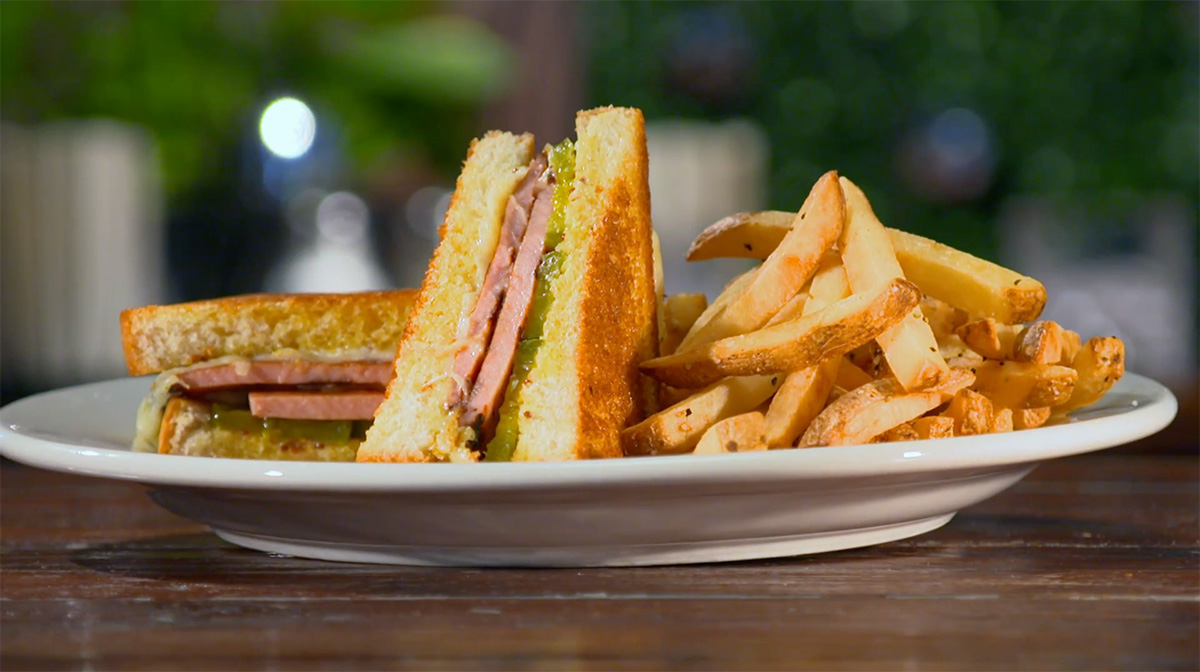 Smokey Bologna Monte Cristo Sandwich – As Seen on Restaurant: Impossible
From the episode, "Big Trouble in Tennessee"
SERVES 4
YOU'LL NEED
FOR THE WHOLE GRAIN MUSTARD SAUCE
½ cup mayonnaise
½ cup whole grain mustard
2 tbsp grated Parmesan cheese
1 tbsp Worcestershire sauce
Kosher salt and ground black pepper, to taste
FOR THE SANDWICH
1.5 lb whole portion of unsliced bologna
8 slices Texas toast
8 slices Swiss cheese
½ cup sliced sweet bread and butter pickles
6 eggs, beaten
2 tbsp grapeseed oil
MAKE IT
MUSTARD SAUCE
1) In a large mixing bowl add mayonnaise whole grain mustard, Parmesan cheese, and Worcestershire sauce.
2) Season with kosher salt and ground black pepper.
SANDWICH & PLATING
1) Place the whole portion of unsliced bologna in a smoker at 250 degrees for about 45 minutes.
2) If you do not have a smoker, slice bologna into 1-inch slices and place on a grill over high heat and grill on each side for 2 to 3 minutes.
3) Spread the whole grain mustard sauce on each slice of Texas toast. Then place bologna, Swiss cheese, sliced pickles, on 4 pieces of the dressed Texas toast and top the sandwiches with the other slices of dressed Texas toast.
4) Pre-heat fryer to 350 degrees.
5) Heat a large nonstick sauté pan over medium heat and add the grapeseed oil.
6) Place the beaten eggs in a large mixing bowl and dip the entire sandwiches in the beaten eggs and then place in a sauté pan over medium heat.
7) Cook for about 3 minutes on each side, allowing cheese to melt. Bread should be light brown in color and should look like French toast.
8) Cut the cooked Monte Cristo sandwiches in half and serve with French fries.