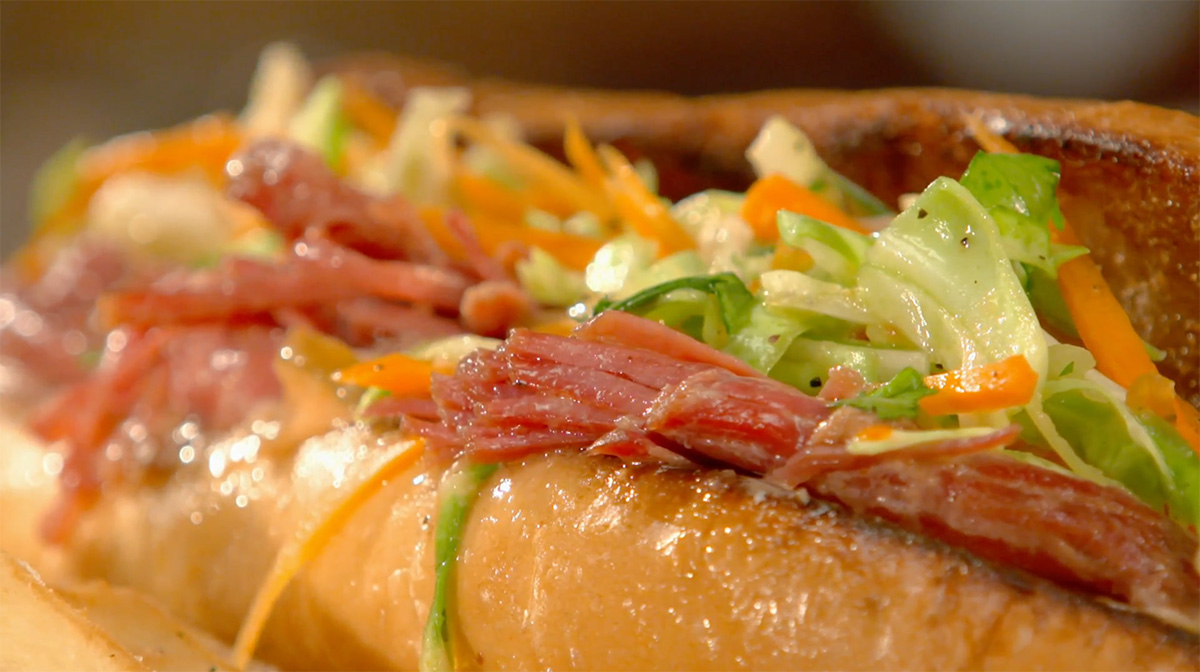 Corned Beef and Cabbage Banh Mi – As Seen on Restaurant: Impossible
From the episode, "Irish Eyes Are Frowning"
SERVES 4
YOU'LL NEED
FOR THE CORNED BEEF
2 lbs raw corned beef, store bought
2 carrots, chopped
1 onion, chopped
5 ribs celery, chopped
2 cloves garlic
8 sprigs thyme
3 tbsp pickling spice
1/4 cup apple cider vinegar
FOR THE CABBAGE SLAW
2 oz water
1 lime, juiced
2 oz rice wine vinegar
2 tsp fish sauce
2 tbsp sugar
1 garlic clove, minced
1 tbsp chili garlic sauce, store bought
2 cups cabbage, shredded
1/2 cup carrot, shredded
½ red onion, sliced thin
½ cucumber sliced thin
2 tbsp chopped cilantro
2 tbsp thin sliced scallions
FOR THE THOUSAND ISLAND DRESSING
2 oz white wine vinegar
1 tsp sugar
1 cup ketchup
1 cup mayonnaise
4 oz sweet pickle relish
1 tbsp Worcestershire sauce
2 tbsp Dijon mustard
FOR PLATING
4 each 8" French baguettes, cut in half lengthwise
1 tsp butter
1 lb frozen French fries
MAKE IT
CORNED BEEF
In a large pot add carrots, onion, celery, garlic, thyme, pickling spice, apple cider vinegar, and raw brined corned beef.
Cover with water and place over high heat.
Allow to come to a simmer and continue to simmer for approximately 3 hours.
Add water throughout cooking process making sure beef is completely covered.
Allow beef to cool in cooking liquid.
Once beef is cool to the touch, remove from the pot and shred the meat.
CABBAGE SLAW
1) Blend water, lime, fish sauce, vinegar, sugar, garlic, and chili lime sauce.
2) Blend ingredients together; season with salt and pepper.
3) In a large mixing bowl add cabbage, carrots, red onions, cucumbers, cilantro, and scallions.
4) Dress with lime and fish sauce mixture.
5) Season with salt and pepper.
THOUSAND ISLAND DRESSING
1) In a mixing bowl add the sugar, and vinegar. Mix together. Allow the sugar to dissolve.
2) Add ketchup, mayonnaise, sweet pickle relish, Worcestershire and Dijon mustard.
PLATING
1) In a medium sauté pan over medium heat, melt the butter and add the cut baguette. Toast on both sides approximately 2 minutes until golden brown in color.
2) Dress the bottom half of the baguette with 1,000 island sauce, then top with the shredded corned beef, and cabbage slaw and the toasted top baguette half.
3) Serve Corned Beef Banh Mi sandwich with French fries, cooked according to instructions.