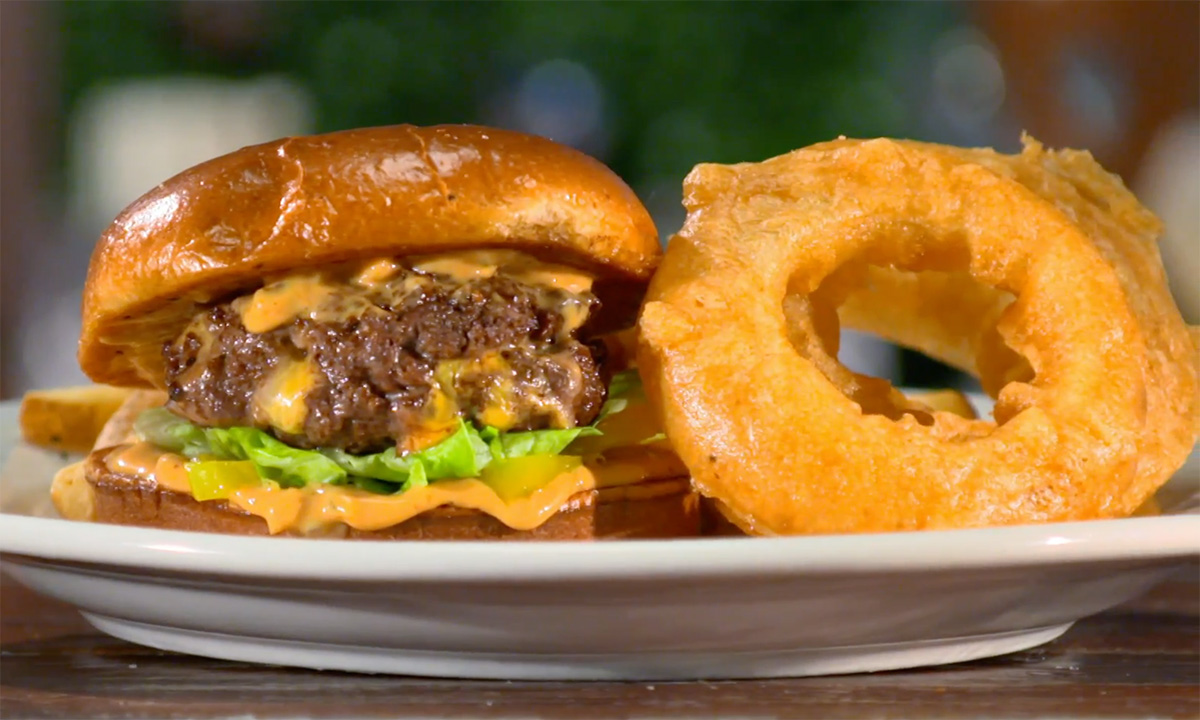 Monterey Jack & Pepper Jack Cheese Stuffed Burgers – As Seen on Restaurant: Impossible
From the episode, "Big Trouble in Tennessee"
SERVES 4
YOU'LL NEED
FOR THE SPICY AIOLI
1 cup mayonnaise
3 cloves garlic, minced
¼ cup hot sauce
¼ cup ketchup
Kosher salt and ground black pepper, to taste
FOR THE STUFFED BURGERS
8 burger patties, about 4 oz each
4 slices Monterey jack cheese
4 slices pepper jack cheese
Kosher salt and ground black pepper, as needed
2 tbsp butter
¼ head iceberg lettuce
4 tbsp pickled sweet pepper rings
4 brioche buns
2 tbsp grapeseed oil
2 oz spicy aioli
FOR THE BEER-BATTERED ONION RINGS
Oil, enough for deep frying
2 cups all-purpose flour
2 tsp paprika
2 tsp smoked paprika
1 tsp garlic powder
1 tsp onion powder
2 tsp kosher salt
12 oz pale ale beer
2 large onions, sliced into 1-inch rings
MAKE IT
SPICY AIOLI
1) In a large mixing bowl add mayonnaise, garlic, hot sauce and ketchup.
2) Season with salt and pepper, to taste.
STUFFED BURGERS
1) Place 1 slice of both cheeses on 4 of the burger patties, making sure patties are bigger than cheese slices.
2) Place the other 4 burger patties on top of the 4 patties with the cheese slices and press the burger patties together on the edges like you are making a sandwich.
3) Season the cheese stuffed burger patties with kosher salt and ground black pepper.
4) Place the stuffed burgers on a grill over medium-high heat or in a cast iron skillet over high heat.
5) Cook for about 3 to 4 minutes on each side. Turn off the heat. Add butter and allow to rest.
6) In a separate pan over medium heat, add the grape seed oil. Toast the buns until golden brown.
BEER-BATTERED ONION RINGS
1) Pre-heat fryer to 350 degrees.
2) In a large bowl whisk together flour, paprika, smoked paprika, garlic powder, onion powder, and kosher salt.
3) Next, add beer to the dry ingredients and whisk the batter well.
4) Place raw sliced onions in beer batter. Then place in a 350-degree fryer.
5) Fry onion rings for approximately 3 to 4 minutes or until onion rings are golden brown in color and crispy.
PLATING
1) Dress the toasted bottom buns with the spicy aioli, then pickled peppers, and iceberg lettuce.
2) Place the cooked stuffed burgers on top of the lettuce, top with toasted bun tops and serve with the beer battered onion rings.