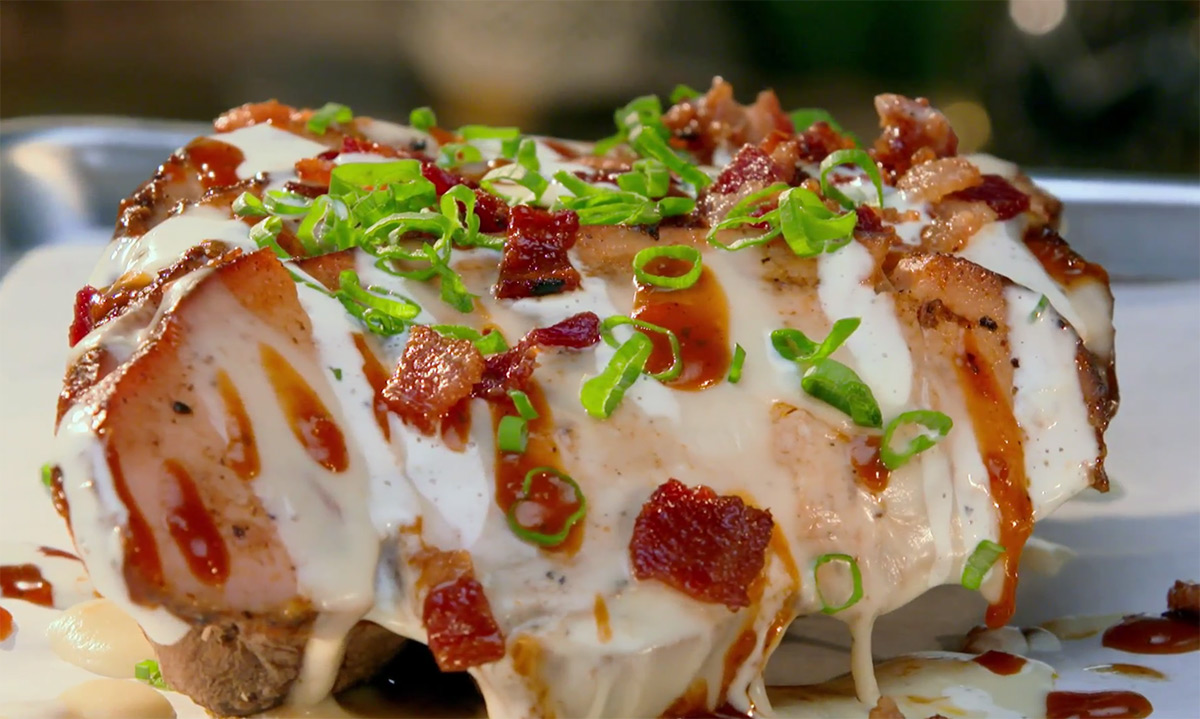 Smoked Turkey Loaded Baked Potato – As Seen on Restaurant: Impossible
From the episode, "Anguish in Abilene"
SERVES 4
YOU'LL NEED
FOR THE BAKED POTATOES
4 large Russet potatoes
Salt and pepper
FOR THE SMOKED TURKEY BREAST
3 lbs turkey breast
2 cups bacon, diced
2 tbsp BBQ spice
1 tbsp Cajun spice
1 tsp kosher salt
2 tsp light brown sugar
1 bunch scallions, sliced
FOR THE RANCH DRESSING
1 cup buttermilk
1 cup sour cream
½ cup mayonnaise
1 bunch dill sliced
1 bunch chives sliced
2 tbsp Cajun spice
FOR THE PEPPER JACK CHEESE SAUCE
3 cups whole milk
1 cup heavy cream
¼ cup green Hatch chiles
2 cups pepper jack cheese, shredded
MAKE IT
BAKED POTATO
1) Pre-heat an oven to 400 degrees.
2) Season potato with salt and pepper and wrap potato in tin foil.
3) Place potato on a baking sheet and place in the oven and cook for about 1 hour.
SMOKED TURKEY BREAST
1) Pre-heat a smoker to 225.
2) In a mixing bowl add BBQ spice, kosher salt, Cajun spice, and light brown sugar.
3) Season turkey breast with spice mixture 24 hours prior to cooking.
4) Place turkey breast in the smoker and allow to cook for about 4 hours.
5) The turkey should be cooked through and tender.
6) In a large skillet over medium heat, add bacon. Cook for about 12 minutes or until the bacon is crispy. Keep bacon warm and set aside.
RANCH DRESSING
1) In a food processor add buttermilk, sour cream, mayonnaise, dill, and chives. Incorporate.
PEPPER JACK CHEESE SAUCE
1) In a large sauce pot add milk, heavy cream, and chiles and bring to a boil.
2) Using a whisk or a hand blender, slowly incorporate pepper jack cheese.
3) Season with salt and pepper and set aside.
PLATING
1) Cut bake potato in half.
2) Top the bake potato with sliced smoked turkey breast.
3) Dress the turkey with ranch dressing, pepper jack cheese sauce, crispy bacon, and sliced scallions.