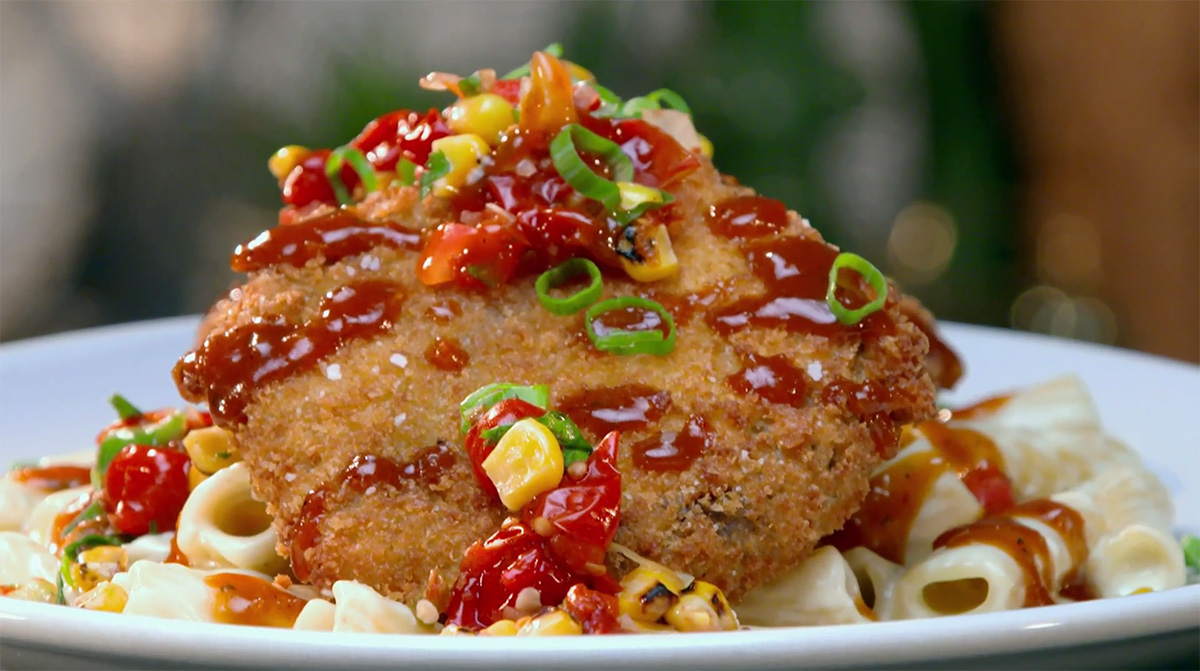 Crispy Fried Portabella Mac and Cheese – As Seen on Restaurant: Impossible
From the episode, "Anguish in Abilene"
SERVES 4
YOU'LL NEED
FOR THE PICO de GALLO
3 cups cherry tomatoes, quartered
1 red onion, diced
2 jalapenos, diced
2 cups fresh cilantro, chopped
Juice of 1 lime
Salt and pepper TT
FOR THE FRIED PORTABELLA
12 portabella mushroom caps, cleaned
1 cup all-purpose flour
3 eggs, beaten
2 cups panko breadcrumbs
2 oz sweet style BBQ sauce, store bought
FOR THE JALAPENO MAC & CHEESE
2 jalapeno peppers, seeded and diced
16 oz rigatoni pasta, cooked
3 cups milk
3 cups heavy cream
4 cups white cheddar cheese
1 bunch scallions, sliced
MAKE IT
PICO de GALLO
1) In a mixing bowl add all ingredients and incorporate. Season with salt and pepper.
FRIED PORTABELLA
1) Pre-heat a smoker to 325 degrees Fahrenheit.
2) Season mushrooms with salt and pepper.
3) Place the portabella mushrooms in the smoker, and smoke for about 1 hour. Remove mushrooms from the smoker and allow to cool.
4) Place flour, eggs, and panko breadcrumbs in separate containers.
5) First place mushrooms in the flour, then the eggs, and last in the panko breadcrumbs.
6) Pre-heat a tabletop deep fryer or an air fryer.
7) Place breaded portabella mushrooms in the fryer and allow to cook for approximately 3 minutes, or until golden brown.
JALAPENO MAC & CHEESE
1) In a sauce pot add heavy cream, milk, and jalapeno peppers. Bring to boil. Remove from the heat. Using a whisk incorporate cheese.
2) Add rigatoni and incorporate. Finish with scallions. Season with salt and pepper.
PLATING
1) Place mac and cheese in a large bowl.
2) Top the mac and cheese with the crispy portabella mushrooms.
3) Finish with pico de gallo and sweet style BBQ sauce.