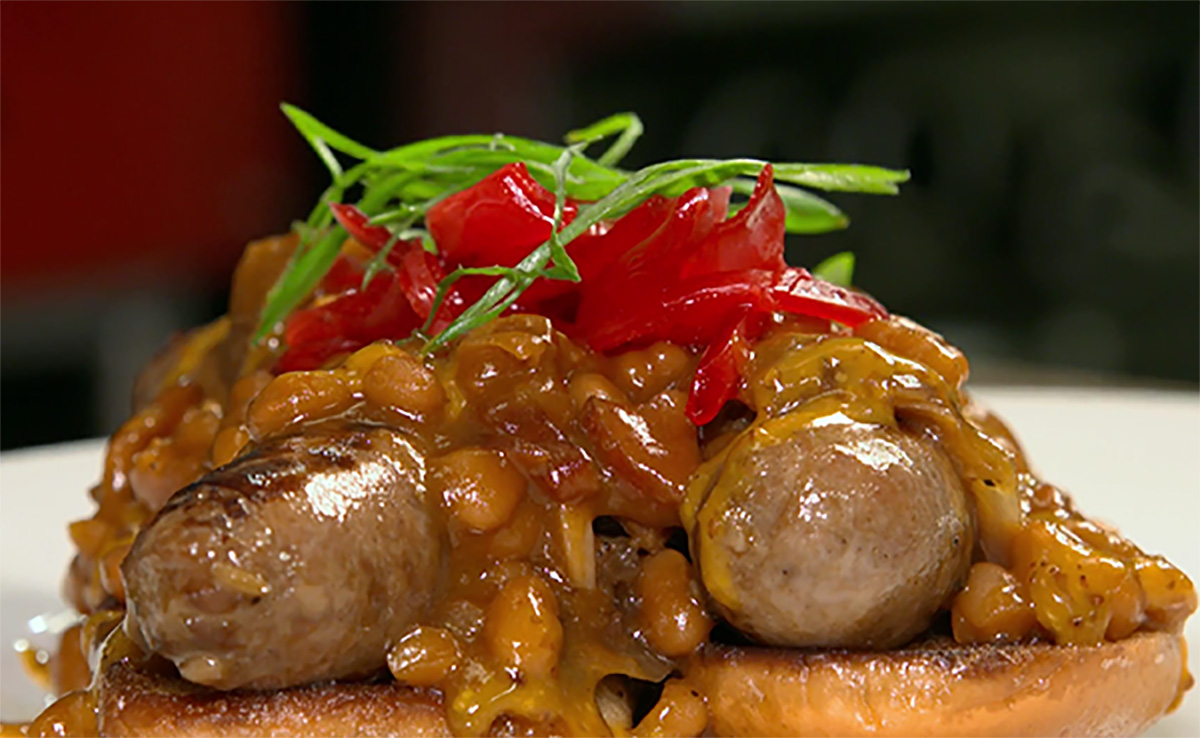 Beer Braised Brats & Beans – As Seen on Restaurant: Impossible
From the episode, "A Trifecta of Failure"
SERVES 4
FOR THE BBQ BAKED BEANS
2 cups bacon, diced
1 white onion, diced
3 garlic cloves, minced
1 red bell pepper, diced
1 green bell pepper, diced
1 tbsp Cajun spice
4 oz dark beer
1 qt sweet BBQ sauce, store bought
1 tbsp cider vinegar
¼ cup brown sugar
2 cups chicken stock
32 oz canned pinto beans
FOR THE PICKLED ONIONS
2 red onions, sliced
1 cup red wine vinegar
½ cup honey
¼ cup granulated sugar
MUSTARD BBQ SAUCE
2 cups tangy mustard BBQ sauce, store bought
2 tbsp whole grain mustard sauce
2 tbsp Dijon mustard
2 tbsp cider vinegar
3 tbsp sweet chili sauce
FOR THE BRATS
3 tbsp grapeseed oil
8 brats (5 oz each)
2 white onions, sliced
3 garlic cloves, sliced
16 oz stout style beer
1 bunch of thyme, picked and chopped
1 tsp Cajun spice
16 oz potato chips, store bought
4 hot dog buns
1 bunch scallions, sliced
MAKE IT
BBQ Baked Beans
1) In a large sauce pot over medium heat, add bacon and allow to render, about 5 minutes.
2) Add onions, garlic, and peppers and allow to sweat until onions are translucent and pepper are cooked through.
3) Add Cajun spice, then deglaze with beer and cook for about 2 minutes.
4) Add remaining ingredients and simmer for 10-12 minutes. Beans should be tender and sauce should coat the beans.
PICKLED ONIONS
1) In a sauce pot, add vinegar, honey, and sugar. Bring mixture to a boil.
2) Add sliced onions, cover, and set aside.
TANGY MUSTARD SAUCE
1) in a mixing bowl, add BBQ sauce, whole grain mustard, Dijon mustard, cider vinegar, and sweet chili sauce. Incorporate.
BRATS
1) In a large skillet over medium heat add grapeseed oil and brats.
2) Sear brats on each side for about 3 minutes on each side or until the brats are light brown in color. Remove the brats from the pan and set them aside.
3) Add onions and allow to sweat for about 10 minutes.
4) Add garlic and allow to sweat for about 2 minutes.
5) Deglaze the pan with beer and reduce by half.
6) Add the brats back to the pan, along with the thyme and Cajun spice.
7) In a separate pan add a hot dog bun and toast facedown until golden brown.
PLATING
1) Top the toasted hot dog bun with the seared brats, BBQ baked beans, rendered onions, and tangy mustard sauce.
2) Add pickled red onions and sliced scallions. Serve with chips.