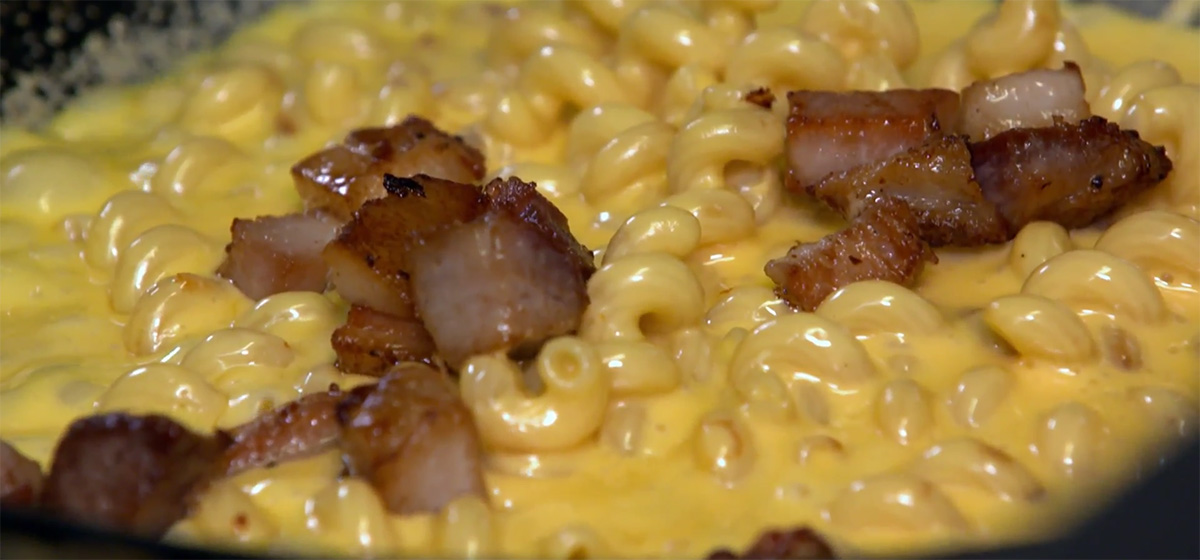 Smoked Pork Belly Mac & Cheese – As Seen on Restaurant: Impossible
From the episode, "Community Hub in Chaos"
SERVES 12
YOU'LL NEED
1 qt heavy cream
1 lb American cheese, large diced
8 oz shredded cheddar cheese
1 tsp mustard powder
2 tbsp Cajun hot sauce
1 tsp kosher salt
½ tsp ground black pepper
2 lbs elbow macaroni
8 oz slab bacon, diced (or you can use sliced bacon, diced)
¼ cup fine chopped chives
Kosher salt and pepper, to taste
MAKE IT
1) In a large sauce pot over medium heat, add heavy cream and bring to a simmer.
2) Turn down the heat to low and slowly whisk in and incorporate American and cheddar cheeses.
3) Continue to stir until the cheeses have melted and sauce is smooth, add the mustard powder, hot sauce, salt, and pepper.
4) In a large pot over high heat bring 4 qt of lightly salted water to a boil. Once the water has started to boil, add the pasta, stir and cook for about 8 minutes. Strain the cooked pasta, which should be al-dente (slightly undercooked).
5) In a large pot over medium-high heat, add the diced pork belly, stir, and allow to render for 4 to 6 minutes. It should be brown in color and start to look crispy.
6) Turn down the heat and add cheese sauce and cooked pasta to the pot of cooked bacon.
7) Fold in the chopped chives and season with salt and pepper to taste.