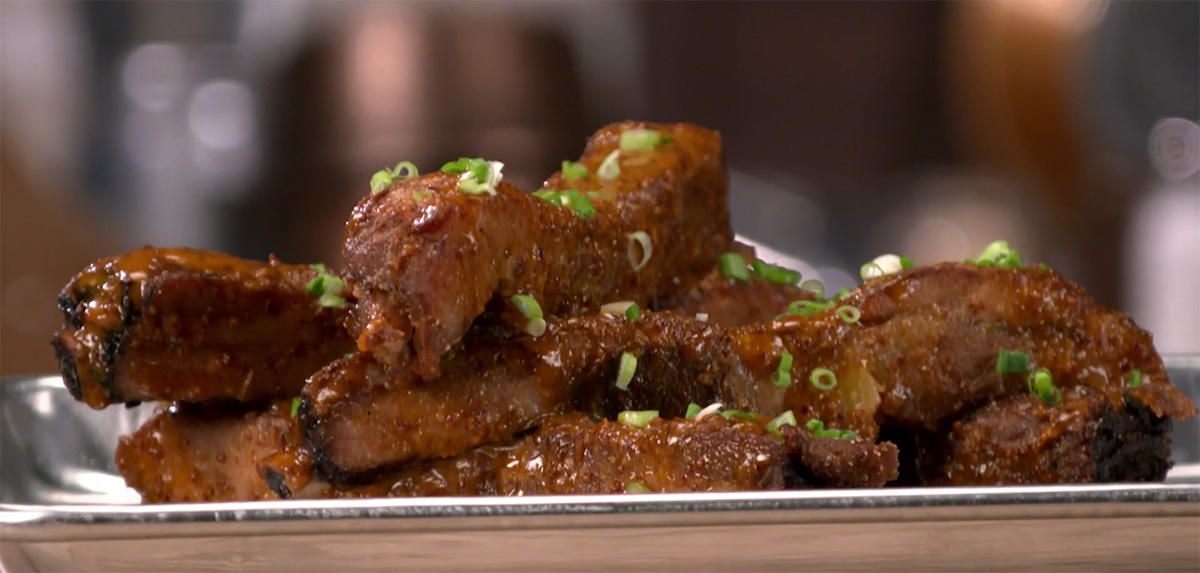 Crispy Fried Pork Spare Ribs – As Seen on Restaurant: Impossible
From the episode, "Community Hub in Chaos"
SERVES 4
YOU'LL NEED
1 tbsp kosher salt
½ cup brown sugar
1 tbsp Cajun spice
1 tsp cayenne pepper
2 racks raw pork spare ribs
Oil, enough for deep frying
1 cup all-purpose flour
1 cup corn meal
1 tsp onion powder
1 tbsp ground pepper
1 tsp garlic powder
1 tsp kosher salt
Chives
MAKE IT
1) In large mixing bowl add salt, brown sugar, Cajun spice, and cayenne pepper.
2) Evenly coat ribs with mixture and allow to sit at least 2 hours prior to cooking.
3) Preheat oven to 325 degrees F.
4) Wrap the ribs tightly in plastic wrap. Then wrap ribs in foil.
5) Place ribs on a baking sheet and place in oven. Allow to cook for 3 hours.
6) Remove ribs from oven and allow the wrapped ribs to cool down.
7) Preheat deep fryer with oil to 360 degrees F.
8) Once ribs have reached room temperature remove ribs from foil & plastic wrap and cut into double bone portions.
9) In a mixing bowl add the flour, corn meal and all the spices.
10) Dredge the cooked 2 bone rib portions in the seasoned flour-corn meal mixture and place in deep fryer.
11) Allow ribs to fry for 3 to 4 minutes—they will be hot in the center and golden brown on the outside. Garnish with chives and serve.