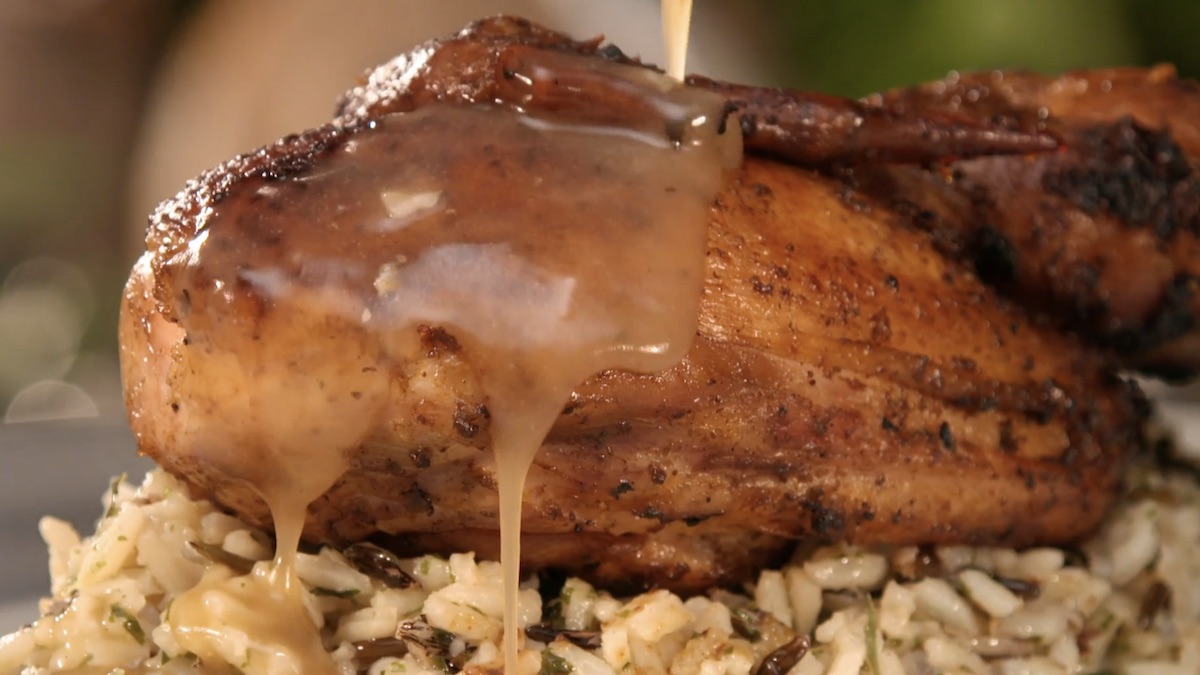 Slow Grilled BBQ Rubbed Chicken with Wild Rice Pilaf & Chicken Gravy – As Seen on Dinner: Impossible
From the episode, "The Lumberjack Special"
SERVES 4
YOU'LL NEED
FOR THE BBQ RUBBED CHICKEN
2 whole chickens (2-3 lbs each)
¼ cup BBQ dry rub seasoning (store bought)
1 tbsp garlic powder
1 tbsp onion powder
Kosher salt and ground black pepper, as needed
FOR THE WILD RICE PILAF
2 tbsp butter
½ cup onion, diced
1 tbsp chopped fresh thyme
1 package wild rice pilaf blend (any preferred store brand)
Kosher salt and ground black pepper, to taste
FOR THE CHICKEN GRAVY
1 tbsp oil
1 tbsp fresh garlic, minced
2 tsp chopped fresh rosemary
1 tsp chopped fresh sage
¼ cup sherry wine
2 cups chicken gravy (any preferred store brand)
MAKE IT
BBQ RUBBED CHICKEN
1) Cut the chickens in half and rinse well with water and dry off.
2) In a mixing bowl, mix the BBQ rub, garlic powder, and onion powder together and rub all sides of the chicken with the seasoning mixture.
3) Preheat half of the grill to 350 degrees.
4) Place the rubbed chickens skin side down over indirect heat (area of the grill not turned on) for 15 to 20 minutes until skin is nicely grilled and slightly charred.
5) Turn the chickens over and grill skin side up for another 20 minutes, then check the internal temp. Continue to cook the chicken until internal temp reaches 165 degrees in the breast and thigh.
WILD RICE PILAF
1) In a large sauce pot over medium heat, add the butter.
2) Add the onion and fresh thyme. Stir and sauté the onion and thyme for 1 minute until onion is tender.
3) Add the contents of the packaged wild rice blend and continue to cook the rice according to the packaged directions.
4) Once the rice is cooked, season the rice with salt and pepper, if needed. Hold the rice warm while finishing the meal.
CHICKEN GRAVY
1) In a large sauce pot over medium heat, add the oil and then add the garlic, fresh rosemary and sage.
2) Stir and sauté the garlic and fresh herbs for 30 seconds until fragrant.
3) Add the sherry wine to the pot and stir. Allow the wine to reduce for 1 minute and then add the chicken gravy.
4) Stir the gravy and allow to come to a simmer.
PLATING
1) Place a portion of the wild rice pilaf onto the center of the dinner plates. Top the rice with the cooked half chickens and ladle the chicken gravy over the chicken and serve.