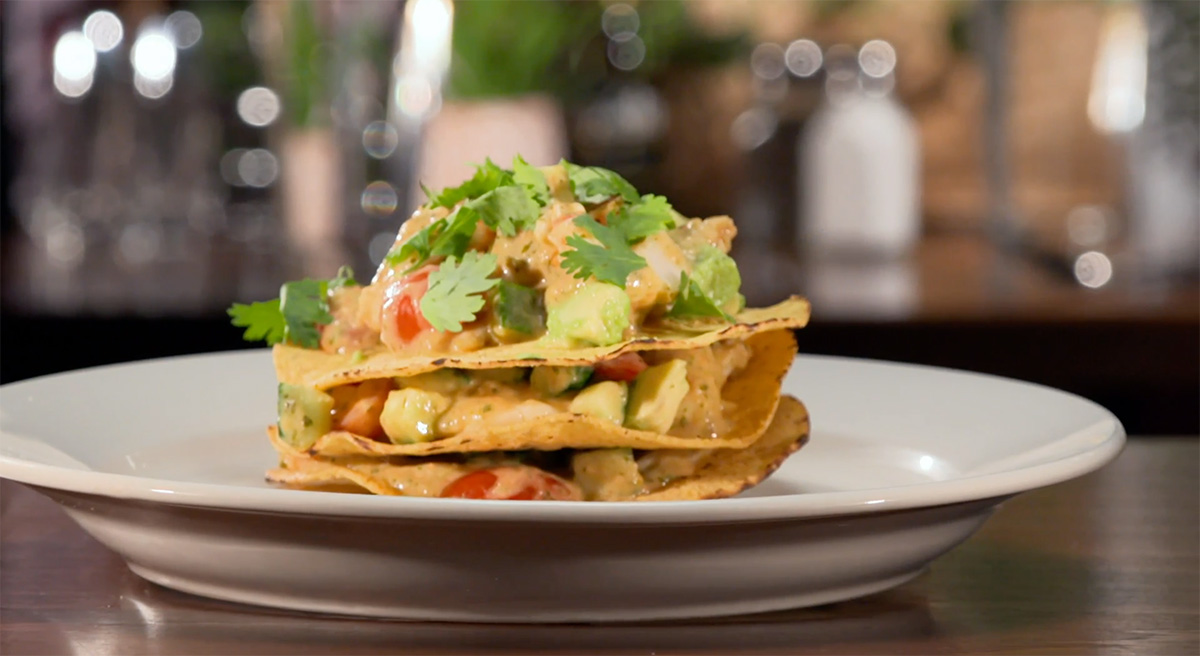 Shrimp Tostada – As Seen on Restaurant: Impossible
From the episode, "Moving on in Montana"
SERVES 4
YOU'LL NEED
FOR THE SALSA VERDE
5 Tomatillos, peeled and cut in half
1 jalapeno pepper, cut in half and seeded
1 onion, cut in half
3 cloves garlic, sliced thin
1 bunch fresh cilantro
2 tbsp sour cream
Salt and pepper
2 tbsp lime juice
FOR THE TOSTADA
1 tbsp kosher salt
2 tbsp rice wine vinegar
2 lbs 16/20 count raw peeled and deveined shrimp, tails removed
Bowl of ice water
½ avocado, diced
½ red onion, diced
12 cherry tomatoes, quartered
½ cup cucumber, diced
5 red radishes, diced small
12 crispy corn tostadas
6 oz Salsa Verde (see recipe below)
3 tbsp fresh cilantro, chopped
MAKE IT
SALSA VERDE
1) Place tomatillos, peppers, onion, and garlic on a baking sheet. Place in a 400-degree oven and allow to roast for about 5 minutes. Place roasted tomatillo mixture in a blender, then add cilantro and sour cream. Puree until mixture is smooth. Season with salt pepper and lime juice
TOSTADA
1) Bring 4 quarts of water to a boil, season with the salt and rice wine vinegar.
2) Add the raw shrimp to boiling water and allow to lightly poach for 4 minutes.
3) Remove the poached shrimp from boiling water and shock in ice water.
4) In a large mixing bowl, add the chilled cooked shrimp, avocado, red onion, cherry tomatoes, cucumber, radish, and Salsa Verde.
5) Top 1 tostada with the shrimp mix, then place another tostada on top of the shrimp mix. Continue process until you have three layers. Garnish the top layer of shrimp mix with fresh chopped cilantro.