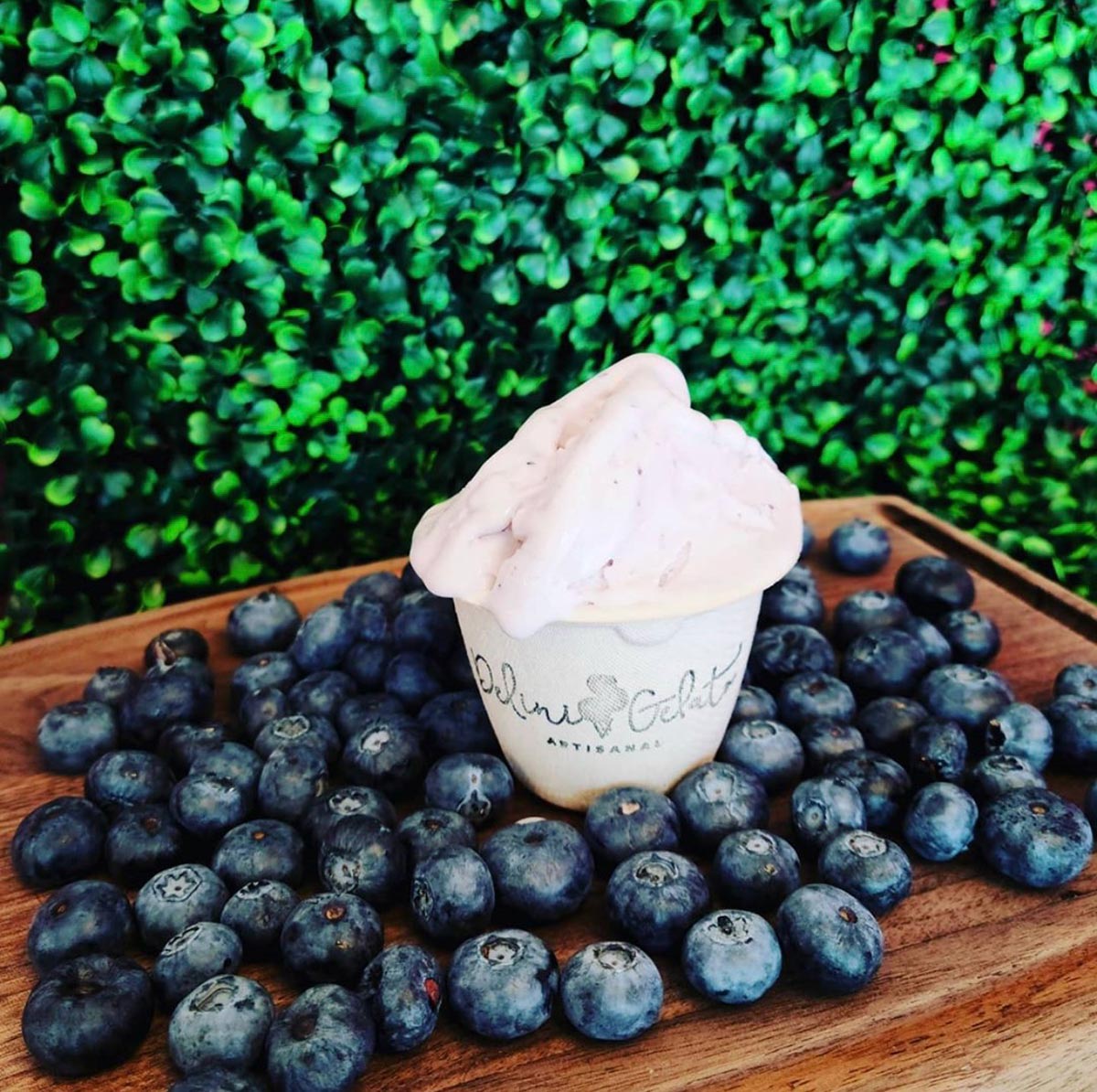 How The Best Gelato In Boston Was Able To Open During The Pandemic
While the restaurant industry faces unprecedented hardship, Delini Gelato proves there's still room for newcomers who are committed to excellence.
BY KATIE LINENDOLL
Delini Gelato in West Roxbury, MA is known for its artisanal gelato made from farm fresh ingredients. With unique flavors like Honey Lavender, Homemade Baklava, and Vegan Figs and Peaches, customers can't get enough.
But the small shop's success story is as unique as its flavor combinations; Delini isn't some neighborhood mainstay that's been around for decades. It opened in June as the entire restaurant industry began to face a wave of heartbreaking pandemic-induced closures.
The shop's owner, Viki Petkova, certainly didn't plan it that way. She was just ready to share her passion with the world.
"Everyone told me I was crazy to open during this time," Petkova says, "But for me this was my dream!"
In many ways, Petkova is the embodiment of the American dream. She hails from a small mountain town in Bulgaria where she became accustomed to hard work and developed an appreciation for the land and locally sourced, wholesome ingredients. Her family even raised their own goats, pigs, chickens, and sheep.
After she met her husband, Nik, in Cape Cod in 2008 at a student work program, Petkova decided to move to America where she eventually earned her citizenship in 2015. She has traveled all over the world, refining her expertise and training with her mentor and friend, Savina Nikolova, of Savini Gelato in Bulgaria.
Before the launch, Petkova struggled for years with regulations and obtaining permits. She attempted to open two other locations in various towns around Boston before finally settling in West Roxbury. After painstakingly getting every detail into place, Covid-19 hit and the shutdowns began. Rather than scuttle her plans, she forged ahead with opening and has been rewarded handsomely.
The pandemic, though, brought new, unexpected challenges with shortages in supplies. For example, an organic cane sugar order can take weeks to fulfill. Petkova, however, developed creative solutions and used this as an opportunity to create unique flavors with what she had.
Delini Gelato keeps it all in the family. The shop is named after Petkova's daughter, Delina, which is a unique combination of Darina and Elena—her two grandmothers. Her husband works full time but helps out every day and on weekends; he also created their website, assists with social media, and manages the back end of their online ordering platform.
Word of mouth and Instagram have proven to be one of the shop's greatest assets. And the family's passion is displayed through their hard work and the tireless hours they put into the shop. If you pass the store at 1:00 a.m., the lights may very well still be on as they create the next day's gelato goodness. As of this writing, Viki's mother is in town from Bulgaria making Baklava for one of their most in-demand flavors.
Petkova diligently follows all health department guidelines; she is tested for Covid frequently and the shop is regularly checked and tested for compliance. Currently, the shop cannot accommodate dine-in, so guests must stand outside the shop or sit near the roadside. And while social distancing creates lines out the door, customers have proved willing to wait for a high-quality product.
The lesson other small business might glean from Petkova's success is that an uncompromising approach to everything from ingredient quality to safety protocols creates loyal customers. Her Gelato Pozzetti was imported from Italy, and her Coldelite Compactor Vario Elite machine is state of the art. (Not to mention everything from spoons to bowls to the pint takeout boxes are compostable.) She also travels to local farms and markets to ensure she is getting the best organic produce.
Then begins the labor-intensive process of creating the perfect gelato. Her signature Pistachio flavor takes six hours from start to finish. She starts by selecting the very best organic nuts, inspecting each one and removing the skin by hand, then using a Melanger to crush the nuts to particles of 15 microns. One of her ingredients is a special rose oil used in the Baklava from the oldest rose farm in Bulgaria—an ingredient carries a price tag of $600 per ounce.
When it comes to the power of social media, Petkova is pretty savvy in that area, too. It's hard not to get lured into the shop after seeing an Instagram post about a new flavor and the process of how it was created. Petkova notes that customers have previously stormed out when they see a new flavor posted only to discover that it has already sold out by the time they arrived.
In addition to adding new flavors weekly, the menu is regularly updated with new selections like organic chocolate chip cookie gelato sandwiches and gelato on a stick for kids.
Personally, I have a huge sweet tooth, and having traveled all over the globe, I can honestly say I have never tasted better gelato.
"Generations of Italians from the neighboring Italian restaurants were ordering pints in the dozens," Petkova says of her ultimate validation, "and they were asking how I made the gelato because it tastes like it's from Italy!"
So, what does the future hold for Delini? For a business that opened during a global pandemic, they have stayed the course and already made a name for themselves in West Roxbury. Moving forward, Petkova hopes to open another location in downtown Boston or begin operating a food truck. Those same neighborhood Italian restaurants so impressed with her technique are now talking to her about using Delini Gelato to add to their dessert menus.
While Petkova never thought she would be pursuing her dream during a pandemic, the early success has her dreaming of even more. Her options for the future are wide open. For now, Delini is drawing crowds… six feet apart, that is.
TECH FOR SMALL BUSINESS
OVER – App for Android and IOS
Over is a great app for creating professional social posts. Over provides a vault of graphics and fonts to select from. In addition to creating professional posts for Instagram and Twitter you can also use this app to build website graphics and banners.
SQUARE PAYMENTS
If it's not your expertise, implementing an online ordering platform for your website can be daunting and risky. Square (squareup.com) can be a great resource for your business both in store and online. The downside is its 2.5% fee +10 cents, but you save yourself the headache of building and integrating an online ordering platform from scratch.
TARGETED SOCIAL PROMOTION
A simple yet effective way for small business to reach more customers is to do promoted posts on Instagram and other social platforms. You can choose your audience based on their age, location, and interests targeting more community visibility.
Katie Linendoll is an Emmy-winning tech reporter and a regular contributor to the Today Show. Follow her on TWITTER and INSTAGRAM.