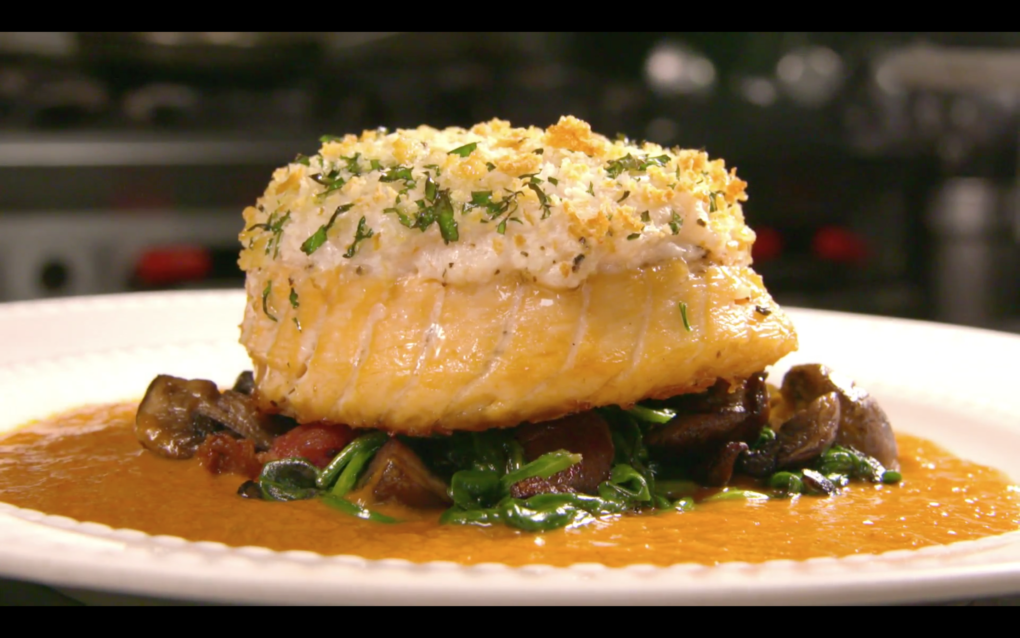 Salmon Pinwheel – As seen on Restaurant: Impossible
From the Restaurant: Impossible Revisited episode, "Chaos in the Kitchen" (at the Padre Rita Grill)
SERVES 5
YOU'LL NEED
FOR THE TOMATO APPLE REDUCTION
2 tbsp grapeseed oil
2 cups white onion, diced
2 cloves garlic, minced
1 cup raw bacon, diced
1 qt apple juice
12 oz tomato juice
4 oz butter
Salt and pepper
FOR THE SALMON PINWHEEL
20 oz salmon filet, skin off, sliced into 8-inch long by 1-inch thick strips. A 20-oz filet can be cut into 5 such strips.
10 oz U-26-30 shrimp Peeled and Deveined tail off
10 skewers
Grapeseed oil
Salt and pepper
3 tbsp parsley, chopped
1 ¼ cup Panko bread crumbs
FOR THE SAUTED SPINACH
10 oz bacon, diced
10 oz button mushrooms, sliced thin
10 oz raw baby spinach
1 tbsp butter
MAKE IT
TOMATO APPLE REDUCTION
1) In a medium sauce pot, heat grapeseed oil over medium-high heat. Sweat onion, garlic and bacon until bacon is cooked and onions are translucent.
2) Deglaze with apple juice and reduce by half.
3) Add tomato juice, and reduce by half.
4) Add mixture to a blender and blend until smooth.
5) Return mixture to heat and finish with butter, salt, and pepper.
SALMON PINWHEEL
1) Preheat oven to 350 degrees.
2) Roll salmon strip into a pinwheel and secure with two skewers. Repeat for remaining strips.
3) In food processor pulse shrimp until smooth. Add a pinch of salt and pulse once more.
4) Season both sides of the salmon with grapeseed oil, salt, and pepper.
5) Top each pinwheel with shrimp mousse.
6) Mix parsley and panko in mixing bowl, and top pinwheel with mixture.
7) Roast the pinwheels in the oven for 15 minutes, or until shrimp mousse is cooked through.
SAUTED SPINACH
1) Render diced bacon in a medium sauté pan over medium-high heat.
2) Add sliced mushrooms and cook until golden brown.
3) Add spinach. Cook just until spinach wilts.
4) Finish with butter and season with salt and pepper.
PLATING
Ladle tomato apple reduction into the center of the plate. Top with sauted spinach and place pinwheel on top.