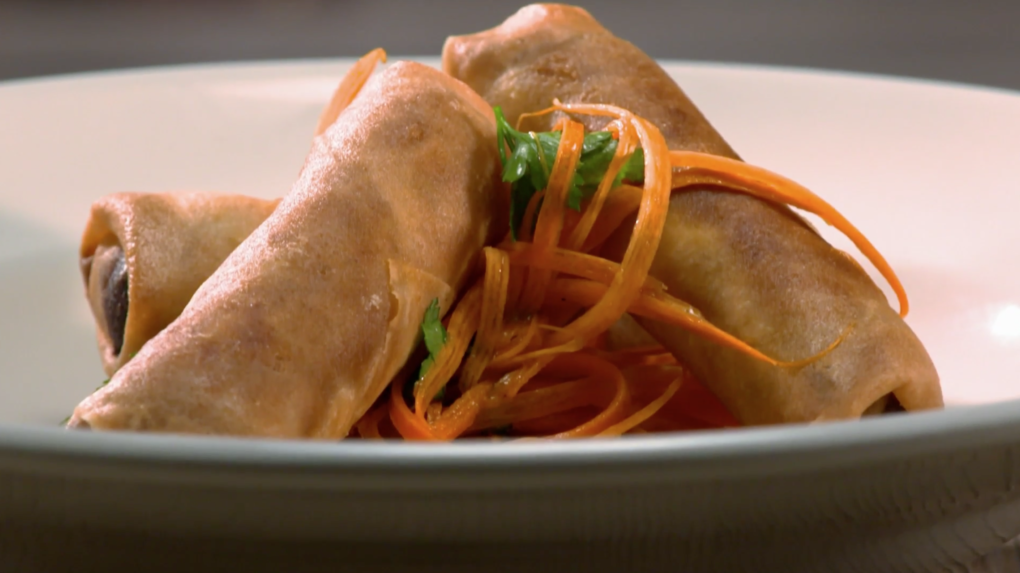 Alligator Sausage Spring Rolls – As Seen on Restaurant: Impossible
From the episode, "Lost in the Bayou"
SERVES 4
YOU'LL NEED
FOR THE SPRING ROLLS
1 white onion, diced
1 red pepper, diced
2 cups alligator sausage (chopped)
1 cup basmati rice (cooked)
12 spring roll wrappers
FOR THE RED PEPPER AIOLI
1 cup capers, chopped
1 cup mayo
1 cup crystal hot sauce
1 tbsp chopped cilantro
1 cup roasted red peppers, chopped finely
1 tbsp minced garlic
1 tbsp minced shallots
FOR GARNISH
2 carrots, shredded
1 oz cilantro
MAKE IT
1) In a large sauté pan, add onions, red peppers, and alligator sausage. Cook over medium-high heat until sausage is cooked through and peppers and onions are tender.
2) Add cooked basmati rice and incorporate into mixture.
3) Fill each spring roll with about 1.5 oz. of filling. Roll spring rolls like a cigar. Seal shut, and place in fridge.
4) Make red pepper aioli: In a bowl, whisk together capers, hot sauce, 1 tbsp cilantro, roasted red peppers, garlic, and shallots.
5) Once chilled, cook in a 350° fryer for 3 minutes.
6) Combine all red pepper aioli ingredients into a bowl and mix thoroughly.
7) Serve with red pepper aioli over a bed of shredded carrots and 1 oz cilantro.