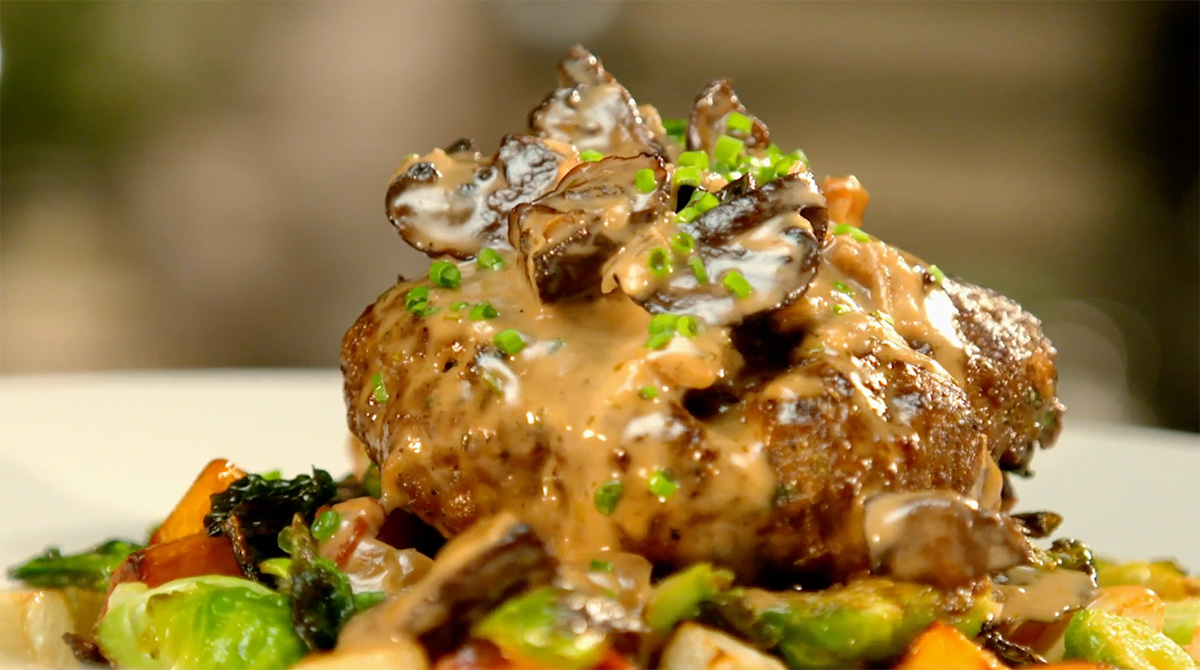 Salisbury Steak with Roasted Root Vegetables – As Seen on Restaurant: Impossible
From the episode, "Soul Food in the Dark"
SERVES 4
YOU'LL NEED
FOR THE SALISBURY STEAK
2 lbs ground beef (80/20 blend)
2 large eggs
½ cup breadcrumbs
¼ cup white onion, diced
1 tbsp garlic, minced
2 tbsp tomato paste
2 tbsp Dijon mustard
2 tbsp Worcestershire sauce
2 tbsp flat leaf parsley, chopped
2 tbsp scallions, chopped
FOR THE ROOT VEGGIES
2 cups Brussels sprouts, halved
2 cups sweet potatoes, large diced
2 cups turnips, large diced
FOR THE MUSHROOM GRAVY
8 oz button mushrooms, sliced
¼ cup raw bacon, medium diced
¼ cup white onion, medium diced
2 cloves garlic, sliced thin
4 tbsp butter
4 tbsp all-purpose flour
1 bunch thyme, chopped
1 bunch rosemary, chopped
1 cup heavy cream
1 ½ cups beef stock
1 tbsp red wine vinegar
FOR GARNISH
1 tbsp chives, chopped fine
MAKE IT
SALISBURY STEAK
1) In a large mixing bowl, add the ground beef, eggs, breadcrumbs, onions, garlic, tomato paste, Dijon mustard, Worcestershire sauce, parsley, and scallions.
2) Using a wooden spoon, incorporate all the ingredients well.
3) Season with salt and pepper.
ROOT VEGETABLES
1) Pre-heat oven to 375 degrees.
2) Keep Brussels sprouts, sweet potatoes, and turnips in separate bowls and season with salt and pepper.
3) Place brussels sprouts, turnips, and sweet potatoes on separate cooking trays.
4) Roast for about 15 to 20 minutes until vegetables cooked through. The turnips will take the longest.
5) Allow the vegetables to cool.
MUSHROOM GRAVY
1) In a large saucepan over medium heat, add bacon and allow to render for 5 minutes. Bacon should light brown in color and lightly crispy.
2) Add mushrooms, butter and herbs and allow to cook for another 2 minutes. Add the flour and stir well to create a roux.
3) In a separate pot over high heat, add heavy cream, beef stock, and allow to come to a simmer.
4) Using a whisk, add the heavy cream and beef stock mixture to the bacon and flour mixture.
5) Stir well and bring to a simmer and allow to continue to cook for 10 minutes, or until sauce has thickened.
6) Season with salt, pepper, and red wine vinegar.
PLATING
1) In a sauté pan over medium heat, add 1 tbsp of grapeseed oil and the Salisbury steaks.
2) Allow to cook for about 6 minutes on each side; the steak should be cooked through.
3) In a separate pan over medium-high heat, add 1 tbsp grapeseed oil, roasted brussels sprouts, sweet potatoes, and turnips.
4) Season vegetables with salt and pepper, to taste.
5) Place vegetables in the middle of the plate.
6) Place Salisbury steak on top of vegetables, finish with mushroom gravy and chopped chives.