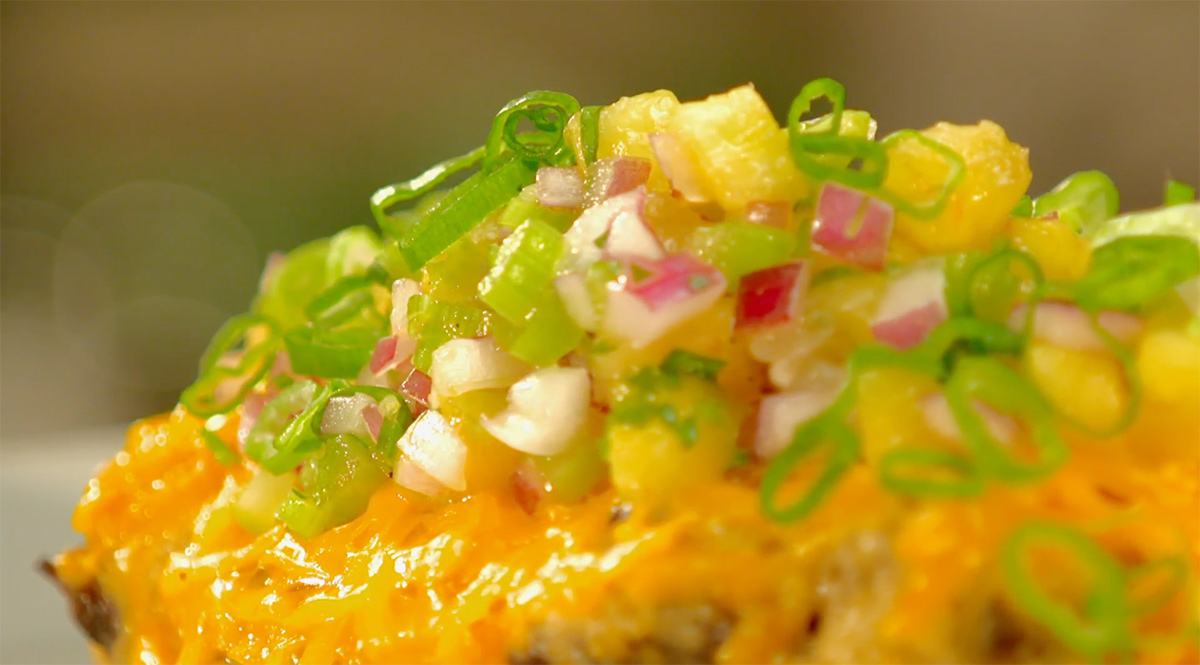 Oxtail Loaded Baked Potatoes with Pineapple Salsa – As Seen on Restaurant: Impossible
From the episode, "Soul Food in the Dark"
SERVES 4
YOU'LL NEED
FOR THE BRAISED OXTAIL
3 lbs oxtail, cut into large pieces
2 tsp jerk seasoning
1 tbsp kosher salt
3 tbsp light brown sugar
2 carrots, peeled and medium diced
2 tbsp grapeseed oil
4 ribs celery, medium diced
1 white onion, medium diced
½ cup jerk paste
1 cup white wine
2 cups chicken stock
2 cups beef stock
FOR THE PINEAPPLE SALSA
¼ cup red onion, medium diced
¼ cup celery, medium diced
¾ cup pineapple, medium diced
¼ cup grape tomatoes, quartered
½ bunch scallions, chopped thin
1 tbsp cilantro, chopped
1 lime, juiced
1 tbsp honey
2 tsp sambal chili paste
Kosher salt and ground black pepper, to taste
FOR THE MASHED POTATO FILLING
4 whole Russet potatoes peeled and cut into quarters
4 tbsp butter
1 cup heavy cream
Kosher salt and ground black pepper, to taste
FOR PLATING
4 large Russet potatoes, baked and cooked through
½ cup shredded cheddar cheese
1 bunch scallions, chopped thin
MAKE IT
BRAISED OXTAIL
1) Pre-heat oven to 325 degrees.
2) In a large mixing bowl, add the jerk seasoning, kosher salt, and brown sugar and incorporate.
3) Season each oxtail portion with the jerk seasoning mixture 12 hours prior to cooking.
4) In a large roasting pan over medium-high heat, add the grapeseed oil and seasoned oxtail. Sear on all sides.
5) Oxtail should be brown in color, being careful not to burn and remove oxtail from the pan.
6) Turn the heat down to medium heat and add the carrots, celery, and onions. Stir well and allow to cook for 5 minutes.
7) The vegetables should have some color on them.
8) Add the jerk paste and allow to cook for another 4 minutes and then deglaze the pan with white wine.
9) Allow the wine to reduce by half, add the oxtail back to the pan.
10) Add chicken stock and beef stock and bring to a boil, and then cover
11) Place the oxtail in a 325-degree oven and cook for 4 hours.
12) Once oxtail is cooked and fork tender, remove it from the pan, and allow to cool. Remove the cooked oxtail and shred meat.
13) Strain the braising liquid and then place shredded oxtail back to braising liquid.
PINEAPPLE SALSA
1) In a large mixing bowl add red onion, celery, pineapple, grape tomatoes, scallions, cilantro, lime, honey, and sambal chili paste.
2) Season with salt and pepper.
MASHED POTATO FILLING
1) Add potatoes to a pot with seasoned water. Bring to boil and allow to cook until potatoes are cooked through, about 20 minutes, then drain.
2) In a small sauce pot add butter and heavy cream and heat until butter is melted.
3) Using a hand mixer or a potato masher slowly incorporate heavy cream mixture.
4) Season with salt and pepper to taste.
PLATING
1) Preheat fryer to 350 degrees F.
2) Preheat oven to 375 degrees F.
3) Take potato that is cooked through, cut in half, and scoop out the inside (You can add this to your already made mashed potatoes).
4) Next, place the halved potatoes in a 350-degree fryer and cook for about 3 minutes.
5) In a mixing bowl, add the shredded oxtail meat to the mashed potatoes.
6) Fill the fried potato skins with the shredded oxtail-mashed potato mixture and cover with shredded cheddar cheese. Place potato in oven for 3 to 4 minutes to melt the cheese.
7) Finish the potatoes by topping with pineapple salsa.