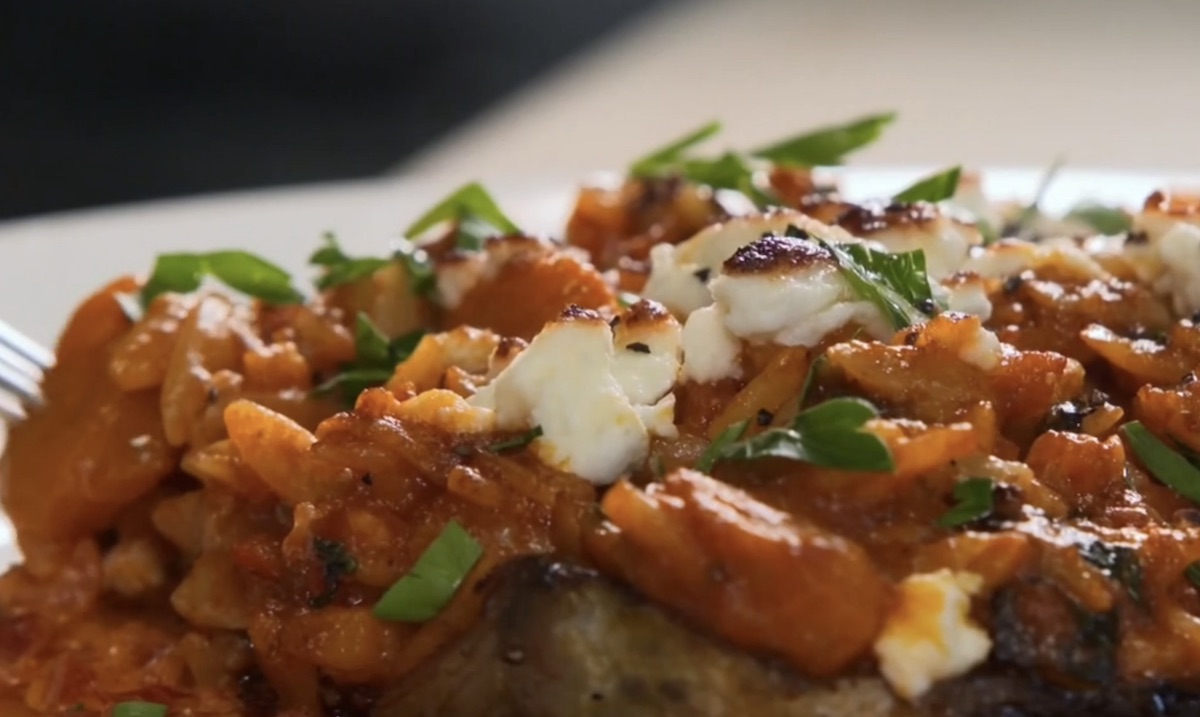 Roasted Eggplant with Orzo and Feta – As Seen on Restaurant: Impossible Revisited
SERVES 4
YOU'LL NEED
FOR THE TOMATO SAUCE
1 tbsp grapeseed oil
1 Spanish white onion, medium diced
3 cloves garlic, sliced
1 tbsp tomato paste
4 oz red wine
1 can San Marzano whole peeled tomatoes (16 oz)
1 tbsp fresh parsley, chopped
2 tbsp fresh basil, chopped
Salt and pepper to taste
FOR THE EGGPLANT, VEGGIES, & ORZO
2 large eggplants
4 tbsp grapeseed oil
½ tsp salt (for the eggplant)
3 tbsp crumbled feta cheese
1 bunch fresh basil, chopped
2 cups cooked orzo pasta
2 tbsp grapeseed oil
2 green zucchini, medium diced
2 yellow squash, medium diced
1 red pepper, medium diced
1 bunch mint, chopped
1 bunch basil, chopped
MAKE IT
TOMATO SAUCE
1) In a medium sauce pot, over medium heat, add
grapeseed oil and the onions. Sauté the onions for 2 to 3 minutes until translucent.
2) Add the garlic and sauté for 2 minutes more.
3) Add tomato paste and cook for approximately 2 minutes.
4) Add the red wine and reduce by half.
5) In a medium mixing bowl add San Marzano tomatoes. Using your hand, mash the tomatoes.
6) Add the mashed tomatoes to the sauce pot. Turn the heat to low and cook for 30 minutes stirring occasionally.
7) Finish the tomato sauce by adding the chopped parsley and basil. Season with salt and pepper to taste.
EGGPLANT, VEGGIES & ORZO
1) Pre-heat oven to 375 degrees F.
2) Using a fork, poke holes in the eggplant, starting at the top and going to the bottom the entire way around.
3) Place eggplant on a sheet tray and coat with grapeseed oil and ½ tsp of salt. Allow to sit for approximately 10 minutes before cooking.
4) Place the seasoned-oiled eggplant in the pre-heated oven and cook for approximately 35 minutes.
5) In a large skillet over high heat, add grapeseed oil, zucchini, squash, and red peppers.
6) Sauté for approximately 5 minutes until the squash, zucchini, and red peppers have some color on them and are cooked through and tender.
7) Add the cooked orzo to the sauteed vegetable mixture. Stir together and season with salt and pepper to taste.
8) Set the skillet of orzo and vegetable mixture aside while finishing the eggplant.
9) Remove the roasted eggplant from the oven, allow to rest for 5 minutes, then cut in half lengthwise.
10) Top the eggplant halves cut side up with tomato sauce, then the orzo and vegetable mixture, and then the feta cheese.
11) Put the dressed eggplant back in the oven on a sheet pan for 4 to 5 minutes to re-warm and melt the feta cheese.
PLATING
1) Place a large spoonful of tomato sauce in the center of a dinner plate and place the dressed roasted eggplant on top of the tomato sauce and serve.