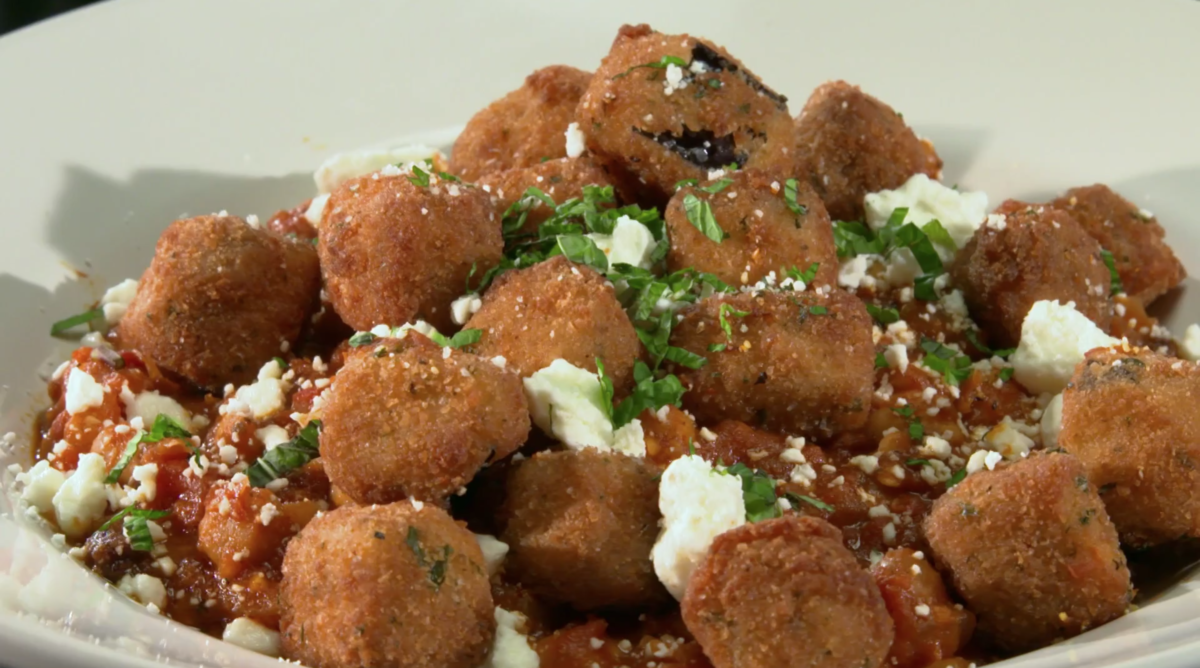 Lebanese Moussaka – As Seen on Restaurant: Impossible
From the episode, "Holding on to the Past"
SERVES 4
YOU'LL NEED
FOR THE CHICKPEA TOMATO STEW
1 tbsp grapeseed oil
1 Spanish white onion, medium dice
3 cloves garlic, sliced
1 tbsp tomato paste
4 oz red wine
1 can San Marzano whole peeled tomatoes (16 oz)
2 cups chickpeas, canned is preferred
3 tbsp golden raisins
2 tbsp Hungarian paprika
1 tbsp smoked paprika
1 tbsp chopped fresh parsley
2 tbsp chopped fresh cilantro
½ cup crumbled goat cheese
Salt and pepper, to taste
FOR THE CRISPY EGGPLANT
1 large eggplant, large dice
2 cups all-purpose flour
4 eggs
¼ cup milk
2 cups panko bread crumbs
MAKE IT
TOMATO STEW
1) In a medium sauce pot over medium heat, add grapeseed oil and onions. Sauté onions for 2 to 3 minutes until translucent.
2) Add garlic and sauté for 2 minutes more.
3) Add tomato paste and cook for another 2 minutes.
4) Add the red wine and reduce by half.
5) In a medium mixing bowl add San Marzano tomatoes. Using your hand, mash the tomatoes.
6) Add the mashed tomatoes to the sauce pot. Turn the heat to low and cook for 15 minutes, stirring occasionally.
7) Add chick peas, raisins, Hungarian paprika, and smoked paprika.
8) Finish the tomato chickpea stew by adding the chopped parsley and cilantro. Season with salt and pepper to taste.
CRISPY FRIED EGGPLANT
1) Pre-heat oven to 375 degrees (or a fryer to 350 degrees).
2) Place all-purpose flour into mixing bowl and add salt and pepper. In a separate mixing bowl whisk together eggs and milk.
In another bowl add bread crumbs.
3) Place the diced eggplant first in flour, then into the eggs, and finally into the bread crumbs.
4) Either place eggplant on a baking sheet and place in the oven and cook for 15 minutes, or place in a 350 degree fryer for 3 minutes and cook until golden brown and cooked through.
PLATING
1) Place a large spoonful of tomato chickpea stew in the center of a dinner plate.
2) Top the stew with crispy eggplant and crumbled goat cheese.