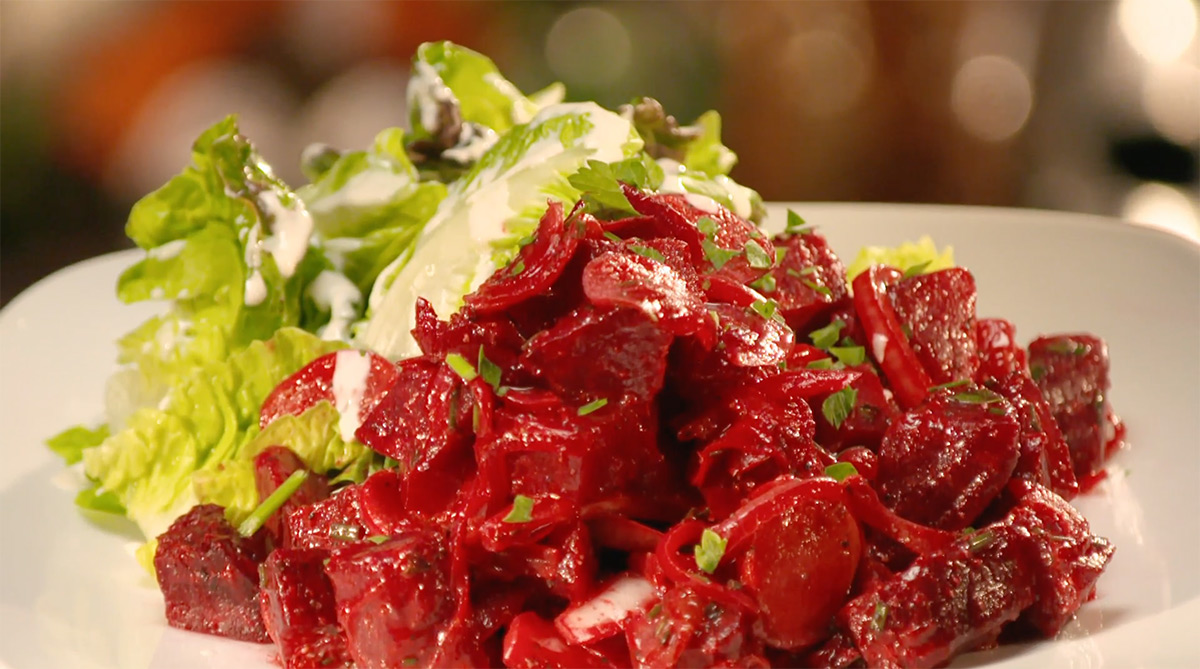 Roasted Beet with Onion Salad – As Seen on Dinner: Impossible
From the episode, "A Viking Feast"
SERVES 4
YOU'LL NEED
FOR THE ROAST BEETS
2 lbs whole red beets, washed
4 tbsp grapeseed oil
Kosher salt and ground black pepper, as needed
1 medium yellow onion, peeled and thin julienned
6 red radishes, thin sliced
3 tbsp honey
¼ cup red wine vinegar
3 tbsp grapeseed oil
Kosher salt and ground black pepper, to taste
FOR THE YOGURT DRESSING
½ cup Greek yogurt
1 clove garlic, minced
Juice of ½ lemon
1 tbsp grapeseed oil
1 tbsp fresh dill, chopped
Kosher salt and ground black pepper, to taste
FOR THE SALAD
1 head Bibb lettuce, cleaned
2 tbsp fresh parsley, minced
MAKE IT
ROAST BEETS
1) Preheat oven to 375 degrees F.
2) Place the washed whole beets onto a sheet pan and rub with 4 tbsp grapeseed oil and season with salt and pepper.
3) Roast the whole beats for 1 to 1 ½ hours. Using a paring knife, pierce the beets to check for doneness and tenderness.
4) Once tender, remove the roast beets from the oven and peel the beets while they are still warm. Large dice the peeled roasted beets and place into a mixing bowl.
5) Toss the beets with the onion, radish, honey, vinegar, 3 tbsp grapeseed oil. Season with salt and pepper, to taste.
YOGURT DRESSING
1) In a mixing bowl, mix the yogurt, garlic, lemon juice, grapeseed oil, and fresh dill. Season the dressing with salt and pepper, to taste.
PLATING
1) Place the Bibb lettuce onto a serving platter.
2) Arrange the marinated beets, onion, and radish next to the lettuce.
3) Drizzle the yogurt dressing on top of the lettuce and garnish the beets with the fresh minced parsley.