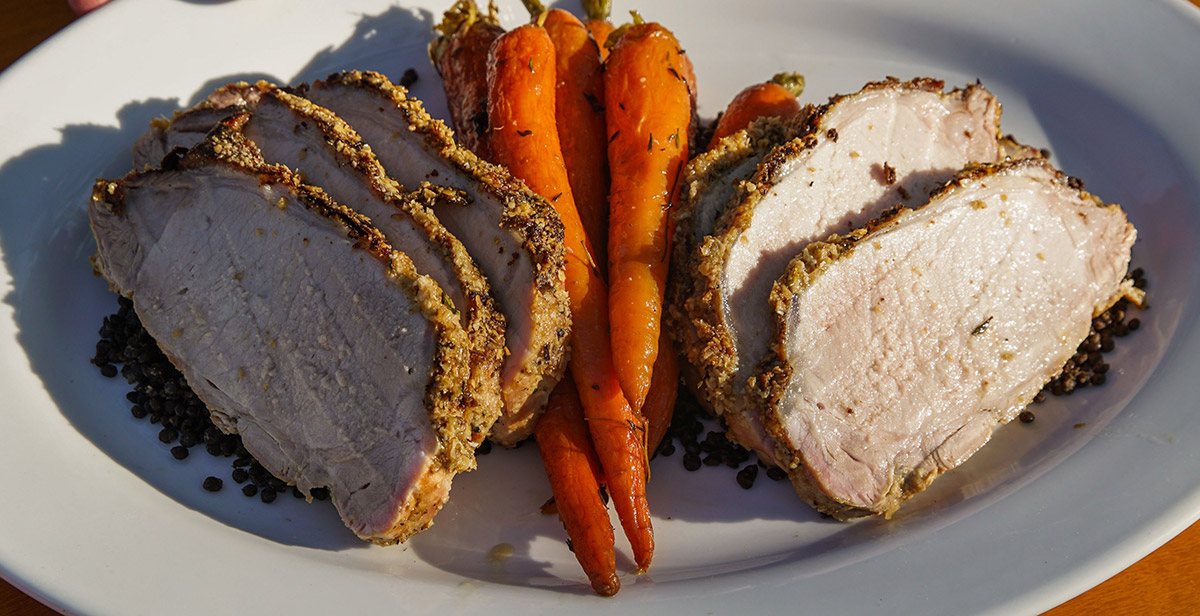 Pork Loin with Roasted Carrots & Lentils – As Seen on Dinner: Impossible
From the episode, "A Viking Feast"
SERVES 4
YOU'LL NEED
FOR THE PORK LOIN
2 lb raw boneless pork loin roast
Kosher salt and ground black pepper, as needed to season the pork
2 tbsp grapeseed oil
¼ cup Dijon mustard
½ cup quick oats
½ tsp caraway seeds
2 tsp fennel seeds
FOR THE ROAST CARROTS
1 lb baby carrots, peeled
3 tbsp grapeseed oil
2 tbsp honey
1 tsp minced fresh thyme
Kosher salt and pepper, to taste
FOR THE LENTILS
1 cup dried French lentils
3 cups chicken broth
Kosher salt and pepper, to taste
MAKE IT
MAIN DISH
1) Preheat oven at 350 degrees F.
2) In a large sauté pan over medium-high heat, add 2 tbsp grapeseed oil and sear the raw pork loin, fat side down until golden brown. Turn the pork loin over and sear all sides.
3) Brush the seared fat side of the pork loin with the mustard and set aside.
4) In a food processor, blend the oats, caraway seeds, and fennel seeds together.
5) Apply the oat-spice mixture onto the top of the mustard-brushed seared pork loin and place onto a sheet pan.
6) In a separate mixing bowl, mix the carrots with the grapeseed oil, honey, thyme, salt and pepper. Place the seasoned carrots onto a sheet pan.
7) Place the oat crusted pork loin and the seasoned carrots into the 350 degree F oven and roast for 30 minutes or until pork reaches internal temp of 150 degrees F and the carrots are roasted and tender.
8) While the pork and carrots are roasting, place the dried lentils and chicken broth in a saucepot over high heat and bring to a simmer. Turn the heat down to medium and cook the lentils for 20 to 30 minutes until tender. Season the lentils with salt and pepper, to taste.
PLATING
1) Place the lentils onto the center of a serving platter. Arrange the roasted carrots on top of the cooked lentils. Slice the crusted pork loin and arrange the sliced pork around the carrots and lentils and serve.