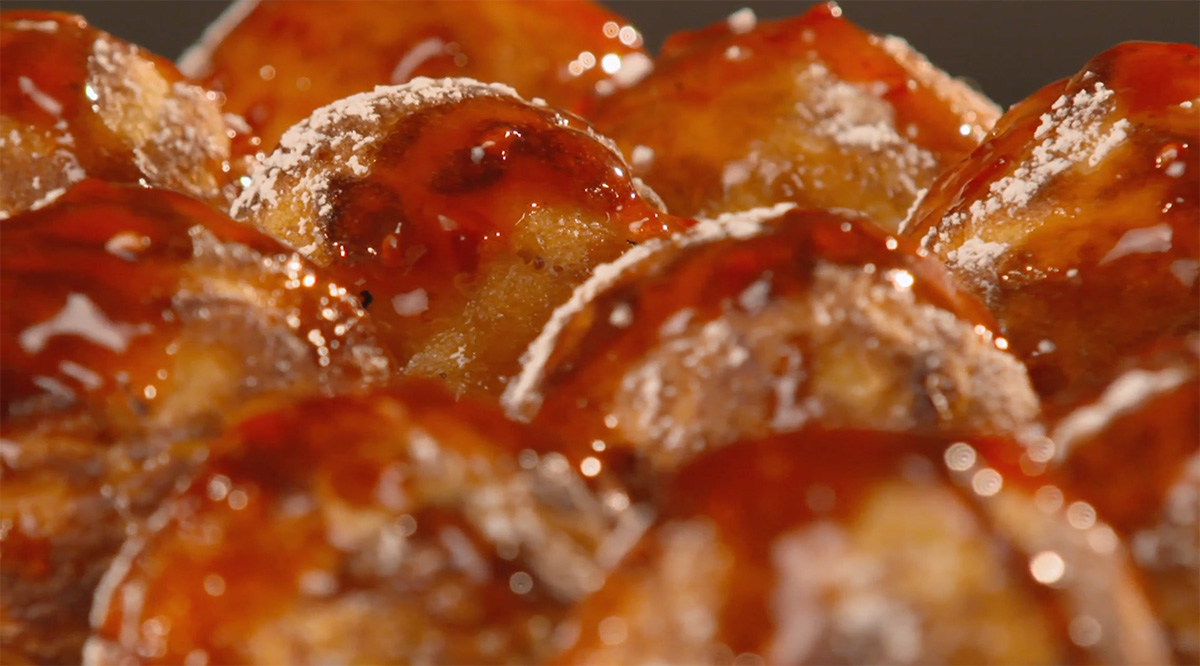 Aebleskiver with Lingonberry Jam – As Seen on Dinner: Impossible
From the episode, "A Viking Feast"
SERVES 4
YOU'LL NEED
1 cup all-purpose flour
½ tsp baking powder
½ tsp kosher salt
2 tsp sugar
2 eggs, separate the yolks & whites
1 cup whole milk
2 tbsp butter, melted
2 tbsp grapeseed oil
Aebsleskiver Pan
FOR GARNISH
1 cup lingonberry jam (store bought)
Powdered sugar, as needed for garnish
MAKE IT
1) In a mixing bowl, whisk the flour, baking, powder and salt together.
2) In a separate mixing bowl, whisk together the egg yolks, milk, and 2 tbsp of the melted butter. Next, stir the dry ingredients into the wet ingredients.
3) In another bowl, beat the egg whites with an electric mixer for 2-3 minutes until stiff peaks form. Fold the stiff peaked egg whites into the batter.
4) Heat an aebleskiver pan over medium high heat. Add a little of the grapeseed oil to each well of the molds. Next, add 2 tbsp of batter.
5) Allow the aebleskivers to cook until bottoms are golden brown, about 4 minutes, then rotate and continue to cook until the tops are also golden brown, 2 to 3 minutes more.
6) Place the cooked aebleskiver on a sheet pan and repeat with the rest of the batter.
7) Place the cooked aebleskiver on a platter and top with the lingonberry jam and powdered sugar and serve.