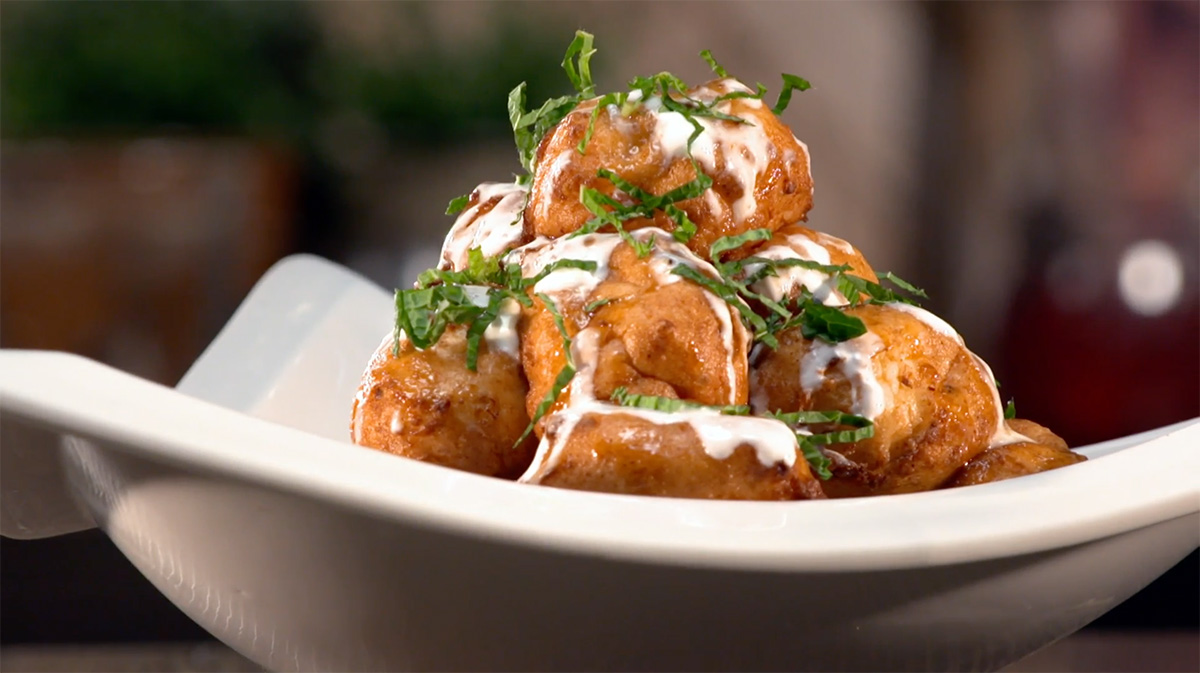 Ricotta Fritters – As Seen on Restaurant: Impossible
From the episode, "Bogged Down in Buffalo"
SERVES 4
YOU'LL NEED
FOR THE FRITTERS
4 whole large eggs
3 large egg yolks
1 lb ricotta cheese
½ lb sour cream
1 cup shredded Parmesan cheese
1 cup shredded pecorino cheese
½ cup all-purpose flour
Zest of 2 lemons
Vegetable oil, enough for deep frying
½ bunch mint, sliced
1 tbsp hot sauce
FOR THE LEMON YOGURT SAUCE
1 cup plain yogurt
½ cup sour cream
2 lemons, juiced
Salt and pepper
MAKE IT
LEMON YOGURT SAUCE
1) In a large mixing bowl add yogurt, sour cream, and lemon juice.
2) Mix well and season with salt and pepper
FRITTERS
1) In a large bowl add whole eggs and egg yolks using a whisk whip eggs for approximately 2 minutes or until eggs have doubled in size.
2) Add ricotta cheese, sour cream, Parmesan cheese, and pecorino cheese and mix together.
3) Add all-purpose flour, lemon zest, salt, and pepper.
4) Scoop fritter batter into 1 oz. balls and drop in a 350 degree fryer. Allow to cook for 4 minutes until fritters are golden brown and cooked all the way through.
5) Finish by topping with lemon yogurt, hot sauce, and mint.