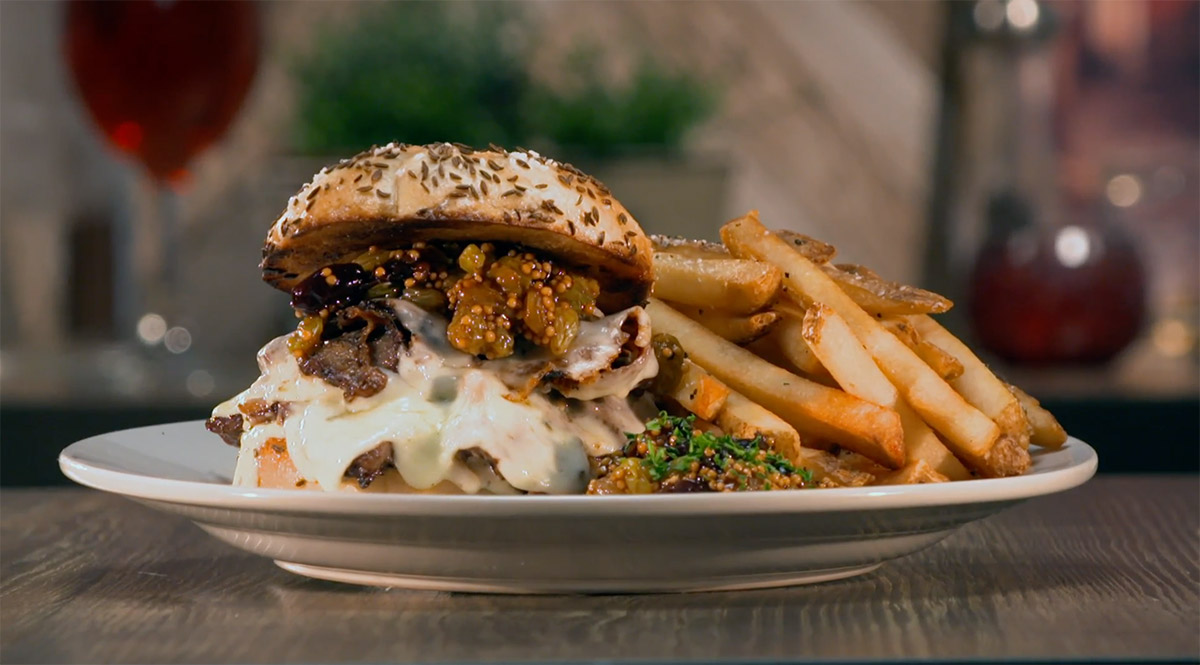 PORCHETTA on WECK – As Seen on Restaurant: Impossible
From the episode, "Bogged Down in Buffalo"
SERVES 6
YOU'LL NEED
FOR THE MUSTARD SEED FRUIT COMPOTE
1 cup golden raisins
1 cup dried cherries
¼ cup mustard seeds
3 tbsp red wine vinegar
2 tbsp granulated sugar
1 tbsp honey
FOR THE SANDWICH
½ pork butt (about 4 lbs) boneless, skin on
¼ cup chopped rosemary
1 bunch flat leaf parsley
5 garlic cloves, minced
3 tbsp extra virgin olive oil
2 lemons, zested
3 oranges, zested
1 tbsp kosher salt
1 tsp chili flakes
½ tsp black pepper
6 brioche or weck-style rolls
3 tbsp butter
3 tbsp grapeseed oil
12 slices provolone cheese
MAKE IT
MUSTARD SEED FRUIT COMPOTE
1) In a small sauce pot add red wine vinegar, sugar, and honey.
2) Bring mixture to a boil and stir until sugar is completely dissolved.
3) Add raisins, dried cherries, and mustard seeds.
4) Remove mixture from heat, cover with foil, and allow to cool.
SANDWICH
1) In a food processor add extra virgin olive oil, rosemary, parsley, lemon zest, orange zest, and garlic.
2) Pulse the mixture together, creating a paste.
3) Evenly coat entire pork with paste and roll and tie with butcher twine every 2 inches. If you buy from a butcher, feel free to ask them to do this part for you.
4) Place pork back into cooler and allow to marinate 12 to 24 hours.
5) Preheat oven to 425°. Put porchetta on a baking sheet and place in oven for 45 minutes.
6) After 45 minutes, drop oven temperature to 300° and allow to cook about 3.5 hours or until porchetta has reached an internal temperature of 180°.
7) Once porchetta has reached 180°, remove from oven and allow to cool.
8) Using a sharp knife, slice porchetta. Use about 6 to 8 slices per sandwich (about 7 oz. of meat).
9) Place sliced meat into a pan. Top with sliced provolone and place in a 400° oven to melt cheese.
10) In a separate sauté pan over medium heat, add grapeseed oil and butter. Place brioche or weck, face down, in pan to toast. Allow to toast until golden brown, about 2 minutes.
11) Top bun with sliced porchetta and cheese.
12) Finish with mustard seed fruit compote.
TIP: While weck (short for kummelweck) rolls are hard to find outside of the Buffalo area, you can approximate them at home. Apply a small amount of egg wash (or just a tsp of water) to the top of brioche rolls, and top with coarse salt and caraway seeds and bake at 375 for just 4-5 minutes.