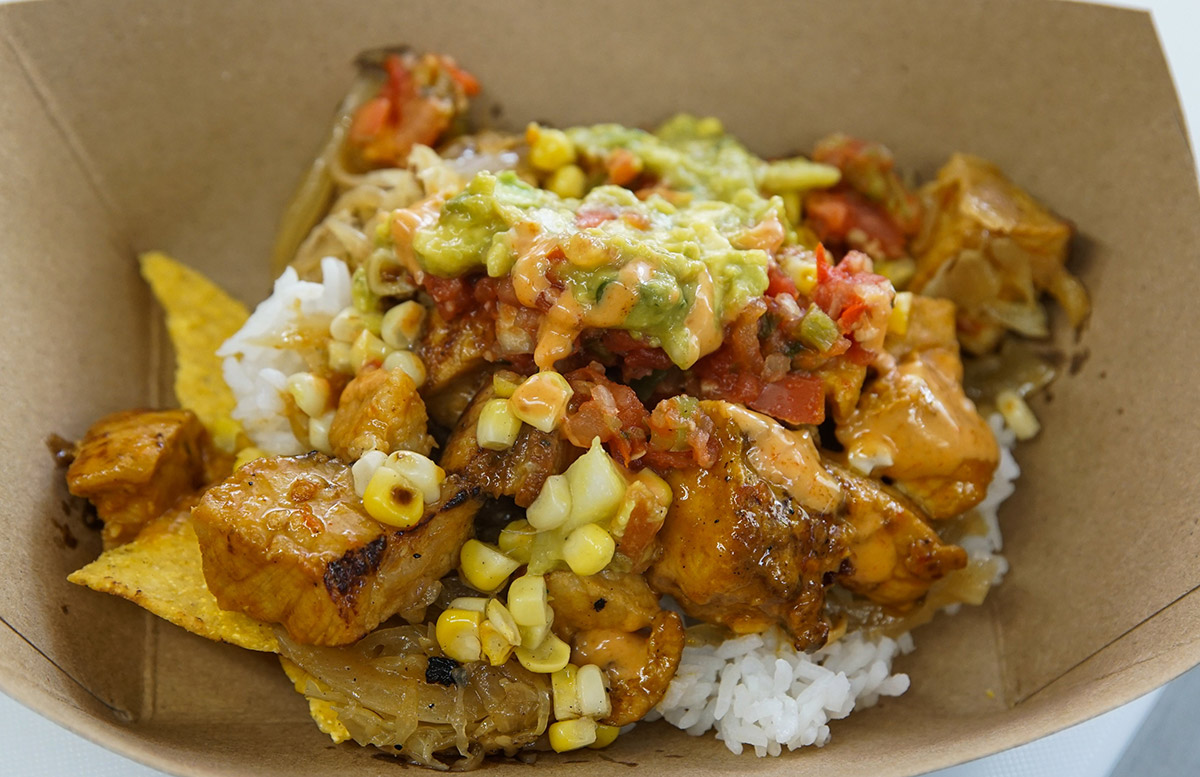 Rice Bowl with Seared BBQ Pork Tenderloin – As Seen on Dinner: Impossible
From the episode, "Food Truck Showdown"
SERVES 4
YOU'LL NEED
FOR THE MARINATED BBQ PORK TENDERLOIN
1 ½ lbs raw pork tenderloin, fat trimmed
2 tbsp brown sugar
2 tsp kosher salt
1 tsp Cajun seasoning
1 cup beer
2 tbsp grapeseed oil
¾ cup BBQ sauce (store bought)
2 tbsp Dijon mustard
2 tsp hot sauce
½ tsp ground cumin
FOR THE RICE
1 cup cooked basmati rice (follow package directions)
2 tbsp Rice wine vinegar
2 tsp sugar
FOR THE SPICY SAUCE
½ cup mayonnaise
2 tsp sriracha
1 tsp ground smoked paprika
1 tsp grapeseed oil
FOR THE GUACAMOLE
2 ripe avocados, peeled and pitted
Juice of 1 lime
1 tbsp chopped fresh cilantro
1 tsp hot sauce
2 tbsp small diced red onion
Kosher salt and ground black pepper, to taste
OTHER INGREDIENTS
2 tbsp grapeseed oil
2 cups ¼" sliced fresh green cabbage
1 cup corn
1 cup fresh salsa or pico de gallo (store bought)
½ cup chopped fresh scallions
MAKE IT
MARINATED BBQ PORK
1) Mix the brown sugar, salt, and Cajun seasoning together and rub onto the raw pork. Then marinate the rubbed pork in the beer for 30 minutes.
2) In a large sauté pan over medium heat, add the grapeseed oil and sear the pork on all sides and continue to cook for 2 to 3 minutes on all sides. Set aside to rest.
3) Using the same pan used to sear the pork, add the BBQ sauce, Dijon mustard, hot sauce, and cumin. Stir well and turn heat to low.
4) Dice the rested-seared pork into 1" pieces and place the cut pork into the warm BBQ sauce mixture in the pan. Stir well to coat the pork in the sauce and continue to cook for 5 to 7 minutes until the diced pork is cooked through. Set the pork aside while finishing the other recipe steps.
RICE
1) Place the cooked rice into a mixing bowl. Add the rice wine vinegar and sugar and gently toss and cover and keep warm.
SPICY SAUCE
1) In a mixing bowl, mix the mayo, sriracha, smoked paprika, and grapeseed oil together.
GUACAMOLE
1) In a mixing bowl, mix the avocado, lime, cilantro, hot sauce, and red onion together and season with salt and pepper, to taste.
FINISH & PLATING
1) In a large sauté pan over medium high heat, add the 2 tbsp grapeseed oil and add the cut cabbage. Stir and wilt the cabbage for 1 minute and turn the heat off.
2) To plate the dish, divide the seasoned rice into 4 large entrée bowls. Top the rice with the wilted cabbage, followed by the pork, then garnish the pork with the spicy sauce, corn, salsa, guacamole, and chopped scallions. Serve.