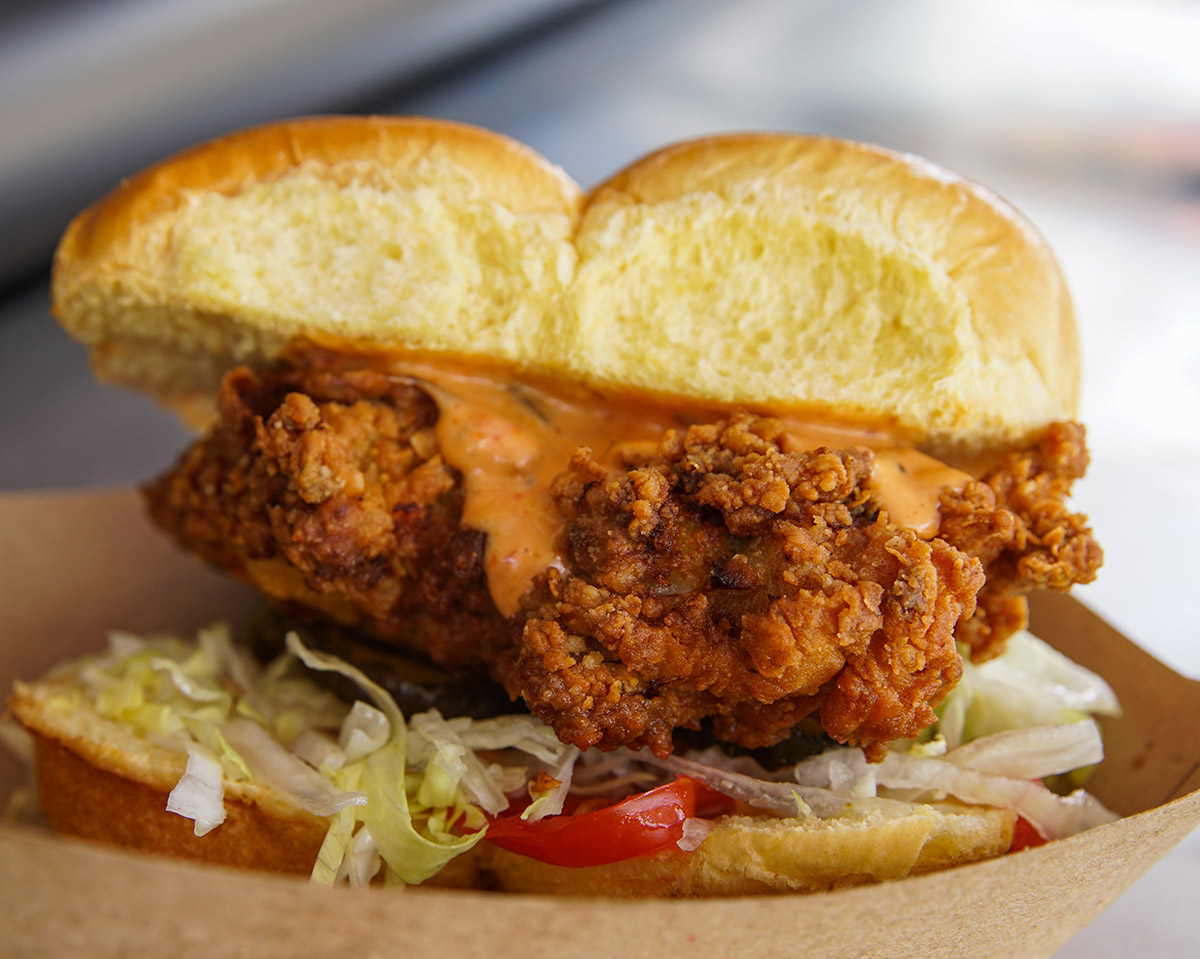 "Mother Clucker" Chicken Sandwich – As Seen on Dinner: Impossible
From the episode, "Food Truck Showdown"
SERVES 4
YOU'LL NEED
FOR THE MARINATED CHICKEN
¼ cup beer
2 cups buttermilk
¼ cup pickle juice
3 tbsp sriracha
4 large raw boneless skinless chicken thighs (or 8 small portions)
FOR THE SEASONED FLOUR
1 ½ cups all-purpose flour
1 tbsp smoked paprika
2 tsp onion powder
2 tsp garlic powder
1 tsp kosher salt
½ tsp ground black pepper
FOR THE SPICY MAYO
½ cup mayonnaise
2 tbsp ketchup
1 tbsp Dijon mustard
2 tsp sriracha
Juice of ½ lemon
Kosher salt and ground black pepper, to taste
OTHER INGREDIENTS
Oil, enough for deep frying
8 Hawaiian sweet rolls, cut in half
1 tbsp grapeseed oil or butter (for toasting the rolls)
1 cup iceberg lettuce, fine shredded
8 thin slices ripe tomato
8 pickle slices
MAKE IT
MARINADE
1) In a mixing bowl, mix the beer, buttermilk, pickle juice, and sriracha together. Add the raw chicken and toss well and allow to marinate for at least 2 hours.
SEASONED FLOUR
1) In a mixing bowl, mix the flour and all the spices together and set aside.
SPICY MAYO
1) In a mixing bowl, whisk the mayonnaise, ketchup, Dijon mustard, sriracha, and lemon juice together. Season with salt and pepper, to taste.
FRYING AND PLATING
1) Preheat fryer with oil to 350 degrees F.
2) Remove the chicken from the marinade and dredge in the seasoned flour.
3) Fry the chicken for 10 minutes and check internal temperature, which needs to reach 165 degrees to be fully cooked. If chicken needs more time in the fryer, continue to fry the chicken and check the internal temperature every minute until it reaches 165 degrees in the center.
4) Toast the rolls golden brown in a sauté pan with a touch of oil or butter over medium heat.
5) To build the sandwiches, place a tbsp of the spicy mayo on all the bottom portions of the toasted rolls.
6) Place a portion of shredded lettuce on top of the spicy mayo coated rolls, followed by a slice of tomato.
7) Cut all 4 fried chicken portions in half and place a half portion on top of each dressing bottom roll.
8) Top each piece of fried chicken with 2 pickle slices, more spicy mayo, and the top portions of toasted rolls. Serve.