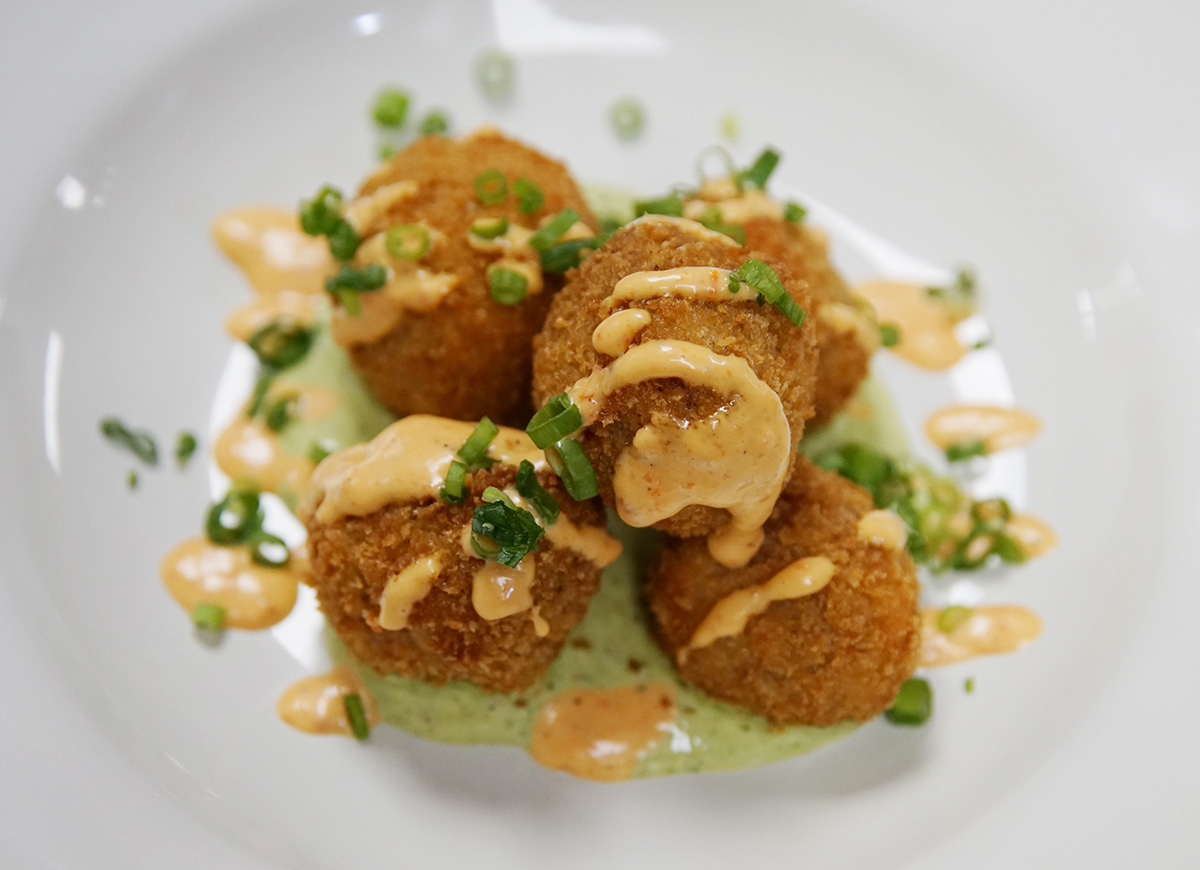 Red Bean and Rice Fritters – As Seen on Restaurant: Impossible
From the episode, "Roux the Day"
SERVES 4
YOU'LL NEED
FOR THE GREEN GODDESS DRESSING
1 ripe avocado
3 tbsp white wine vinegar
1 garlic clove, minced
½ of 1 lemon, juiced
¼ cup sour cream
¼ cup mayonnaise
¼ cup heavy cream
3 tbsp fresh flat leaf parsley, chopped
2 tbsp tarragon, chopped
2 tbsp cilantro, chopped
2 tbsp basil, chopped
FOR THE ROASTED RED PEPPER REMOULADE
1 cup roasted red peppers
2 cloves garlic
1 cup mayonnaise
1 tbsp creole mustard
1 tsp fresh lemon juice
FOR THE FRITTERS
2 oz grapeseed oil
1 white onion, diced
2 cloves garlic, minced
12 oz Arborio rice
8 oz white wine
1 gallon chicken stock
1 cup red beans, canned preferred
3 tbsp Parmesan cheese
2 tbsp chives, chopped
2 cups flour
6 eggs beaten
2 cups panko breadcrumbs
2 tbsp scallions, sliced
MAKE IT
GREEN GODDESS DRESSING
1) Place avocado, white wine vinegar, garlic, lemon juice, sour cream, mayonnaise, and heavy cream in a blender.
2) Blend mixture together.
3) Add all herbs and season with salt and pepper.
RED PEPPER REMOULADE
1) Place all ingredients in a food processor and blend until smooth.
2) Season with salt and pepper.
FRITTERS
1) In a large rondo style pot add grape seed oil and onions. Cook over medium heat until onions are translucent in color, approximately 6 minutes.
2) Add garlic and cook for another 2 minutes, then add rice.
3) Using a wooden spoon, stir rice for about 4 minutes. Rice should have no color and give off a nutty aroma.
4) Deglaze rice with white wine. Allow wine to cook over medium high heat for approximately 3 minutes.
5) In a separate pot add chicken stock and bring to a boil.
6) Cook rice for 20 minutes, slowly incorporating 3 oz of chicken stock until the rice is fully cooked.
7) Finish rice with red beans, Parmesan cheese, and chives.
8) Lay rice on a tray and allow to chill.
9) Portion rice into 2 oz balls.
10) Place portioned, chilled rice balls into flour, then eggs, and panko bread crumbs.
11) Cook breaded rice balls in a 325° fryer for 5 minutes until rice balls are light brown in color and hot all the way through.
12) Serve with green goddess dressing, remoulade sauce, and scallions.