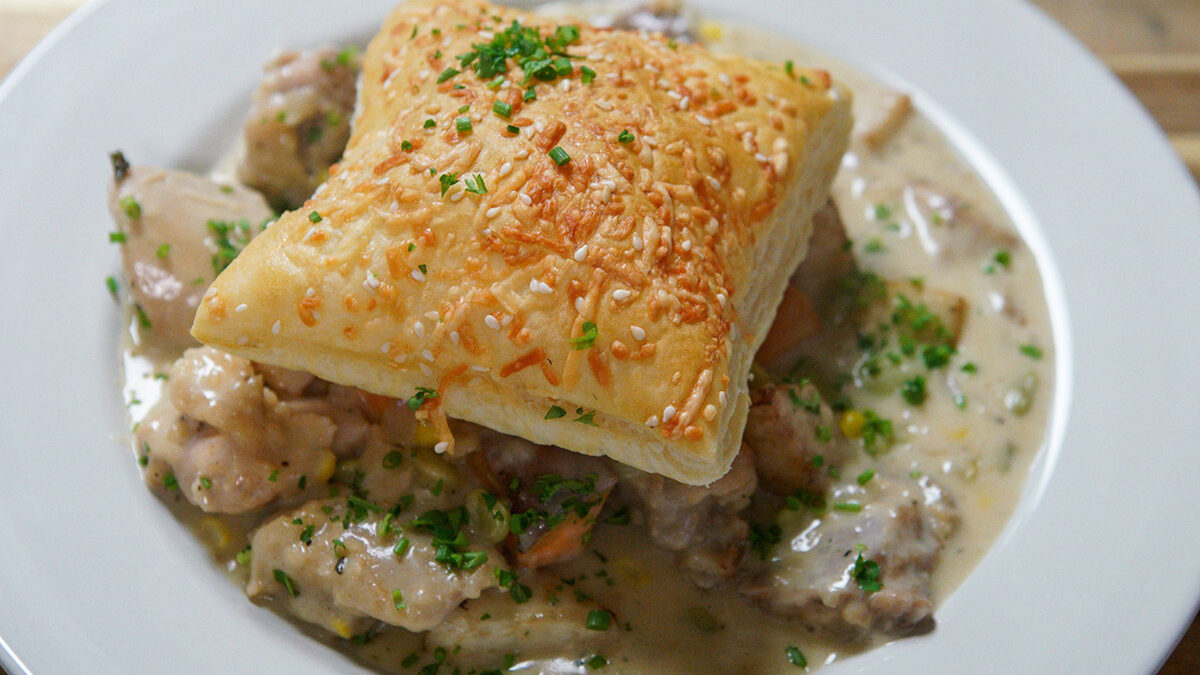 Corn and Sweet Potato Chicken Pot Pie – As Seen on Restaurant: Impossible
From the episode, "Marriage on the Rocks"
SERVES 4
YOU'LL NEED
16 oz skinless boneless chicken thighs, diced
1 tbsp kosher salt
2 tbsp brown sugar
1 tbsp Cajun Spice
1 tsp cumin
2 sheets puff pastry, cut into 4 ¼ inch squares
2 eggs
2 tbsp Parmesan cheese, shredded
6 tbsp unsalted butter
6 tbsp all-purpose flour
1 cup evaporated milk
1 cup heavy cream
1½ quarts chicken stock
2 large sweet potatoes, peeled and diced
4 medium carrots, peeled and diced
1 cup frozen peas
1 cup frozen corn
2 tbsp chives, sliced
Salt and pepper, to taste
MAKE IT
1) Pre-heat oven to 400 degrees.
2) In a mixing bowl add salt, brown sugar, Cajun spice, and cumin.
3) Season chicken thighs with salt and brown sugar mixture.
4) Place chicken thighs in the oven and cook for about 15 minutes or until they are cooked to an internal temperature of 165 degrees.
5) Dress puff pastry with egg wash and top with shredded Parmesan cheese.
6) Place puff pastry on a baking sheet.
7) Cook for about 12 minutes. Remove from the oven and set aside.
8) Melt butter in a large pot. Add flour. Continuously stir with a wooden spoon making a roux.
9) Cook the roux for about 3 minutes, and then add evaporated milk, heavy cream, and chicken stock.
10) Add sweet potatoes, carrots, and chicken thighs. Simmer in the sauce for approximately 20 minutes. The vegetables should be tender and the chicken should start to shred.
11) Next add frozen peas and frozen corn.
12) Season with salt and pepper.
13) Place pot pie mixture in a bowl, top with cooked puff pastry and chives.