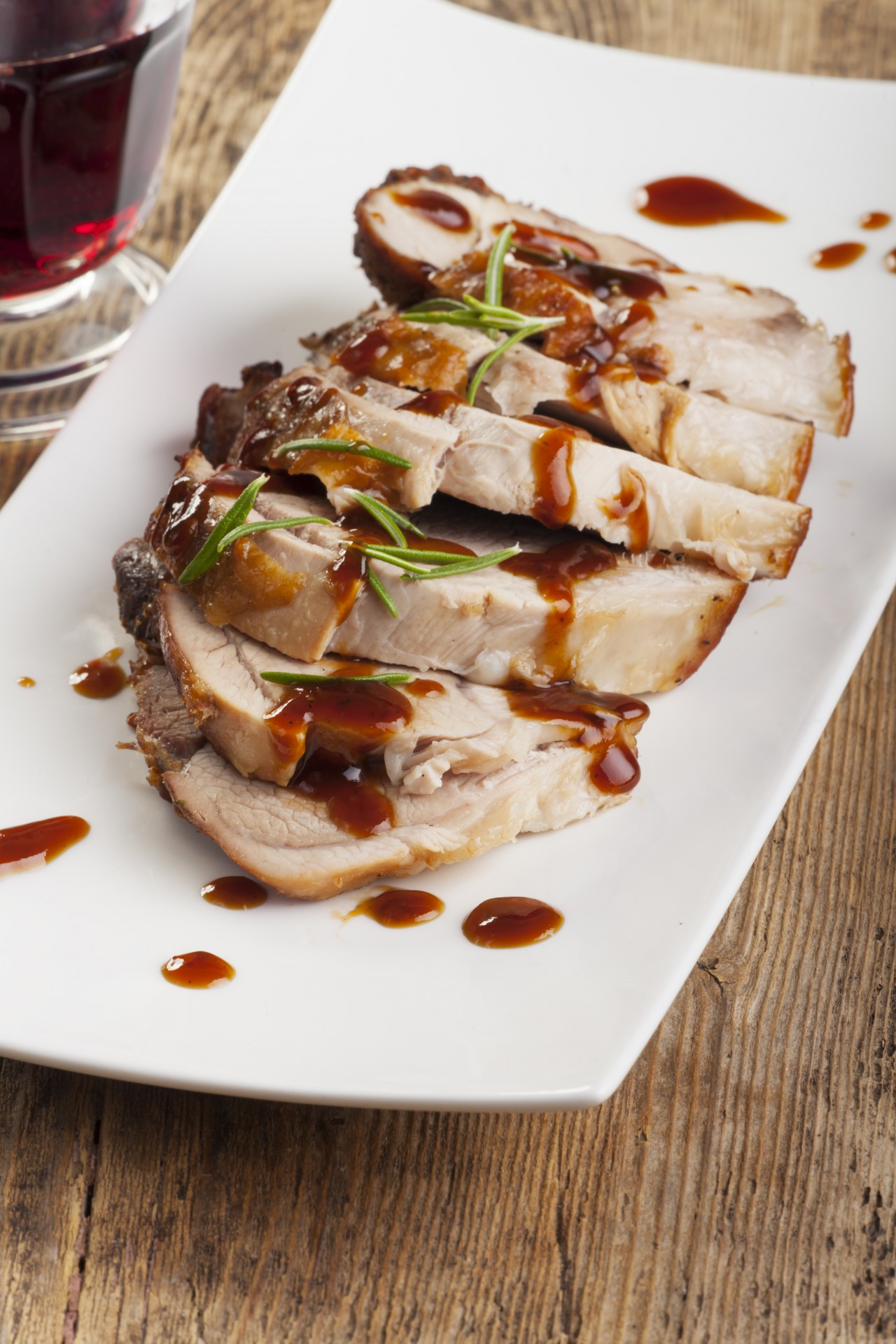 Pork Tenderloin Appetizer
SERVES 12
YOU'LL NEED
2 tbsp grapeseed oil
3 lbs pork tenderloin
¼ cup raosted garlic pepper
1 red onion, diced
1 red bell pepper, diced
1 orange bell pepper, diced
½ cup honey
¼ cup red wine vinegar
½ cup red wine
2 tbsp Tabasco
½ cup cranberry sauce
1 French baguette
2 tbsp butter
1 oz extra-virgin olive oil
4 cloves garlic, minced
MAKE IT
1) Preheat oven to 350 degrees.
2) In a hot saute pan, add grapeseed oil. Sear tenderloin on all sides.
3) Transfer pork to roasting pan, rub with garlic pepper, and roast in oven until tender, 45-60 minutes. Allow pork to rest for 8-10 minutes before slicing.
4) Heat onions and peppers in a hot, dry (no oil) skillet for 3 minutes.
5) Add honey, vinegar, wine, hot sauce, and cranberry sauce. Stir well. Reduce over medium-low heat until marmalade is thick.
6) Melt butter and oil together over low heat. Add garlic and cook until soft. Slice baguette into thin slices. Brush a small amount of garlic and oil/butter mixture onto each slice. Toast lightly under broiler, 1-2 minutes.
7) Slice pork and assemble appetizer, layering a pork medallion on top of the crostini, and marmalade on top of that.
THE MACROS
CALORIES: 305
PROTEIN: 34 g
FAT: 9 g
CARBS: 19 g
Originally published in Robert Irvine Magazine.