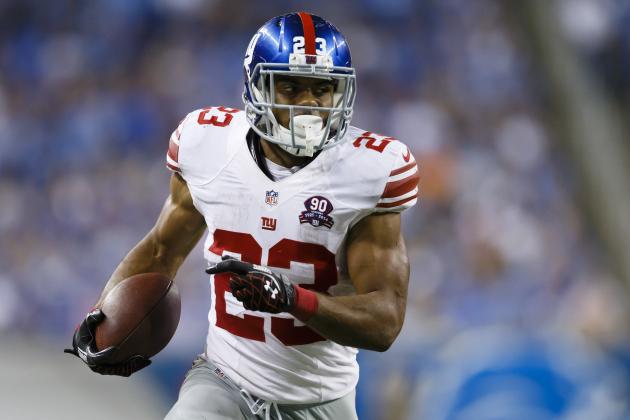 THE UNLIKELY CAREER OF RASHAD JENNINGS
NY Giants runningback Rashad Jennings wasn't destined for athletic
greatness. He forged his NFL career out of an unrelenting work ethic
and unflappable positive attitude. What he learned along the way can
teach us all some valuable lessons.
BY MATT TUTHILL
Rashad Jennings' father spent most of his time shut away from his family. A heavy drinker and smoker, Albert Jennings was checked out, his senses too bleary to ever really be present with his family. It ate away at young Jennings until one day, the 13-year-old outright asked his father to stop. His father thought the idea so ridiculous he offered a sarcastic challenge to his son, asking him what he wanted to do with his life. When Jennings told him he wanted to play in the NFL, his father scoffed. "And do you think you can get all the way to the NFL without ever drinking or smoking?"
"Just to prove him wrong I never drank or smoke," Jennings says. "To this day, I've never smoked a day in my life. I've never had alcohol a day in my life. I've never had a sip of champagne at a wedding."
Of course, to get to where he is today—with a starting runningback job for the NY Giants, entering his seventh NFL season at 31 years of age—Jennings had to do much more than avoid his father's vices. It's been a long, pitted road for the Lynchburg, VA native. Though Jennings' father was a superstar track and field and football athlete in his youth, no one pegged his son for any kind of athletic greatness. Jennings was an afterthought on his high school football team, where, as a fat 270 pound fifth-stringer who sat on the sidelines, he ate candy and drank soda during games.
"M&M's and Sprite," Jennings says. "That was my combo."
Getting Jennings to even see the field took what could, in fairness, be called an act of God; during a rivalry game in Jennings' junior year, the first three running backs on the depth chart were knocked out of the game with injuries, and the fourth-stringer proved to be useless. At that point, coaches were still so reluctant to put Jennings in that they trotted the first stringer back out onto the field, and only once he was reinjured did Jennings get the call.
"On my first play, I scored a 40-yard touchdown," Jennings says.
Another bizarre series of injuries on defense saw Jennings playing both ways.
"To make a long story short, I did the same thing on defense," Jennings says. "So I played a total of 14 plays and scored four touchdowns—two on offense and two on defense."
The real miracle came after the game. A Tennessee scout in attendance came up to Jennings and told him he had Division I potential.
"I told him the truth about my grades," Jennings says. "I had a 0.6. But he said if I got my grades up I could go to the next level. It was the first time that someone outside of my family had said that I had an opportunity."
Jennings transferred schools and repeated his junior year, taking nine home school courses and reading voraciously to get his grades up. Meanwhile, he realized he could be an even better athlete if he got down to a healthy weight. With some experimentation, he eliminated gluten and casein (milk protein) from his diet, saw a tremendous spike in his energy levels, and began to drop weight. Combined with religious devotion to a new lifting and running program, he transformed himself into a powerhouse of an athlete. When he graduated, he was offered a full ride to Pitt, where he started as a freshman.
Albert Jennings, meanwhile, was so inspired by his son that he actually did quit drinking and smoking. Nevertheless, complications from diabetes took a serious toll, and at the end of Jennings' freshman year at Pitt, Albert needed to have his right leg amputated.
Jennings was heartbroken over the news, and decided he needed to be closer to home to see his father. He transferred to Liberty University, a D-I AA school. Doing so considerably lowered his profile to NFL scouts and put his pro dreams at risk, but Jennings never doubted his decision.
"I wanted to be close to my family," Jennings says. "That was the most important thing. And you know what? I found out that the world is round. If you do what's right, it comes back to you."
After a record-breaking career at Liberty, the Jaguars selected Jennings in the 7th round of the 2009 draft. After four years with the Jags and a stint in Oakland, Jennings took over starting duties in NY in 2014. His father continues to battle health problems; he lost his left leg to diabetes in 2013 and suffered a stroke in 2014. Through it all, the two have strengthened their bond.
"We saved each other," Jennings says.
Jennings has dealt with injuries throughout his career, including a knee injury that sidelined him for all of 2011. But since becoming a starter in 2013, when he replaced an injured Darren McFadden while on the Raiders, he has found his stride. As he looks forward to the 2016 season, the 31-year-old appears to be in the prime of his career, yet another unlikely feat considering the running back position is so demanding that most players don't last more than three or four seasons before being forced out by injuries or pushed aside for younger talent. Jennings says he's overcome too many real obstacles to get hung up on an imaginary issue like age.
"Age doesn't matter," Jennings says. "Age doesn't take into account what you put into your body. Age doesn't take into account how you lift, or how you eat. I'm a gluten- and casein-free eater. I sleep in a hyperbaric oxygen chamber. I do a lot of functional modalities that allow me to keep going. So when it comes to age, I could care less because I'm in the best shape of my life and I'm probably in better shape than most 20 year-olds."
Jennings' physical transformation is noteworthy in its own right—at 6'1" he has maintained a lean 231 pounds for his entire NFL career—but he says the real blessing of his life is that he found the motivation to make the most of his education. Through the Rashad Jennings Foundation, he aims to get as many kids as possible to make the most of theirs. The foundation runs a reading challenge in select schools where kids read books to obtain tickets for an NFL memorabilia lottery. The more books a kid reads, the more chances he or she gets. The memorabilia up for grabs is game- and practice-used equipment—hats, cleats, socks, etc. The idea came to Jennings during his rookie year with the Jags. When he went to clean out his locker, he looked into the trash can and couldn't believe what was being thrown away.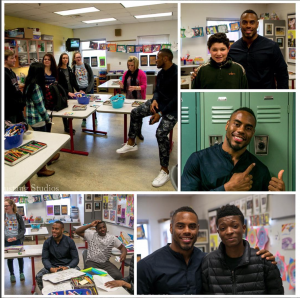 "There's a lot of nice stuff in there!" Jennings laughs. "I didn't come from much. I wanted to take it! I'm a fan of the game, too. But being a rookie, I didn't want to get called out or get made fun for it. So, since I had a reading comprehension deficit as a kid, I came up with the reading challenge. Now I take that used equipment—what would have been garbage—and I have the guys sign it and then we award it through the reading challenge. It's so amazing to watch a kid get excited to read. Parents will e-mail me and say, 'He came home with a book in his hand so excited to read and I've never seen him excited to read.' And it's because of our trash. That's amazing to me."
Jennings says he hopes that by making a positive influence, others will be inspired to do the same in their communities. The mainstream media's predominant focus on negative headlines makes it harder for good deeds to spread. On Twitter, Jennings has often lamented the lack of coverage for positive stories.
"I think this is very much a copycat world and you've got to give people something worth mimicking," Jenning says. "Understand the power of media outlets; whatever you want more of, you've got to show it. For us to focus on racial issues so much instead of focusing on all the other really positive ways that our communities authentically come together, or showcasing an athlete with a DUI instead of an athlete inside of his community who's spending his quality time trying to get kids educated. There are so many positive things that you could mimic, but we don't highlight it when it happens.
"We've got to change what's sexy."
Learn more about the Rashad Jennings Foundation at:
rashadjenningsfoundation.com.
Originally appeared in the September 2016 issue of Robert Irvine Magazine.