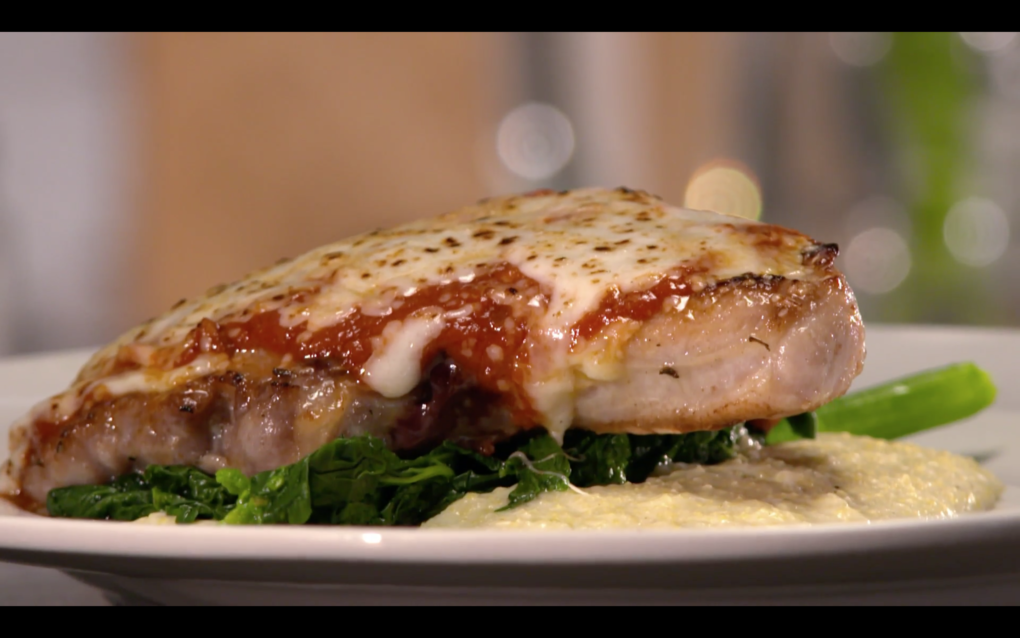 Pork Chop Pizzaiola – As Seen on Restaurant: Impossible
From the episode, "Cleaning up in Mississippi"
SERVES 5
YOU'LL NEED
FOR THE PORK CHOPS
5 (2 inch thick) pork chops
1 cup basic tomato sauce
5 oz fresh mozzarella
2 tbsp basil, chopped
1 bunch broccoli rabe, blanched
1 bunch oregano, chopped
2 tbsp grapeseed oil
FOR THE TOMATO SAUCE (yields 16 oz)
16 oz crushed peeled plum tomatoes
1 onion, small diced
5 cloves garlic, sliced
1 tsp tomato paste
1 tbsp grapeseed oil
FOR THE POLENTA
1 cup polenta
2 cup milk
2 cups heavy cream
2 tbsp grated Parmesan cheese
1 tbsp butter
MAKE IT
Tomato Sauce
1) In a large sauce pot over medium heat, add grapeseed oil. Add onions and garlic and allow to sweat.
2) Add tomato paste and allow to cook for 4 minutes.
3) Add crushed plum tomatoes. Season with salt and pepper.
Polenta
1) In a small sauce pot add heavy cream and milk.
2) Bring to a boil.
3) Using a whisk slowly incorporate polenta; allow to cook for 10 minutes.
4) Incorporate cheese, butter, salt, and pepper.
Pork Chops
1) Season pork chop with salt and pepper.
2) In sauté pan over high heat add oil and sear on both sides.
3) Top pork chop with 2 oz of tomato sauce, broccoli rabe, and shredded mozzarella cheese.
4) Place in a 350° oven and cook for 8 minutes until an internal temperature of 145°.
5) Serve on top of polenta.