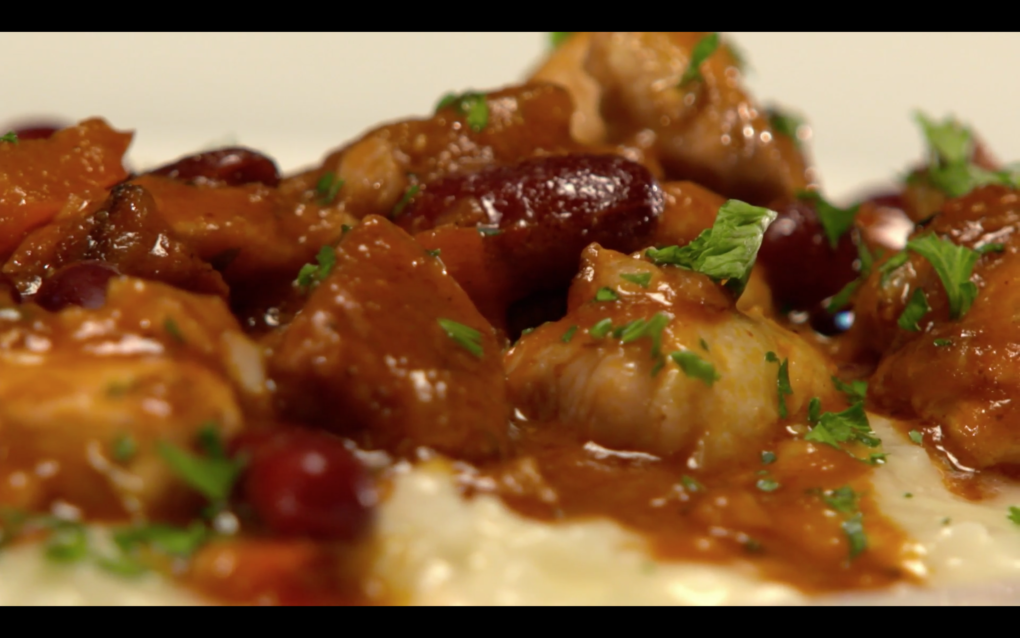 Red Beans and Risotto – As Seen on Restaurant: Impossible
From the episode, "Cleaning up in Mississippi"
SERVES 5
YOU'LL NEED
1 cup Arborio rice (cooked through)
1 cup white wine
1 cup butter
¼ cup Parmesan cheese
1 tbsp grapeseed oil
16 oz smoked Andouille sausage
1 white onion, diced small
2 red bell peppers
3 ribs celery, diced small
1 green pepper
1 tbsp parsley, chopped
2 tbsp tomato paste
1 tbsp Cajun seasoning
32 oz red beans, drained and rinsed
8 cups chicken stock
32 oz crushed plum tomatoes
MAKE IT
Risotto
1) In a large sauce pan, add half an onion and allow to sweat.
2) Add Arborio rice and toast for approximately 4 minutes.
3) Deglaze with white wine and slowly incorporate chicken stock. Cook until rice is cooked through.
4) Finish with butter and cheese.
Red Beans
1) In large sauce pot over medium heat, add sausage and allow to cook for 8 minutes stirring frequently.
2) Add onion, peppers, celery, and allow to cook for 5 minutes.
3) Add tomato paste, garlic, and Cajun seasoning. Cook for 3 minutes.
4) Add 4 cups chicken stock, crushed plum tomatoes and red beans. Bring mixture to a boil. Let boil for 5 minutes.
5) Drop mixture to a simmer and add red beans and season with salt and pepper.
6) Serve with risotto and garnish with chopped parsley.