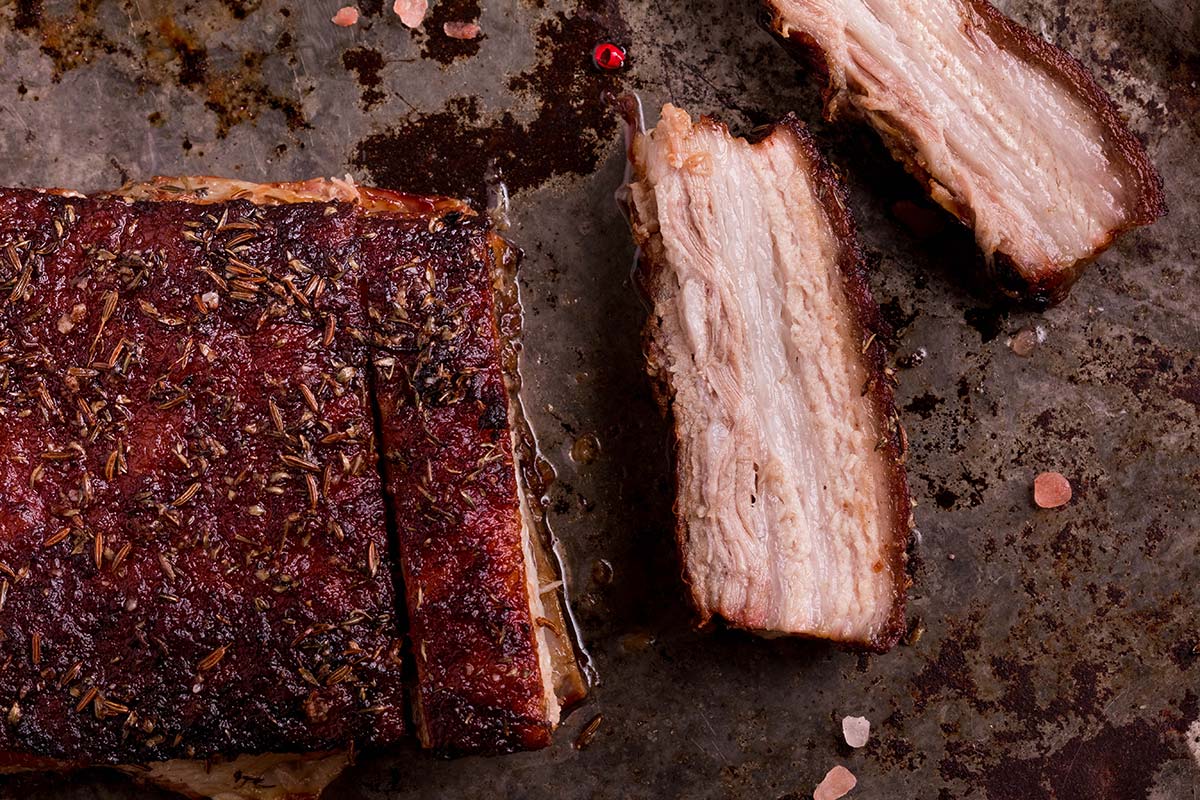 BBQ Crispy Pork Belly Sandwich – As Seen on Restaurant: Impossible
From the episode, "Back in Business: Perseverance"
SERVES 4
YOU'LL NEED
FOR THE BBQ RUB and PORK BELLY
1 tbsp kosher salt
2 tbsp dark brown sugar
1 tsp Cajun seasoning
1 tsp smoked paprika
1 tsp ground cumin
3 qts neutral oil or animal fat
3 lbs pork belly
FOR THE BBQ AIOLI
1 cup mayonnaise
½ cup sweet style BBQ sauce
1 clove garlic, minced
1 tbsp whole grain mustard
1 tsp honey
1 tsp lemon juice
FOR THE SANDWICH
4 brioche buns
4 tbsp grapeseed oil
4 tsp butter
8 slices or ¼ lb cheddar cheese
1 fresh local tomato
MAKE IT
BBQ RUB and PORK BELLY
1) In a large mixing bowl add salt, brown sugar, Cajun seasoning, smoked paprika, and cumin. Mix until all fully incorporated.
2) Lightly coat pork belly 12 to 24 hours prior to cooking.
3) Place cured pork belly in medium roasting pan and cover with oil or animal fat.
4) Cover with foil and place into a 300° for 2 to 3 hours.
5) Remove pork from the oven and allow to cool in the fat.
BBQ AIOLI
1) In a mixing bowl, add mayonnaise, BBQ sauce, garlic, whole grain mustard, honey, and lemon juice.
2) Mix together and season with salt and pepper.
SANDWICH
1) In a large sauté pan over medium heat add brioche bun—open sides down—and butter. Allow to cook for 1 to 2 minutes then remove from pan.
2) Add already cooked pork belly and allow to cook on both sides.
3) Coat brioche bun evenly with BBQ aioli.
4) Top with cheddar cheese and allow to melt.
5) Slice tomato and season with salt and pepper.
6) Place tomato on the bun. Then top with crispy pork belly and serve.