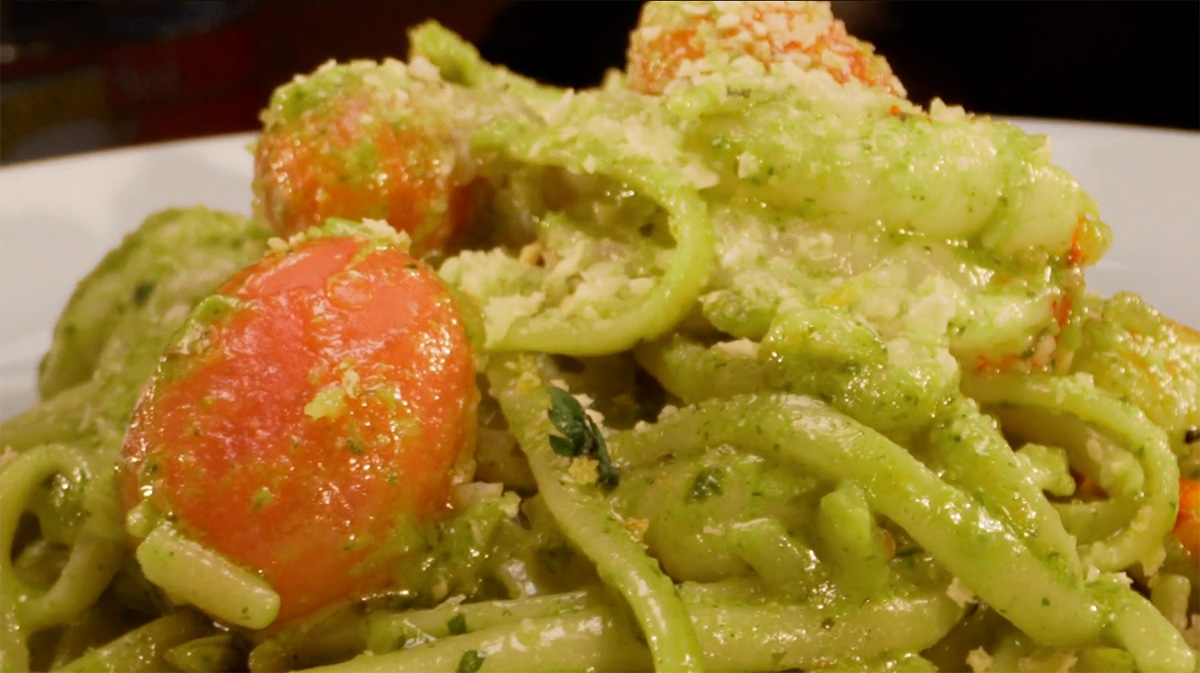 Pesto Linguine with Shrimp – As Seen on Restaurant: Impossible
From the episode, "Colorado Couple in Crisis"
SERVES 4
YOU'LL NEED
FOR THE BASIL PESTO
4 cloves garlic
4 tbsp extra virgin olive oil
2 tbsp grapeseed oil
2 bunches fresh basil
1 bunch flat leaf parsley
2 lemons, juiced
3 tbsp heavy cream
Salt and pepper, to taste
FOR THE MAIN DISH
1 lb linguine, cooked until al dente
3 tbsp grapeseed oil
1 onion, diced
2 cloves garlic, sliced
8 cherry tomatoes, peeled
24 raw peeled and deveined shrimp (16/20 ct)
1 ½ cups basil pesto (see recipe below)
3 tbsp toasted breadcrumbs
2 lemons, juiced
MAKE IT
BASIL PESTO
1) In a food processor add the garlic and slowly incorporate the extra virgin olive oil and the grapeseed oil. Then add basil and flat leaf parsley.
2) Next add lemon juice and heavy cream.
3) Finish with salt and pepper to taste.
MAIN DISH
1) In a large sauté pan over high heat, add grapeseed oil, onion, and garlic and allow to sweat for about 3 minutes until tender.
2) Add shrimp and cook for 2 minutes on each side.
3) Then add basil pesto, cherry tomatoes, and linguine. Allow pasta to cook in the pesto sauce for 3 minutes.
4) Place pasta in a bowl and garnish with the toasted bread crumbs and lemon juice.