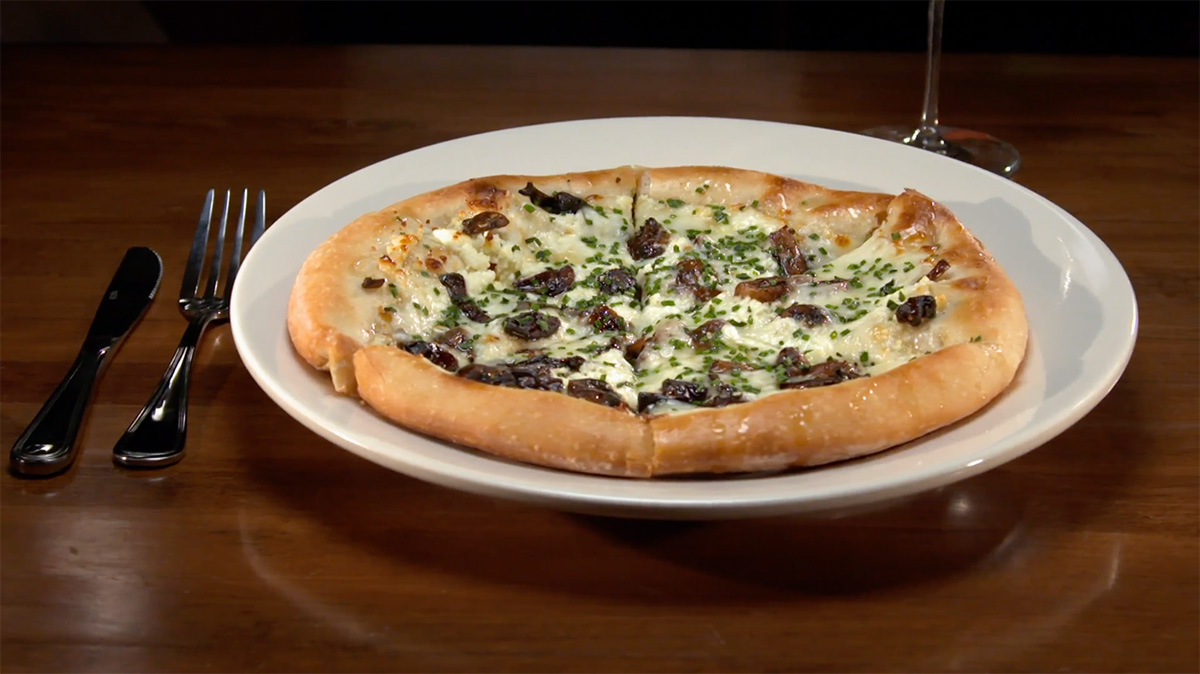 Mushroom Pizza – As Seen on Restaurant: Impossible
From the episode, "Colorado Couple in Crisis"
MAKES 5 INDIVIDUAL 12" PIZZAS
YOU'LL NEED
FOR THE PIZZA DOUGH
5 ¼ cups bread flour
2 tbsp + 1 tsp. sugar
1 ¾ cups cool water
¼ cup extra-virgin olive oil
1 tsp active dry yeast
2½ tsp fine sea salt
FOR THE MUSHROOM PIZZA
2 cups cremini mushrooms, quartered
1 tbsp. grapeseed oil
2 cloves garlic, sliced
1 cup crumbled goat cheese
2 ½ cups fontina cheese, cubed
5 tbsp. truffle honey
3 tbsp. chives, finely chopped
MAKE IT
PIZZA DOUGH
1) Using a stand mixer with a dough hook, mix all pizza dough ingredients, except the yeast and salt. Once mixed, sprinkle with yeast.
2) Continue to mix the dough on low speed for 5 minutes or until everything is tacky, stopping to scrape sides of bowl as needed.
3) Increase speed to medium-low. Mix 4 minutes or until dough clings to dough hook and then add the salt. Continue to mix the dough for 5 minutes or until dough is soft, stretchy, and resilient when poked.
4) Transfer dough to a clean work surface. Cut into 5 pieces (each one should be about 8oz). Mold the portions into tight formed balls, squeeze each ball near bottom to eliminate any big air pockets. Gently roll on surface in a circular motion to create a smooth, tight ball. Place dough on a baking pan, cover tightly with plastic wrap and refrigerate at least 24 hours or up to 3 days. Let rest, covered at room temperature for 1 hour, then stretch the dough.
MUSHROOM PIZZA
1) Using a rolling pin, roll the dough ball into a 12-inch circle; it will be about one-eighth of an inch thick.
2) Place dough into a preheated 400° oven either on a pizza stone, or on a baking sheet and cook for 5 minutes. Just cook through. You do not want to get any color on the dough.
3) Pull dough from the oven and allow to cool.
4) In a sauté pan over high heat, add grapeseed oil and add cremini mushrooms and allow to cook for about 7 minutes. Add garlic and allow to cook for another 3 minutes.
5) Season with salt and pepper.
6) Top cooked pizza dough with mushrooms, goat cheese, and fontina cheese.
7) Place pizza on a pizza stone at 500° and allow to cook for 7 minutes or until crust is golden brown. Top with chives and truffle honey.