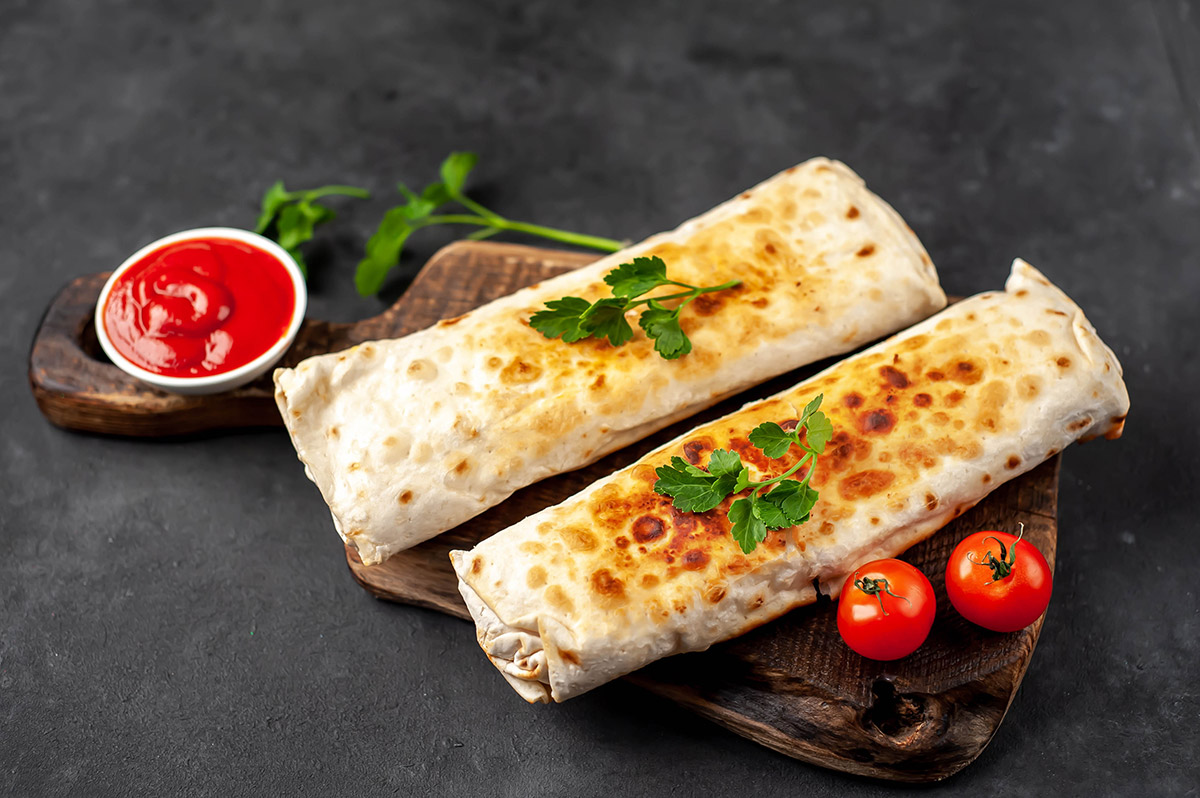 Patty Melt Burrito – As Seen on Restaurant: Impossible
From the episode, "A big mess in Texas"
SERVES 4
YOU'LL NEED
FOR THE RANCHERO SAUCE
½ white onion, sliced
1 jalapeno, seeded and minced
2 oz red bell peppers, diced
3 cloves garlic
1 tbsp cumin
1 tsp chili powder
1 tsp paprika
16 oz fire roasted tomatoes
1 tsp chipotle peppers
3 tbsp cilantro, chopped
FOR THE SPECIAL SAUCE
1 cup mayonnaise
1 cup ketchup
2 tbsp sweet relish
1 bunch cilantro, chopped
1 tbsp lime juice
Salt and pepper, to taste
FOR THE BURRITO & PLATING
2 onions, sliced and caramelized
3 tbsp grapeseed oil
1 cup beef stock
1 lb ground beef
2 tbsp taco seasoning
4 flour tortillas (10")
8 slices Swiss cheese
16 oz French fries, cooked according to package directions
MAKE IT
RANCHERO SAUCE
1) In a sauce pot over medium heat add onions, jalapeno peppers, red bell peppers, and garlic and allow to lightly caramelize.
2) Next add cumin, chili powder, and paprika and allow to cook for about 3 minutes.
3) Add fire roasted tomatoes, chipotle peppers, and cilantro.
4) Cook for another 8 minutes.
5) Blend all ingredients and season with salt and pepper.
SPECIAL SAUCE
1) In a large mixing bowl add mayonnaise, ketchup, relish, cilantro, and lime juice.
2) Season with salt and pepper.
BURRITO & PLATING
1) In a medium sauce pot, over medium-high heat add sliced onions and grape seed oil and cook for 20 minutes, allowing onions to caramelize. Stir regularly.
2) Deglaze pan with beef stock and season with salt and pepper.
3) Cook beef in a separate large skillet over medium-high, stirring to break up clumps, for about 5 minutes. Drain off excess grease. Add taco seasoning, caramelized onions, and beef stock.
4) In a separate pan warm the flour tortillas.
5) Add ground beef mixture to the tortilla with ranchero sauce and Swiss cheese (2 slices per burrito).
6) Roll the tortilla around the ingredients in a burrito shape
7) Place back in sauté pan toast lightly.
8) Cut in half and serve with French fries and special sauce for dipping.