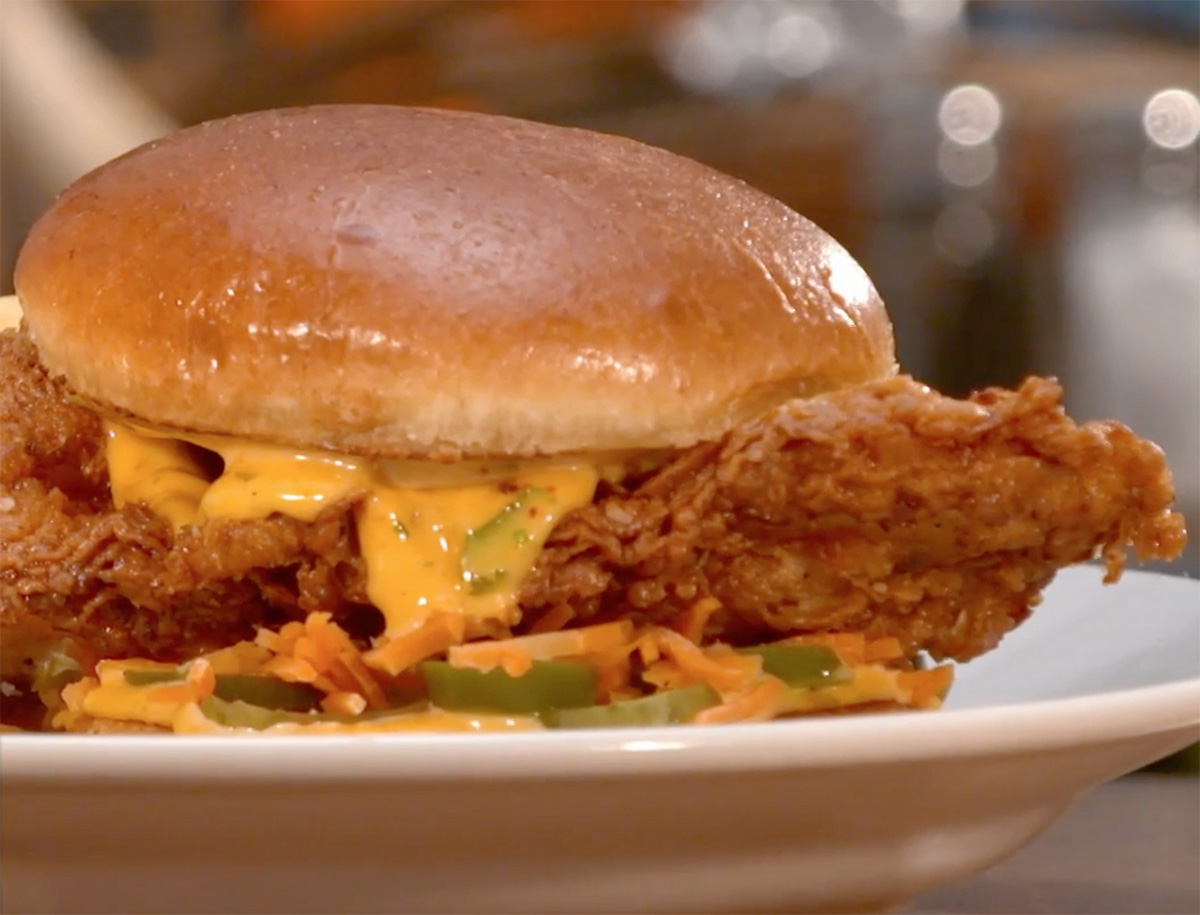 Hand-Breaded Chicken Sandwich – As Seen on Restaurant: Impossible
From the episode, "A big mess in Texas"
SERVES 4
YOU'LL NEED
FOR THE PICKLED CARROTS & JALAPENOS
2 cups white distilled vinegar
1 cup granulated sugar
1 tbsp honey
2 jalapeno sliced
2 carrots shredded
FOR THE SPICY AIOLI
1 cup mayonnaise
2 tbsp hot sauce
Juice of 1 lemon
1 tbsp Cajun spice
Salt and pepper, to taste
FOR THE BUTTERMILK MARINADE
3 cups buttermilk
3 oz pickle juice
1 cup hot sauce
¼ cup Cajun seasoning
1 tsp garlic powder
1 tsp smoked paprika
1 tsp chili powder
FOR THE SEASONED FLOUR
2 cups all-purpose flour
1 tsp garlic powder
1 tsp onion powder
2 tsp smoked paprika
1 tbsp kosher salt
1 tbsp black pepper
FOR THE CHICKEN & PLATING
Oil, enough for deep frying
1 tbsp grapeseed oil
1 tsp butter
4 brioche buns
4 chicken breasts
16 oz French fries
MAKE IT
PICKLED JALAPENOS & CARROTS
1) In a medium sauce pot add vinegar, sugar, and honey.
2) Bring mixture to a boil.
3) In a separate bowl add carrots and jalapenos.
4) Pour the vinegar solution over the jalapenos and carrots.
5) Cover and allow to cool.
SPICY AIOLI
1) In a large mixing bowl add mayonnaise, hot sauce, lemon juice, and Cajun spice.
2) Season with salt and pepper.
BUTTERMILK MARINADE
1) In a large mixing bowl add buttermilk, pickle juice, hot sauce, Cajun Seasoning, garlic powder, smoked paprika, and chili powder.
2) Place chicken breasts in the buttermilk marinade about 12 hours prior to cooking.
SEASONED FLOUR
1) In a large mixing bowl add all-purpose flour, garlic powder, onion powder, smoke paprika, kosher salt, and pepper.
CHICKEN & PLATING
1) Preheat a deep fryer with oil to 350 degrees.
2) In a sauté pan over medium heat add grape seed oil, butter, and brioche bun.
3) Toast bun for approximately 2 minutes or until the bun is golden brown in color.
4) Remove chicken from buttermilk marinade and place in seasoned flour.
5) Remove chicken from flour and place in preheated fryer and allow to cook for about 7 minutes. Chicken should be crispy, golden brown in color, and reach an internal temperature of 165 degrees.
6) Coat the toasted bun with spicy aioli and pickled carrots and jalapenos.
7) Place French fries in the fryer and cook for about 3 minutes. Fries should be golden brown. Season with salt and pepper and toss.
8) Place chicken on the bun and serve with French fries.