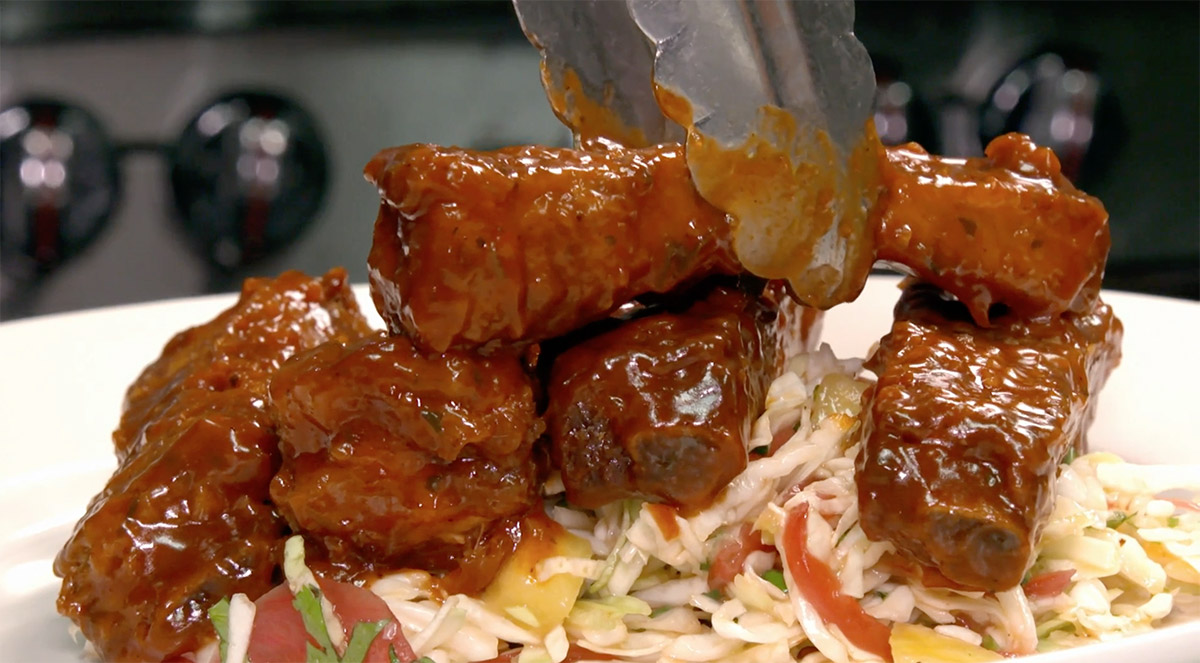 Crispy Fried Pork Ribs – As Seen on Restaurant: Impossible
From the episode, "A Big Mess in Texas"
SERVES 4
FOR THE MANGO BBQ SAUCE
1 cup sweet BBQ sauce
3 tbsp mango, diced
½ cup ketchup
¼ cup brown sugar
2 tbsp butter
Salt and pepper, to taste
FOR THE PINEAPPLE CABBAGE SLAW
½ cup sweet chili sauce
2 tbsp lime juice
1 shallot, diced
2 cloves garlic, minced
1 cup shredded Napa cabbage
2 tbsp pickled red onions
3 tbsp pineapple, diced
Salt and pepper, to taste
3 tbsp parsley, chopped
FOR THE LIME CREMA
½ cup heavy cream
¼ cup sour cream
2 tbsp lime juice
FOR THE FRIED RIBS
Oil, enough for deep frying
1 rack of ribs already smoked and chilled and cut into individual bones
4 eggs, beaten
2 cups flour
1 tsp salt
2 tsp black pepper
2 tbsp cilantro, chopped
MAKE IT
MANGO BBQ SAUCE
1) In a small sauce pot add sweet BBQ sauce, ketchup, mango, and brown sugar.
2) Using a hand blender slowly incorporate butter into the BBQ sauce.
3) Finish with salt and pepper.
PINEAPPLE CABBAGE SLAW
1) In a mixing bowl add sweet chili sauce, lime juice, shallot, and garlic.
2) In a separate mixing bowl add shredded cabbage, pickled red onions, pineapple.
3) Dress cabbage slaw with chili lime sauce.
4) Finish with salt, pepper, and chopped parsley.
LIME CREMA
1) In a large mixing bowl add sour cream, heavy cream, and lime juice.
2) Season with salt and pepper.
FRIED RIBS
1) Preheat a deep fryer with oil to 375 degrees.
2) In a large mixing bowl, add eggs and whisk together. In a separate large mixing bowl add flour, salt, and pepper and mix.
3) Place the ribs into egg mixture and then into flour mixture. Place the ribs back into egg, and then back into the flour.
4) Place ribs into pre-heated fryer and cook for 5 minutes, until crispy.
5) Remove ribs from fryer and coat with mango BBQ sauce.
PLATING
1) Place cabbage slaw on the bottom of the plate.
2) Top cabbage slaw with fried ribs.
3) Top ribs with lime crema and serve.