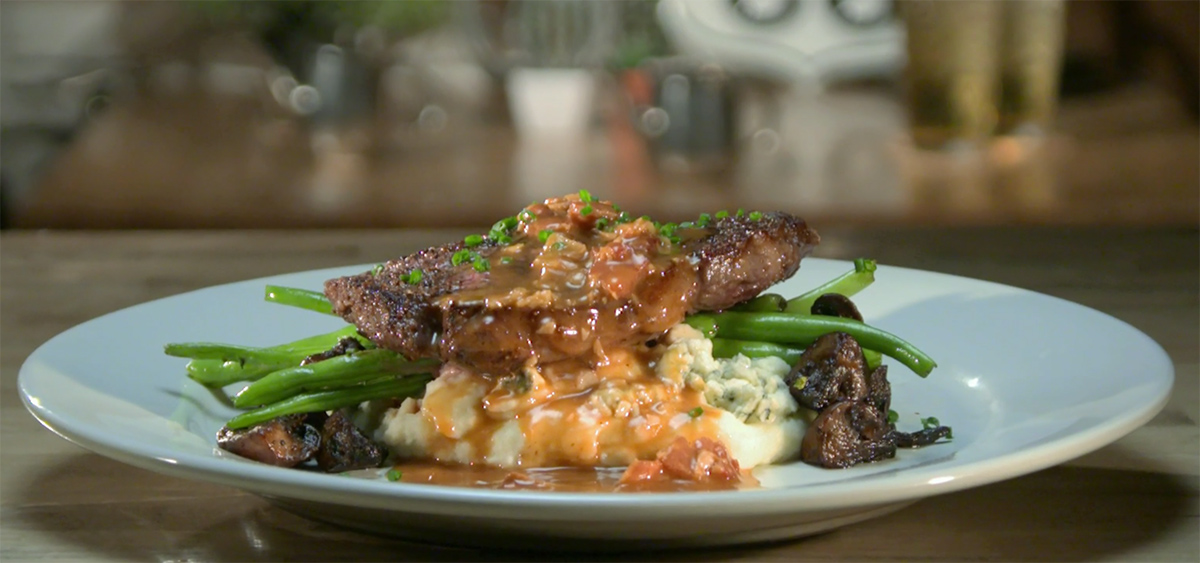 Pan Seared Rib Eye with Blue Cheese Mashed Potatoes – As Seen on Restaurant: Impossible
From the episode, "A Mother's Guilt"
SERVES 4
YOU'LL NEED
FOR THE BLUE CHEESE MASHED POTATOES
4 Russet potatoes, peeled and diced
1 lb butter
2 cups heavy cream
4 oz gorgonzola blue cheese, crumbled
1 cup sour cream
FOR THE PORT WINE JUS
1 cup bacon, diced
2 shallots, diced
6 cloves garlic, minced
2 oz port wine
3 oz balsamic vinegar
1 bunch rosemary
1 qt beef stock
4 oz heavy cream
FOR THE RIBEYE
4 Ribeye steaks, 16 oz each
1 lbs green beans blanched
1 lbs cremini mushrooms, quartered
1 bunch chives, sliced
MAKE IT
BLUE CHEESE MASHED POTATOES
1) In a large stock pot with seasoned cold water, add peeled diced potatoes.
2) Bring the potatoes to a boil, allow to boil for 5 minutes.
3) Drop down to light simmer and allow to cook for about 15 minutes, or until the potatoes are cooked through. Strain into a colander.
4) Add heavy cream, blue cheese, and butter into a sauce pot and bring to a simmer.
5) Pass the potatoes through a ricer.
6) Using a wooden spoon, incorporate heavy cream and butter mixture. Add sour cream.
7) Finish with salt and pepper and set aside/keep warm.
PORT WINE JUS
1) In a sauce pot over medium heat, add bacon and allow to render. Cook the bacon for about 3 minutes.
2) Add shallots and garlic and allow to cook over medium low heat for about 3 minutes, or until shallots and garlic is translucent in color.
3) Deglaze the pan with port wine, balsamic vinegar, and rosemary.
4) Add beef stock and bring to a light simmer. Finish with heavy cream and remove rosemary.
PLATING
1) Pre-heat oven to 400.
2) Place a medium stock pot of salted water on high heat and bring to a boil. Place the green beans into the pot and cook for 3 minutes until tender. Remove the green beans from the water and place into ice water to cool down.
3) Season the Rib eye with salt and pepper.
4) In a skillet over medium-high heat, add grapeseed oil and steaks. Sear steaks for about 5 minutes on each side.
5) Remove steaks from the sauté pan and place on a baking sheet.
6) Place the steak in the oven and allow to cook for approximately 6 minutes for medium rare, or until the steak reaches your desired temperature.
7) In a separate sauté pan over high heat, add mushrooms and allow to cook for about 5 minutes or until dark brown in color. Add blanched green beans; season with salt and pepper.
8) Scoop a serving of blue cheese mashed potatoes onto a plate.
9) Top potatoes with mushrooms and green beans.
10) Remove steaks from the oven and place on top of the mushroom and green beans.
11) Finish the steaks with the port wine and balsamic sauce and sliced chives.