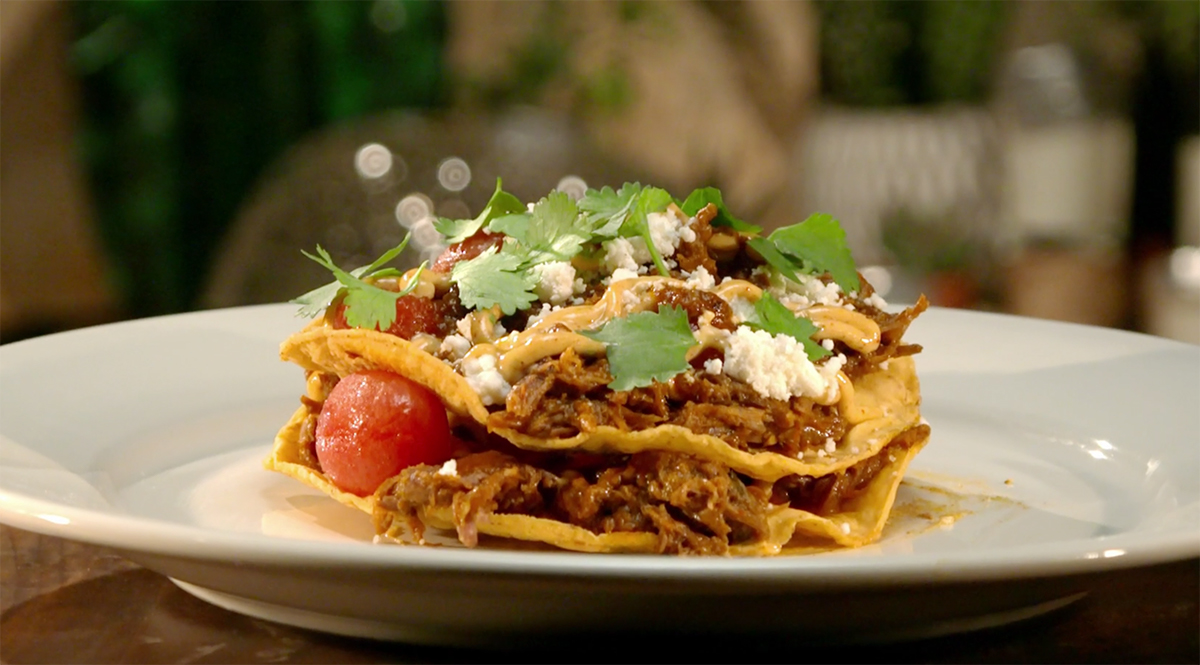 Braised Mutton Tostado – As Seen on Restaurant: Impossible
From the episode, "Living up to Mom"
SERVES 4
YOU'LL NEED
FOR THE CHIPOTLE AIOLI
1 cup mayonnaise
2 tsp chipotle
Juice of 1 lime
Salt and pepper
FOR THE MUTTON
2 tbsp kosher salt
2 tsp smoked paprika
1 tsp cumin
2 tsp Cajun seasoning
4 lbs mutton shoulder, cut into 1-inch cubes
FOR THE BRAISE
3 tbsp grapeseed oil
1 Spanish white onion, diced
¼ cup red peppers, diced
4 cloves garlic, minced
1 cup dry red wine
2 cups peeled canned tomatoes, crushed
1 cup beef stock
FOR THE TOSTADO
8 crispy corn tostadas
½ each red onion, diced
12 each cherry tomatoes
4 oz queso fresco, crumbled
6 oz chipotle aioli
3 tbsp fresh cilantro, chopped
MAKE IT
CHIPOTLE AIOLI
1) Place all ingredients in a mixing bowl and incorporate. Season with salt and pepper.
BRAISED MUTTON
1) Pre-heat oven to 325 degrees.
2) In a mixing bowl add salt, smoked paprika, cumin, and Cajun spice.
3) Season mutton with spice mixture about 2 hours prior to cooking.
4) In a sauce pot over medium-high heat, add grapeseed oil and diced mutton. Sear on all sides.
5) Remove the meat from the pot and set aside.
6) Using the same pan, add onions and red peppers and allow to sweat.
7) Add garlic and allow to cook for another 2 minutes.
8) Deglaze the pan with red wine and allow to reduce for about 4 minutes.
9) Add tomatoes and beef stock. Bring mixture a light boil.
10) Add seared mutton back to the braising liquid and cover.
11) Place mutton in the oven and allow to cook for about 4 hours. Mutton should be fork tender.
PLATING
1) Place a crispy tostado shell on a plate. Top the shell with braised mutton, tomatoes, crumbled queso fresco, and dress with chipotle aioli.
2) Stack another tostado shell on top of the already dressed shell. Place another scoop of braised mutton, tomatoes, queso fresco, and chipotle aioli. Finish with cilantro.