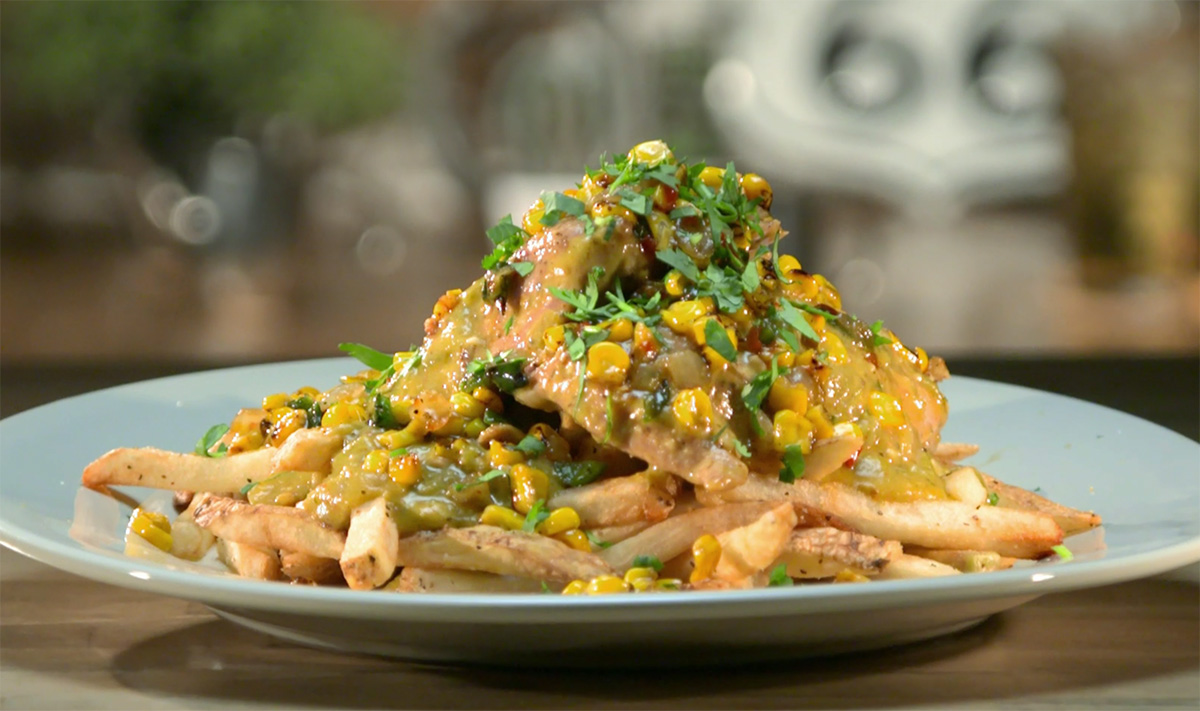 Green Chili Braised Chicken Thighs and Corn Salsa – As Seen on Restaurant: Impossible
From the episode, "A Mother's Guilt"
SERVES 4
YOU'LL NEED
FOR THE GREEN CHILI CHICKEN THIGH RUB
2 tbsp salt
1 tbsp pepper
2 tbsp smoked paprika
1 tsp ground cumin
2 tbsp brown sugar
8 boneless skinless chicken thighs
16 oz frozen skin on French fries
FOR THE GREEN CHILI SAUCE
3 tbsp grapeseed oil
1 medium white onion, diced
1 red pepper, diced
5 cloves garlic, minced
2 qts salsa Verde, store bought
1 cup hatch green chilies, diced
1 qt chicken stock
CORN SALSA
2 tbsp grapeseed oil
1 medium white onion
3 cloves garlic, sliced
2 cups canned corn
2 cups chopped diced tomatoes
1 cup salsa roja
MAKE IT
GREEN CHILI CHICKEN RUB
1) In a mixing bowl add salt, pepper, smoked paprika, cumin, and brown sugar.
2) About 12 hours prior to cooking the chicken thighs, coat with rub. Place chicken thighs in a zip lock bag and refrigerate.
GREEN CHILI CHICKEN THIGH BRAISE
1) In a large pot over medium high heat add grapeseed oil and onions.
2) Allow onions to sweat for about 3 minutes.
3) Add red peppers and cook for another 5 minutes.
4) Add garlic and cook for another 2 minutes.
5) Remove chicken thighs from the zip lock bag, and place in the pot.
6) Add salsa Verde and chicken stock and bring to a boil.
7) Allow to boil for about 3 minutes. Place a cover on top and drop to a medium simmer.
8) Chicken thigh braise should cook for approximately 1 hour covered at a medium to low simmer on the stove top.
9) Allow the chicken thighs to cool down in the braising liquid.
CORN SALSA
1) In a sauce pot over medium heat add grapeseed oil and onions. Allow to sweat.
2) Add corn, tomatoes, and Salsa Roja. Season with salt and pepper and set aside.
PLATING
1) Pre-heat a deep fat fryer or an air fryer to 350 degrees.
2) Place the French fries in the fryer and allow to cook for about 5 minutes or until the fries are light brown and crispy.
3) Season the fries with salt and pepper. Place them on the bottom of the bowl.
4) Top the fries with 2 chicken thighs, and about 2 oz of the liquid the chicken was cooked in.
5) Top with corn salsa.