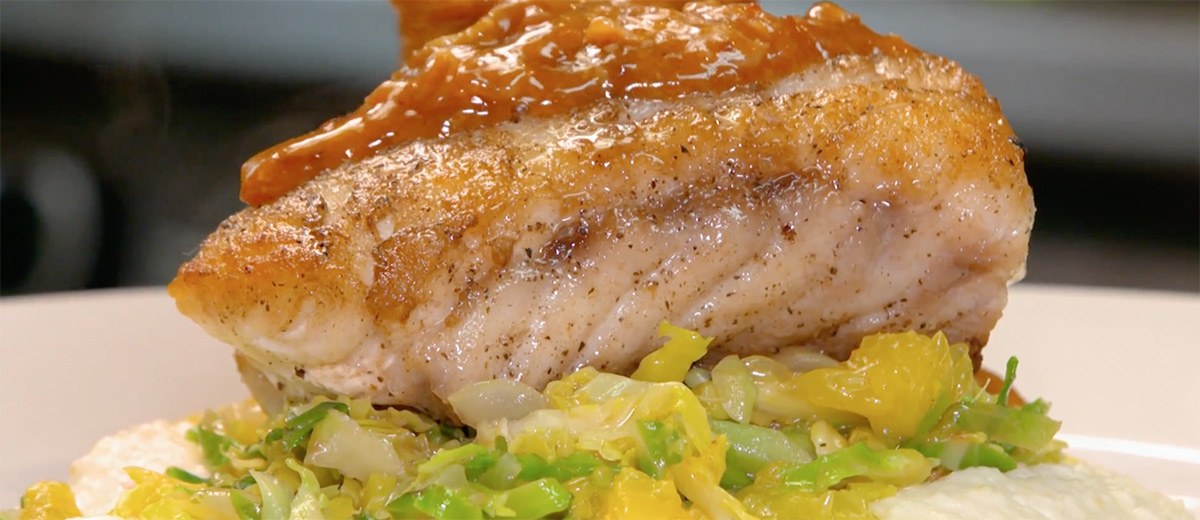 Pan Seared Grouper with Polenta and Citrus Brussels Sprouts – As Seen on Restaurant: Impossible
From the episode, "R.E.S.P.E.C.T."
SERVES 4
YOU'LL NEED
FOR THE POLENTA
2 cups milk
1 cup heavy cream
1 cup water
1 cup polenta
½ cup cream cheese
¼ cup Parmesan cheese
2 tbsp butter
Kosher salt, to taste
Black pepper, to taste
FOR THE TOMATO BACON VINAIGRETTE
15 cherry tomatoes
1 cup raw bacon, medium diced
4 shallots, minced
4 cloves garlic, minced
2 cups sweet chili sauce
FOR THE GROUPER
4 portions of fresh grouper filet (6 oz each)
1 tsp Kosher salt
½ tsp ground black pepper
3 cups Brussels sprouts, thin sliced
2 navel oranges, peeled and segmented
1 blood orange, peeled and segmented (if available, if not, substitute with a grapefruit)
Juice of ½ lemon
MAKE IT
POLENTA
1) In a large sauce pot over medium-high heat, add the milk, heavy cream, and water.
2) Bring the mixture to a boil, slowly incorporate polenta using a whisk.
3) Lower the heat to low-medium and continue to stir the polenta to prevent lumps and cook for 6 to 8 minutes until polenta blooms and becomes thicker.
4) Add the cream cheese, Parmesan cheese, and butter.
5) Continue to stir well to incorporate the cheese and butter until smooth. Season with salt and pepper.
TOMATO BACON VINAIGRETTE
1) Bring a medium sauce pot of salted water to a boil over high heat.
2) In a large mixing bowl, prepare an ice water bath.
3) Blanch the cherry tomatoes in the salted boiling water for 30 seconds, remove and place the blanched cherry tomatoes into the ice water bath to shock them and stop the cooking process. Peel the skin off the blanched tomatoes and set aside.
4) In another medium sauce pot over medium heat, add bacon and allow to slowly render for about 5 to 6 minutes. Bacon should be brown in color and slightly crispy.
5) Add the shallots and garlic and allow to cook for another 3 minutes, stirring occasionally making sure it does not burn.
6) Add blanched peeled tomatoes and sweet chili sauce. Gently stir and set aside.
GROUPER & PLATING
1) Season grouper filets with salt and pepper.
2) In a large sauté pan over medium-high heat add the grapeseed oil and allow the oil to get hot. Add the grouper filets to the pan and allow to cook for 4 minutes; turn the filets over and allow to cook for another 4 minutes until done.
3) Remove grouper from the pan then add shredded Brussels sprouts. Cook for 2 minutes.
4) Remove the pan from the heat and add navel orange segments and blood orange segments. Finish by adding the lemon juice.
5) On a plate place warm polenta, then shredded Brussels sprouts and citrus segments. Next, place the cooked fish on top of brussels sprouts mixture. Then top fish with the tomato bacon vinaigrette.