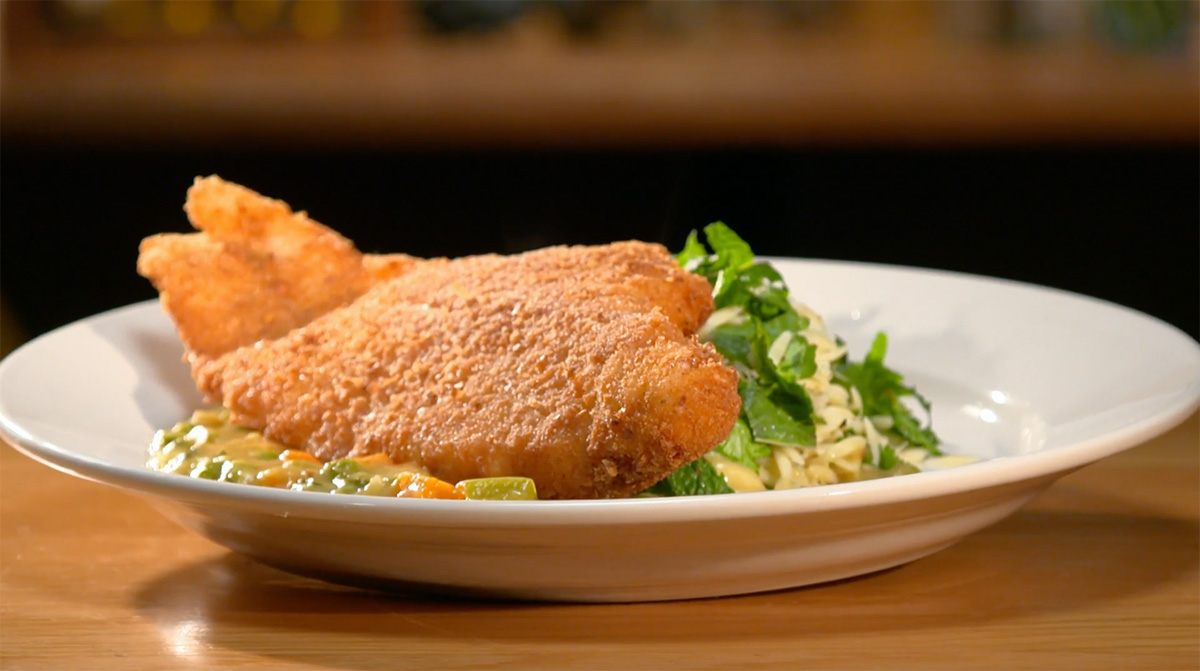 Coconut Catfish – As Seen on Restaurant: Impossible
From the episode, "Floundering Fish House"
SERVES 4
YOU'LL NEED
FOR THE CATFISH & ORZO
Oil, enough for deep frying
2 cups all-purpose flour
1 tsp kosher salt
½ tsp ground black pepper
6 eggs, beaten
2 cups panko breadcrumbs
½ cup shredded coconut
4 catfish filets, about 6 oz each
3 cups orzo, cooked al dente
2 tbsp fresh mint, chopped
2 tbsp fresh cilantro, chopped
2 tbsp grapeseed oil
Juice of 1 lemon
Juice of 1 lime
FOR THE GREEN CURRY SAUCE
1 tbsp grapeseed oil
3 carrots, peeled and medium diced
1 onion, medium diced
4 ribs celery, medium diced
3 tbsp green curry paste
1 cup white wine
1 cup coconut milk
½ cup heavy cream
1 cup chicken stock
Juice of 1 lime
1 bunch fresh cilantro, chopped
1 cup English peas
Kosher salt and black pepper, to taste
MAKE IT
CATFISH
1) Pre-heat Fryer to 325 degrees F.
2) In three separate mixing bowls, add the flour, beaten eggs, and the panko breadcrumbs and shredded coconut (mixed).
3) Season flour with salt and pepper.
4) Place catfish in the seasoned flour, then the beaten eggs, and last into the shredded coconut and panko breadcrumb mixture.
5) Place the breaded catfish into the 325-degree fryer and allow to cook for about 6 minutes. The fish should be golden brown in color and cooked through.
6) In a separate mixing bowl, add the cooked orzo, mint, cilantro, grapeseed oil, and lemon juice. Season with salt and pepper to taste. Set aside.
CURRY SAUCE
1) In a medium saucepan over medium-high heat, add grapeseed oil, carrots, onions, and celery.
2) Stir with a whisk and allow the vegetables to cook for approximately 4 minutes. Vegetables should get some color on them.
3) Add the curry paste, stir, and allow to cook for another 2 minutes.
4) Add the white wine and allow to reduce by ¼.
5) Add the coconut milk, heavy cream, chicken stock, and lime juice. Stir and simmer for 10 minutes.
6) Finish curry with cilantro, English peas, salt, and pepper to taste.
PLATING
1) In large entrée bowl, add the herbed orzo mixture on the bottom of the bowl.
2) Next, add the green curry sauce.
3) Top curry sauce with fried coconut-panko crusted catfish.
4) Last, finish the top of the fish with the fresh squeezed lime juice.