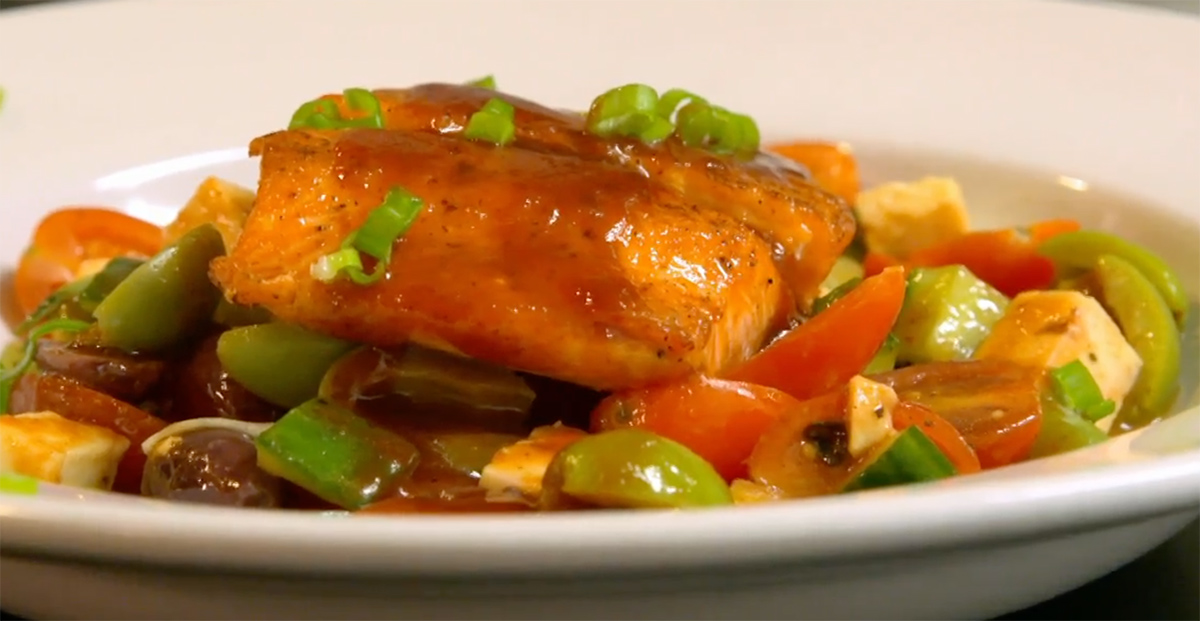 Pan Seared Coho Salmon – As Seen on Restaurant: Impossible
From the episode, "Burnt out in Berkeley"
SERVES 4
YOU'LL NEED
FOR THE BBQ VINAIGRETTE
1/3 cup BBQ sauce, store bought
2 tsp Dijon mustard
¼ cup white wine vinegar
1 garlic clove, minced
1 shallot, small diced
2/3 cup grapeseed oil
2 tbsp water
Salt and pepper to taste
FOR THE COHO SALMON DISH
Four portions fresh Coho salmon filet (6 oz each)
Salt and pepper
2 tbsp grapeseed oil
4 tbsp unsalted butter
2 cups English cucumber, diced
¼ cup pitted green olives – Castelvetrano is good option
¼ black pitted olives – kalamata is a good option
1 cup cherry tomatoes, cut in half
½ cup whole slab feta cheese, cut into 1-inch cubes
3 tbsp flat leaf Italian parsley, chopped
3 tbsp scallions, sliced thin
MAKE IT
BBQ VINAIGRETTE
1) In a medium mixing bowl add BBQ sauce, Dijon Mustard, white wine vinegar garlic, and shallots.
2) Using a whisk, slowly incorporate grapeseed oil.
3) This will create an emulsion, when you have added about half the oil, whisk in the water.
4) Whisk in the rest of the oil and season with salt and pepper to taste.
COOK AND PLATE SALMON
1) Season the salmon filets on both sides with salt and pepper.
2) In a large sauté pan over medium-high heat, add the grapeseed oil and then add the salmon filets.
3) Allow the salmon to cook for about 3 to 4 minutes on each side.
4) Remove the salmon from the heat and add the butter. Allow salmon to rest for about 2 minutes in the butter.
5) While salmon is resting, add the cucumbers, both olives, tomatoes, feta cheese, parsley, and scallions in a mixing bowl.
6) Lightly dress all ingredients with BBQ vinaigrette and gently toss together.
7) Place cucumber mixture on the bottom of the plate. Remove salmon filet from the pan and place on top of the cucumber mixture.
8) Finish salmon with a light dressing of BBQ vinaigrette and sliced scallions.