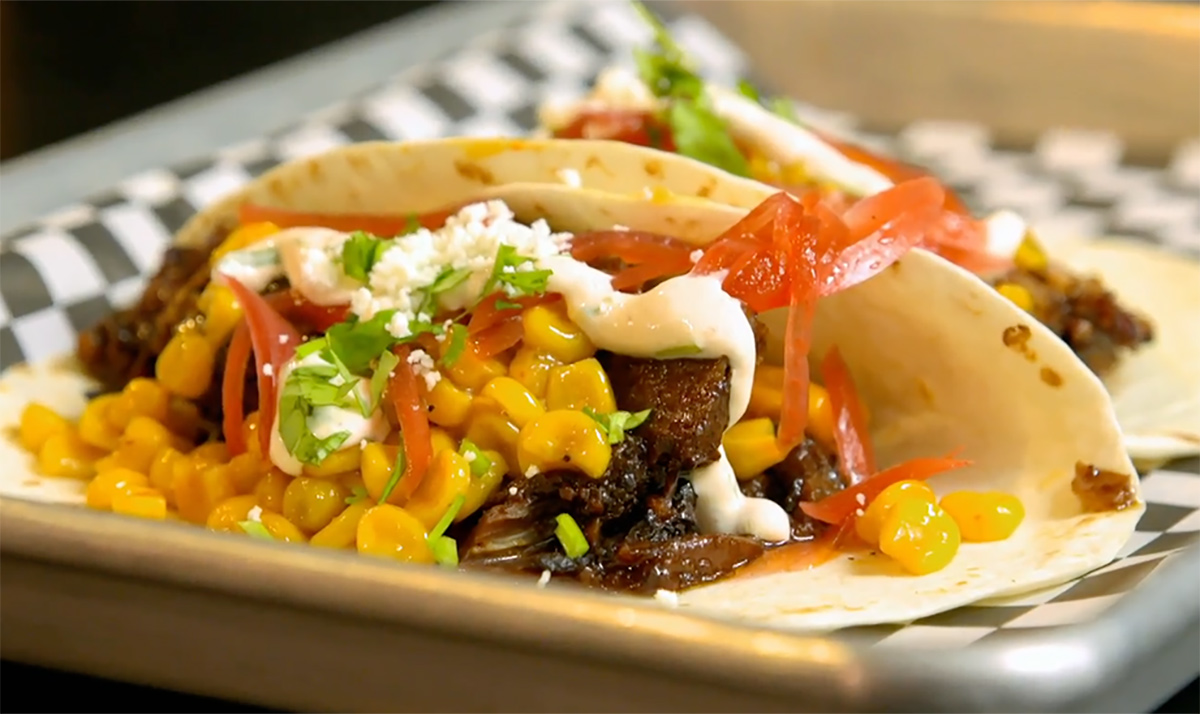 Beef Brisket Tacos – As Seen on Restaurant: Impossible
From the episode, "Burnt out in Berkeley"
SERVES 4
YOU'LL NEED
FOR THE BEEF BRISKET
2 lbs beef brisket, fat trimmed
½ tbsp chili powder
½ tbsp ground cumin
½ tsp kosher salt
½ tsp ground black pepper
FOR THE CORN SALSA
2 tbsp grapeseed oil
½ white onion, diced
1 garlic clove, minced
1 jalapeno peppers, seeded and small diced
1 cup fresh corn, cut off the cob
1 tsp fresh cilantro, chopped
2 tbsp scallions, sliced thin
½ each fresh lime, juiced
Salt and pepper to taste
FOR THE PICKLED RED ONIONS
½ cup red wine vinegar
¼ cup sugar
1 tbsp honey
2 red onions, sliced thin
FOR THE TACOS
8 flour tortillas
½ cup crumbled Cotija cheese
¼ cup scallions, sliced thin
¼ cup fresh cilantro, chopped
MAKE IT
BEEF BRISKET
1) Pre-heat smoker or an oven to 300 degrees.
2) Season the raw brisket with the chili powder, cumin, salt, and pepper.
3) Place the seasoned brisket in smoker or oven if you do not have a smoker available.
4) Allow to cook for about 2 ½ hours.
5) Pull brisket from smoker/oven and cover with aluminum foil.
6) Place back in smoker/oven for about 2 ½ more hours or until brisket is tender.
7) Remove the cooked brisket from the smoker/oven and allow to rest for about 20 minutes.
8) Cut into 1-inch strips of brisket
CORN SALSA
1) In a medium sauce pot over medium heat, add the grapeseed oil and diced onions.
2) Stir the onions and allow to cook for about 3 to 4 minutes until onions are translucent in color and cook through.
3) Add the garlic and allow to cook for another 2 minutes.
4) Add jalapenos and corn.
5) Cook for about 4 minutes.
6) Remove from the heat and add the scallions, cilantro, and lime juice.
7) Season with salt and pepper.
PICKLED RED ONIONS
1) In a small sauce pot over medium heat add red wine vinegar, sugar, and honey. Bring mixture to a boil.
2) Pour mixture over onions and cover. Allow to cool.
FINISH AND PLATE THE TACOS
1) In a sauté pan over medium heat, place flour tortillas. Allow to warm through for about 10 seconds.
2) Place the sliced cooked brisket onto the toasted flour tortillas.
3) Top the sliced brisket with corn salsa, pickled red onions, cotija cheese, sliced scallions, and cilantro.