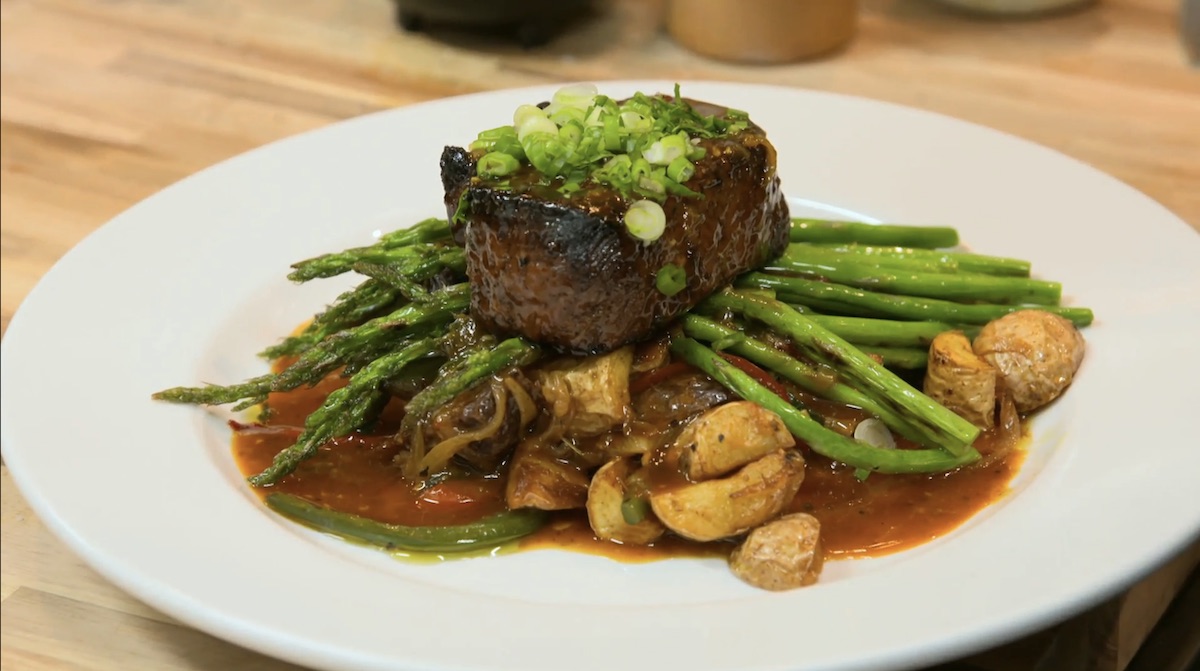 Carne Asada – As Seen on Restaurant: Impossible
From the episode "Virtually Impossible"
Serves 4
YOU'LL NEED
FOR THE BASEBALL STEAK MARINADE
• 1 cup fresh lime juice
• 1 cup fresh orange juice
• 2 tbsp. soy sauce
• 2 garlic cloves
• 1 jalapeno pepper, seeded
• ¼ cup extra virgin olive oil
• 1 tsp. ground cumin
• 1 tsp. smoked paprika
• 4 each 6 oz. baseball steaks
• 2 tbsp. grapeseed oil – for searing the steaks
FOR THE DEMI SALSA VERDE
• 2 tbsp. grape seed oil
• 1 Spanish onion, sliced
• 2 garlic cloves , minced
• 1 cup salsa verde – store bought
• 2 cups Beef Demi-Glace – store bought or online
• 3 tbsp. diced cold butter
FOR THE VEGETABLES
• 1 lbs. asparagus
• 1.5 lbs. fingerling potatoes, quartered
• 4 tbsp. grapeseed oil
• 3 garlic cloves, minced
• 1 Spanish white onion, sliced
• 2 green bell peppers, sliced
• 1 red bell pepper, sliced
• Salt and pepper to taste
• ¼ cup scallions, chopped – for garnish
MAKE IT
MARINATED BASEBALL STEAKS
1. Using a blender, add the lime juice, orange juice, soy sauce, garlic, and jalapeno peppers, ground cumin, and smoked paprika.
2. Puree ingredients together and slowly add the extra virgin olive oil into the puree while blending.
3. Marinate the baseball steaks for 8 hours.
DEMI SALSA VERDE
1. In a medium sauce pot, over medium-high heat, add the grapeseed oil, Spanish onions, and sweat the onion for 4 to 5 minutes until translucent in color.
2. Next add the garlic and allow to cook for the an additional 2 minutes.
3. Deglaze with salsa verde, and to come to a light simmer.
4. Next add the beef demi-glace and bring mixture a simmer for approximately 5 minutes.
5. Remove the sauce from the heat, and whisk in the cold butter until incorporated and set aside.
VEGETABLES
1. Pre-heat an oven to 350 degrees F.
2. Place a medium pot filled with seasoned water and bring mixture to a rapid boil.
3. In a mixing bowl add equal parts ice and water creating an ice bath, and set aside for the blanching of the asparagus.
4. Add the asparagus to the water and allow to cook for approximately 2 minutes, or until asparagus are cooked through and bright green in color. Remove from the water and place into the ice water to chill.
5. In a large mixing bowl, add the fingerling potatoes, 2 tbsp. grapeseed oil, garlic, salt, and pepper.
6. Place potatoes on a baking sheet, and place oven and cook for approximately 15 minutes until golden brown and tender.
7. Using a large skillet over medium heat, add the remaining grapeseed oil and onions and allow onions to cook for 6 to 8 minutes, allowing onions to lightly caramelize.
8. Next add the peppers and allow to cook for an additional 6 minutes
9. Last toss in the blanched asparagus to re-heat them and season the vegetables with salt and pepper to taste.
FINISH AND PLATE THE DISH
1. Pre-heat oven to 375 degrees F.
2. In a large sauté pan over medium high heat, add 2 tbsp of grapeseed oil and sear the marinated steaks for 3 minutes on both sides.
3. Place the pan of seared steaks in the oven and cook to desired temperature (8 minutes for medium rare).
4. Place the vegetables onto the center of a dinner plate.
5. Top the vegetables with the seared steak and finish topping the steak with the demi salsa verde and garnish with scallions.