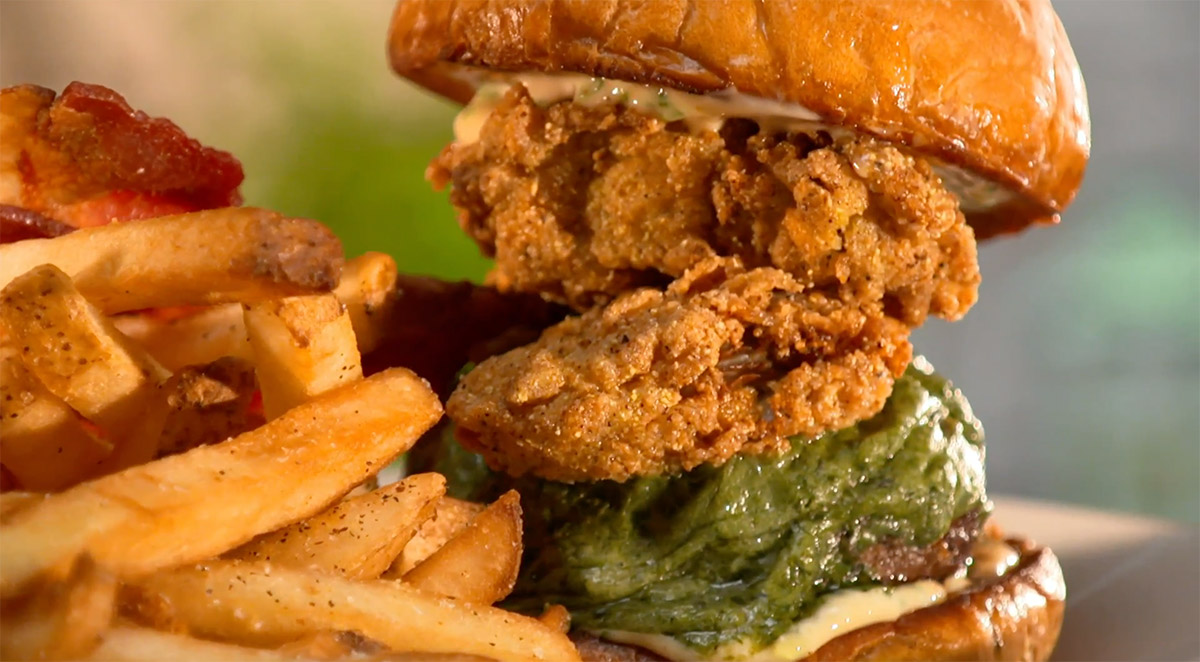 Oysters Rockefeller Burger – As Seen on Restaurant: Impossible
From the episode, "Friends in Need"
Serves 4
YOU'LL NEED
FOR THE ROCKEFELLER TOPPING (SPINACH-CHEESE MIXTURE)
2 tbsp butter
1 shallot, diced
2 garlic cloves, minced
4 sprigs fresh thyme
¼ cup white wine
12 oz baby spinach
½ cup heavy cream
2 oz cream cheese
2 oz boursin cheese
1 tbsp Parmesan cheese
Salt and pepper, to taste
FOR THE HERB MAYO
2/3 cup mayonnaise
3 tbsp tarragon, chopped
3tbsp chives, chopped
2 garlic cloves
1 tbsp Cajun spice
1 lemon, zested and juiced
Salt and pepper, to taste
FOR THE OYSTERS AND BURGER
1 cup all-purpose flour
1 cup corn meal
4 tsp creole spice
12 shucked oysters
4 beef patties (8 oz each)
4 brioche buns, split in half
8 strips of bacon, cooked until crispy
1 lb frozen French fries (cooked according to directions)
Salt and pepper, to taste
MAKE IT
ROCKEFELLER TOPPING
1) In a saucepan over medium heat, sweat the shallots, garlic, and thyme in the butter for 1 minute until shallots are translucent.
2) Deglaze with white wine and add the spinach. Stir and cook until spinach is wilted. Season to taste with salt and pepper and set the cooked spinach mixture aside to cool for 5 minutes.
3) While the sauteed spinach mixture is cooling, place the heavy cream, cream cheese, boursin cheese, and Parmesan cheese into a food processor and blend for 1 minute and pause.
4) Add spinach mixture into the food processor and continue to puree the spinach-cheese mixture for 1 minute until smooth.
HERB MAYO
1) In a food processor add mayonnaise, tarragon, chives, garlic, Cajun spice, lemon zest, and lemon juice.
2) Puree for 1 minute until smooth and season with salt and pepper to taste.
FRIED OYSTERS AND BURGER
1) Preheat oven to 375 degrees. Preheat a deep fryer to 350 degrees. (A large sauce pan filled with oil will also work.)
2) Mix the flour, cornmeal, and the Creole spice in a mixing bowl.
3) Dredge the shucked oysters in the corn meal mixture and fry at 350 for 1 to 2 minutes until golden brown and season with salt and pepper.
4) Season the burgers with salt and pepper and place in a pan over high heat. Cook for approximately 4 minutes on each side.
5) Top the cooked beef patties with the spinach-cheese topping and place in a hot oven for 1 to 2 minutes to melt it.
6) Fry the French fries in the 350-degree fryer for 2 minutes until golden brown and crispy (or bake the fries if preferred)
7) In a separate large sauté pan over medium heat, add the split buns and toast them until golden brown.
8) After buns are toasted, coat all toasted buns with herbed mayo, place the burgers on top, then top each burger with 3 crispy fried oysters and place the top bun on an angle to the side of the burger.
9) Serve with French fries and bacon on the side.