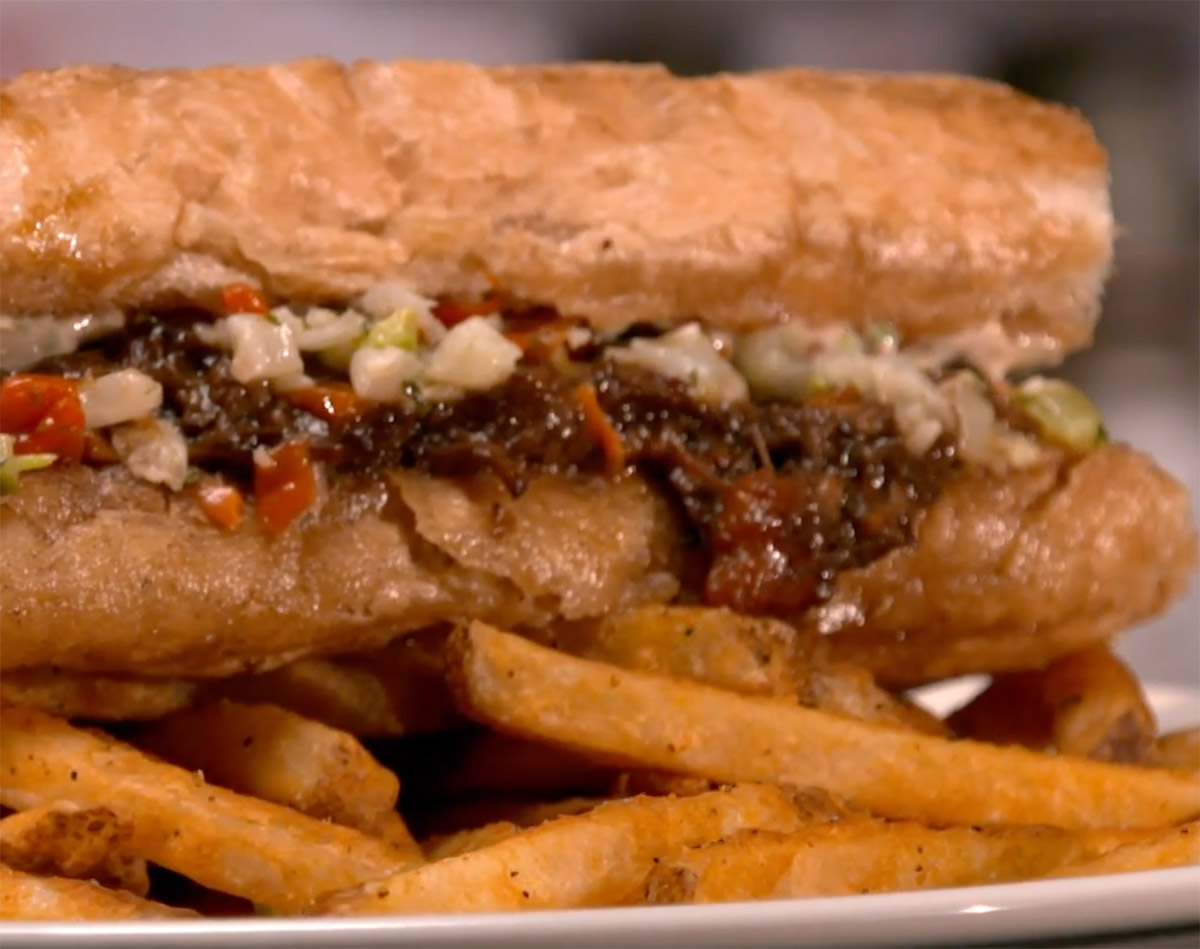 Pulled Beef Po Boy – As Seen on Restaurant: Impossible
From the episode, "Listless in Louisiana"
SERVES 2
YOU'LL NEED
2 tbsp kosher salt
1 tsp garlic powder
½ tsp black pepper
1 tbsp Cajun seasoning
2 tbsp brown sugar
2 tbsp grapeseed oil
2 lbs beef chuck roast
3 carrots, chopped
5 ribs celery chopped
1 white onion diced
3 tbsp tomato paste
12 oz dark beer
2 cups chicken stock
1 cup beef stock
3 tbsp Worcestershire sauce
2 tbsp hot sauce
2 sprigs thyme
2 bay leaves
2 hoagie rolls
2 tbsp grapeseed oil
1 cup giardiniera pickled vegetables
8 oz French Fries
MAKE IT
1) In a large mixing bowl add kosher salt, garlic powder, black pepper, Cajun seasoning, and brown sugar mix together.
2) Coat the chuck roast lightly with the spice mixture.
3) Place meat in a large sauce pan over medium-high heat and sear on all sides.
4) Remove meat from the pot and add carrots, celery, and onions. Allow to cook until vegetables are light brown in color, about 8 minutes.
5) Add tomato paste and allow to cook for another 3 minutes, stirring the mixture.
6) Deglaze the pan with beer. Bring beer to a boil and allow to boil for about 5 minutes. Drop temperature to a light simmer. Allow to simmer for another 5 minutes.
7) Next add chicken stock, beef stock, Worcestershire sauce, hot sauce, thyme, bay leaves and already seared meat. Bring mixture to a boil. Cover and place in a 325° oven for approximately 3½ hours.
8) Pull meat from oven and allow to cool down in the liquid. Once meat is cool enough to handle with your hands, shred beef and place into a sauté pan. Strain braising liquid through a fine mesh strainer and pour some of the braising liquid back over top of the shredded beef. Bring mixture to simmer.
9) In a separate sauté pan over medium heat, brush the split hoagie rolls with grapeseed oil and lightly toast in the hot pan.
10) Top toasted hoagie rolls with shredded beef and then top with giardiniera pickled vegetables.
11) Serve with French fries.