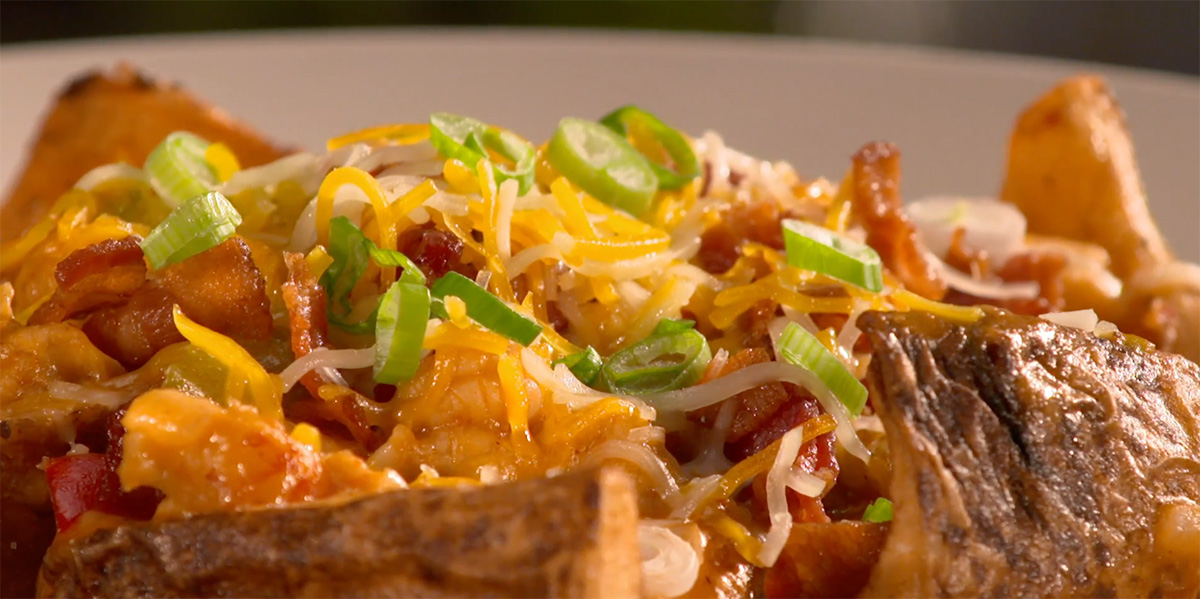 Crawfish Etouffee Potato Skins – As Seen on Restaurant: Impossible
From the episode, "Friends in Need"
SERVES 5
YOU'LL NEED
5 Russet potatoes, rinsed
2 tbsp grapeseed oil
Salt and pepper, to taste
4 tbsp butter
½ white onion, diced
4 celery ribs, diced
1 red bell pepper, diced
1 garlic clove, sliced
2 tbsp tomato paste
4 tbsp all-purpose flour
¼ cup white wine
3 cups seafood stock
2 sprigs fresh thyme
2 tbsp Creole spice
2 tsp smoked paprika
1 lb cooked crawfish meat
2 tbsp Worcestershire sauce
1 tbsp hot sauce
1 lemon, juiced
1 ½ cups shredded cheddar cheese
8 oz bacon, julienned and sauteed
5 tbsp scallions sliced
MAKE IT
1) Preheat oven to 400-degrees.
2) Season potatoes with salt, pepper, and coat with grapeseed oil and bake the potatoes in a 400-degree oven approximately 35 to 40 minutes until potatoes are cooked through.
3) Allow the potatoes to cool, cut them in half-length wise scoop out the center of the potato, leaving a small amount of potato and just the skin of the potato.
4) In a large saucepan over medium heat, add the butter, onions, celery, peppers, and garlic. Stir and allow the vegetables to sweat and cook for about 3 minutes. The vegetables should not have any color.
5) Add tomato paste, stir and allow to cook for another 3 minutes.
6) Add flour and cook for another 3 minutes.
7) Deglaze with the white wine and add the seafood stock, thyme, Creole spice, and smoked paprika. Stir well and simmer on low heat for about 10 minutes.
8) Add crawfish meat, Worcestershire sauce, hot sauce, and fresh lemon juice and stir well.
9) Season with salt and pepper to taste.
10) Preheat a deep fryer to 350 degrees.
11) Place the potatoes skins in fryer and cook for 3 minutes just until skins are golden brown in color.
12) Place cooked potato skins on plate and top them with the crawfish ettouffee.
13) Finish with shredded cheese, cooked bacon, and sliced scallions.