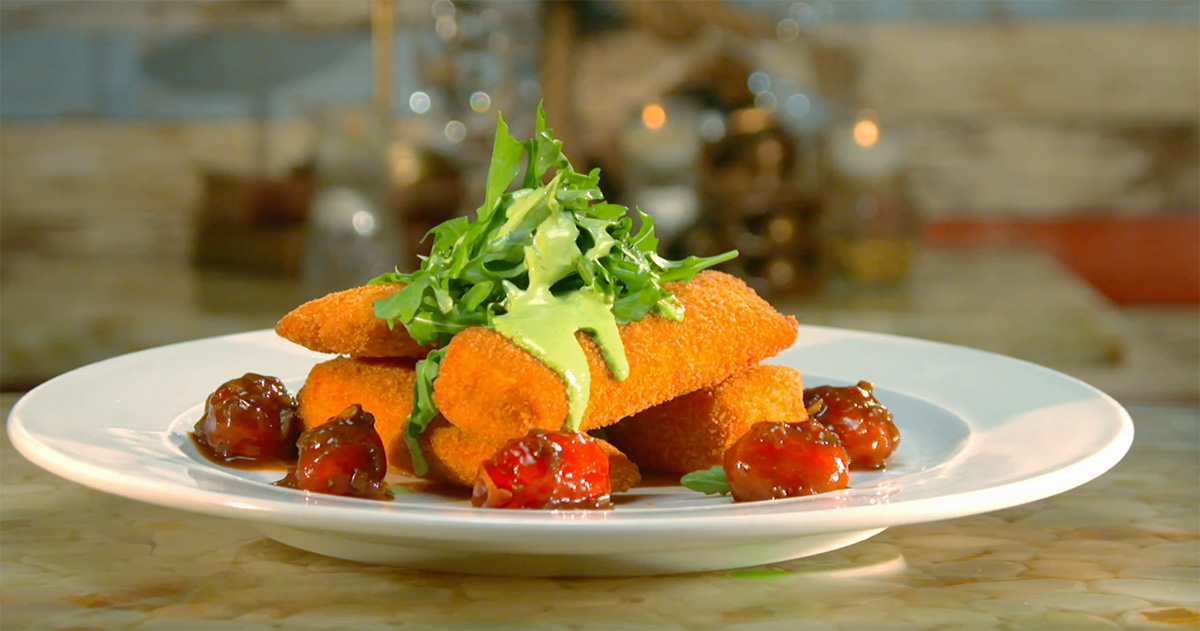 Crispy Fried Brie with Bacon-Tomato Vinaigrette – As Seen on Restaurant: Impossible
From the episode, "The Sinking Ship Inn"
SERVES 4
YOU'LL NEED
FOR THE BACON TOMATO VINAIGRETTE
12 oz raw bacon, diced
12 oz cherry tomatoes, halved
1 cup balsamic vinegar
Kosher salt and ground black pepper, to taste
FOR THE GREEN GODDESS SAUCE
¼ cup flat leaf parsley, stems removed
¼ cup cilantro, stems removed
¼ cup scallions, chopped
¼ cup mint, stems removed
1 clove garlic
2 cups mayonnaise
Juice of 1 lime
1 tbsp. honey
Kosher salt and ground black pepper, to taste
FOR THE FRIED BRIE
1 lb brie cut into 8 pieces, 2 oz each
2 cups all-purpose flour, seasoned with kosher salt and ground black pepper
3 large eggs, beaten
2 cups panko breadcrumbs
Oil, enough for deep frying
3 cups arugula
MAKE IT
BACON-TOMATO VINAIGRETTE
1) In a medium sauce pot, add the bacon, stir, and allow the bacon to render for about 4 minutes until crispy and has good color.
2) Add the tomatoes and allow to cook for 4 minutes while stirring.
3) Deglaze the bacon-and-tomato mixture with balsamic vinegar. Bring mixture to a simmer, then drop to a low simmer, and allow to reduce by half while stirring.
4) Season with salt and pepper, to taste.
GREEN GODDESS SAUCE
1) In a food processor, add parsley, cilantro, scallions, mint, garlic, mayonnaise, lime juice, and honey. Puree the ingredients together for 1 minute and season to taste with salt and pepper.
CRISPY BRIE
1) In three separate mixing bowls, place the seasoned flour, eggs, and breadcrumbs.
2) Place brie portions in seasoned flour first, then the beaten eggs, and then the breadcrumbs.
3) Pre-heat a deep fryer to 350 degrees F.
4) Place the breaded cheese in the fryer and cook for about 4 minutes. Cheese should turn golden brown in color and be completely melted inside.
PLATING
1) For each portion, place 2 pieces fried cheese onto the plate.
2) Top with arugula, green goddess sauce, and bacon-tomato vinaigrette.