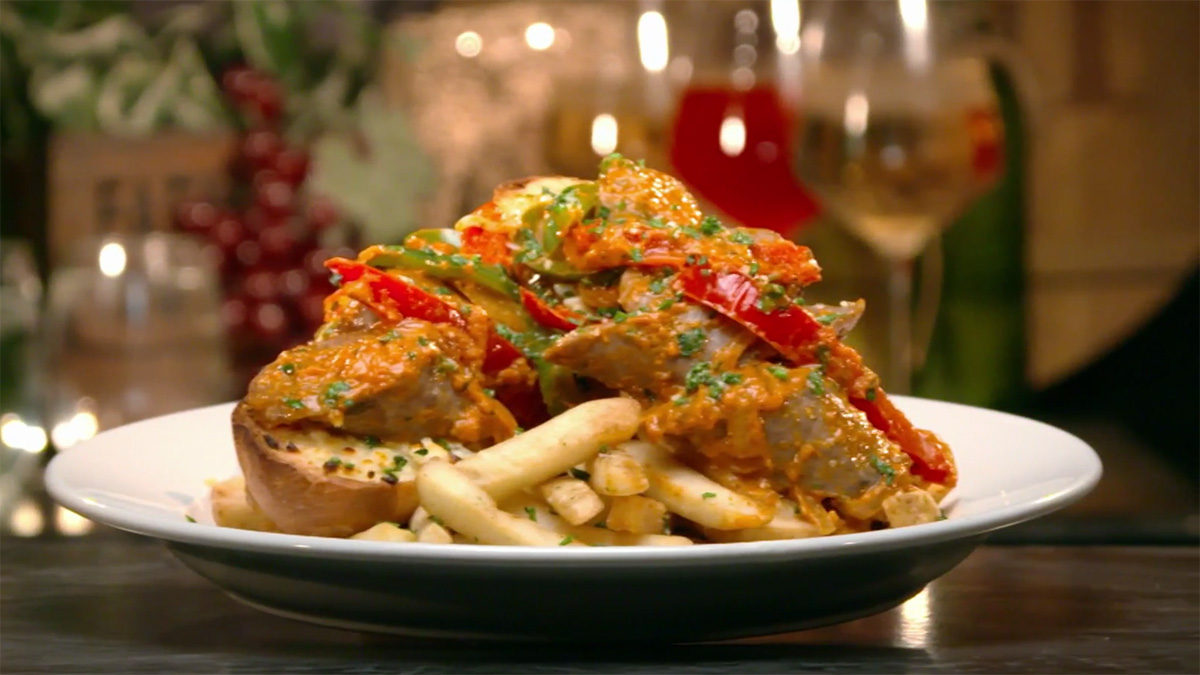 Open Faced Sausage and Peppers – As Seen on Restaurant: Impossible
From the episode, "Family Recipe for Disaster"
SERVES 4
YOU'LL NEED
FOR THE GARLIC BUTTER
1 lb butter, softened
10 cloves garlic, minced
4 tbsp garlic powder
3 tbsp chives, sliced
Zest of 1 lemon
Salt and pepper, to taste
FOR THE TOMATO SAUCE
3 tbsp extra virgin olive oil
1 white onion, diced
5 garlic cloves, minced
2 cups dry red wine
32 oz San Marzano peeled tomatoes, pureed
2 cups heavy cream
1 bunch basil, chopped
FOR THE SANDWICH
4 baguettes cut in half
2 cups mozzarella cheese, shredded
4 hot Italian sausage, sliced
2 white onions, sliced
1 red pepper, sliced
1 green pepper, sliced
16 oz French fries
2 tbsp flat leaf parsley, chopped
MAKE IT
GARLIC BUTTER
1) In a stand-up mixer (or with a wooden spoon in a mixing bowl) add butter, garlic, and garlic powder. Incorporate together. Add chives and lemon zest. Season with salt and pepper.
TOMATO SAUCE
1) In a sauce pot over medium-high heat add extra virgin olive oil and onions and allow to sweat.
2) Add garlic and allow to sweat for another 2 minutes.
3) Deglaze with red wine and cook for 4 more minutes.
4) Add tomatoes and bring to a boil. Allow to boil for 4 minutes and then drop to a simmer. Allow to simmer for 1 hour.
5) Finish with heavy cream and basil.
SANDWICH
1) Pre-heat oven to 350.
2) Spread garlic butter on baguettes then top with mozzarella cheese.
3) Place baguette in the oven and cook for 3 minutes.
4) In a medium sauté pan over medium-high heat, add sliced sausage and sear.
5) Add onions and peppers and allow to cook for another 4 minutes.
6) Add tomato sauce and allow to cook for an additional 10 minutes.
PLATING
1) Place cooked French fries (prepped in oven or fryer) on the bottom of the plate. Next place the cheese garlic bread on top of the fries.
2) Top the garlic bread with the sausage and pepper mixture. Finish with chopped parsley.